We purchased shares of Franklin Resources (NYSE:BEN) because we were impressed with its history of strong organic growth. While this growth has moderated a bit since we entered our position last year, we're not worried in the least bit. We like the fact that Franklin is an industry-leading blue-chip asset management firm, and we are impressed that it has transformed itself from a primarily muni bond shop into a world-class global asset manager over the last 20 years. We are also impressed with its liquid position and the fact that the founding family (the Johnson Family) still owns 34% of the company's outstanding stock.
While Franklin has not been immune to the volatile capital markets, we expect it to have much less volatility in its AUMs than stock managers like Janus (NYSE:JNS). Franklin has a balanced mix of fixed income assets and equity assets, as well as North American assets and global assets. Franklin also has active relationships with more than 130,000 financial advisors in the U.S., the largest that has been in place for more than 25 years. The firm has more than 900 institutional client relationships as well. While Franklin's recent record of net organic growth has declined since we bought it, at least its 54bp of organic growth in the most recent period exceeded a number of other comparably sized asset managers.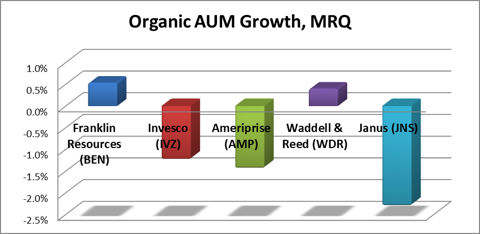 Source: Asset Manager Earnings Releases
Franklin has beaten consensus analyst estimates in five out of the last six quarters, including its most recent quarter of Q3 2012. Despite the fact that it saw revenue headwinds which caused its EPS to decline by more than 6% versus the comparable period, it still beat consensus estimates by $0.08 per share (4%). Franklin generated $3.9B in net new fund flows and its total assets under management declined by 2.54%, which we found to be better than many of its peers. This is even more impressive considering it manages more than 50% of its AUMs in non-U.S. strategies. Franklin even had positive organic growth of 35bp ($1.3B of net fund flows) in its international strategies.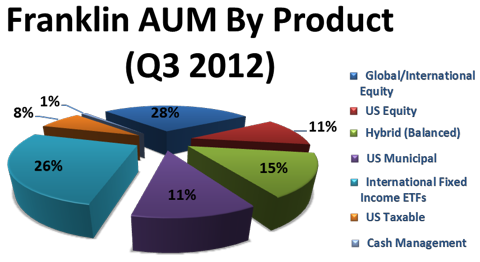 Source: Franklin Resources Q3 2012 Earnings Release
While Franklin saw a decline in its operating results versus the prior-year period, we keep in mind that very few asset managers were able to avoid that due to the capital markets weakness that occurred from July to October of last year and which has impacted average daily assets under management. The last three months have also seen volatile and choppy performance, which has served as another headwind to revenue and profit growth. Franklin still generated nearly $1.8B in revenues, $643M in operating income and $455M in net income. The company bought back 2.53M of its shares during the quarter, and this brings the amount of shares repurchased during the year to 5.1M.
We like that asset managers have very liquid balance sheets and Franklin leads the industry in terms of liquid balance sheets. We found that Franklin has $5.3B in cash and other liquid short-term securities on its balance sheet net of its long-term debt. Franklin also has $1.37B in Equity Method Investments and Consolidated Sponsored Investment Products on its balance sheet. We found that the company has nearly $25/share in net cash on its balance sheet and almost $6.45/share in equity method and sponsored investment products on its balance sheet. We know that the company has paid $5/share in special dividends in 2010 and 2011 collectively and nearly quintupled its dividends per share since 1999.
The company generates gargantuan levels of free cash flows annually, which enable it to pay these dividends and buy back shares. BEN generated $1.26B in adjusted free cash flows year-to-date, which represents an annualized return on Franklin Resources stockholders' equity of over 20%. However, we believe that the company could easily enhance this by paying a special dividend of up to $25/share or a special repurchase offer to repurchase up to $5.3B worth of stock. Franklin's net cash position represents over 21.6% of its market capitalization and other investments represent nearly 6% of its market cap.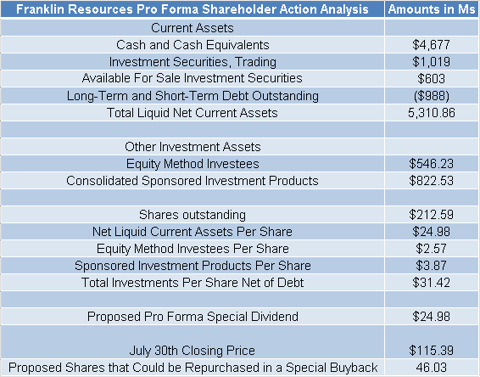 Sources: Franklin Resources Q3 2012 Earnings Release and Saibus Research Scenario Analysis
In conclusion, we are optimistic with regards to Franklin Resources' prospects. Franklin has always been a high-performing asset manager that we have respect for as an investment idea. To recap, the first thing we like about Franklin is its 65-year history of family leadership and management for the company. Despite the fact that the company is now a global leader in asset management and mutual funds in particular, the Johnson Family still owns 34% of the outstanding stock. The second thing we like about it is its ample liquidity. Even if we were to exclude its banking and financing subsidiary's assets/liabilities and exclude the consolidated variable interest entities, we would see that the company has over $31 per share in net investments on its balance sheet and near $25 per share of short-term cash and securities net of debt.
The third thing we like about Franklin is its strong recent performance. Despite the fact that its asset management business is less risky than the so-called Masters of the Universe at Goldman Sachs (NYSE:GS), Franklin Resources generated a significantly higher total return on its shares versus Goldman Sachs since Goldman's widely followed IPO in 1999. Not only did Franklin generate a higher total return than Goldman despite the higher risk in Goldman, but also Franklin didn't need to rely on a revolving door between the company and Washington, which is more than we can say for Goldman Sachs. This probably explains why Franklin's mutual fund product platform scores higher than that of Goldman Sachs Asset Management.
The fourth thing we like about Franklin is its strong book of client relationships with financial advisors and institutions, which enables it to make its assets under management really sticky and less likely to leave. The fifth thing we like about Franklin is its above-average organic growth from net client fund flows, and the last thing we like about Franklin is its ability to generate gargantuan levels of free cash flows. We are proud to have a long position in Franklin and our firm may increase our position in it and we believe that investors in Franklin can say, "We may not have as many assets under management as BlackRock, but as least we have positive organic growth, unlike Janus and other firms."
Disclosure: I am long BEN.
Additional disclosure: Saibus Research has not received compensation directly or indirectly for expressing the recommendation in this report. Under no circumstances must this report be considered an offer to buy, sell, subscribe for or trade securities or other instruments.