With Research in Motion (RIMM) market cap currently near $4 billion, and given the recurrent rumor over Samsung (OTC:SSNLF) buying RIMM, let's try to see if that would make sense.
In the 2Q, Samsung accounted for 44% of all Android smartphones shipped, with Android having a market share of 68,1%. That's a very good situation but in the long-term, it can change. The problem is that Android is developed by Google (NASDAQ:GOOG) and, while there is a mutual interest in that partnership, sometime along the way the relation can change, leaving Samsung without a competitive software for its hardware.
Google recently bought Motorola and they can decide to deliver the newest versions of Android to them first, and then to the other manufacturers. It can be a risky move but it's something that can happen. Microsoft (NASDAQ:MSFT) is preparing to do something like that in the tablet market with the Surface, competing directly with its partners.
The point for Samsung would be that instead of staying at Google's mercy, if they bought RIMM, they could use BB10, make it exclusive, and probably maintain the partnership with Google in their interest, instead of the other way around. In this case, it would be Google that would be facing the possibility of losing its best Android costumer, and Samsung would have an advantage over them. They could probably even introduce BB10 on their smartphones at the same time that they would continue with Android, leaving them with time to analyze consumer trends and decide what software to focus on.
On the other hand, if Samsung decides to go alone and continue to focus mainly on hardware, it would be subject to any decision from Google, possibly putting at risk a very lucrative position.
But let's see if financially it could also make sense.
| | |
| --- | --- |
| RIMM | As of 2012-06/02 |
| Cash and short-term investments millions | $1938 |
| Goodwill millions | $0 |
| Long-term debt millions | $0 |
| Total equity millions | $9608 |
| Market cap millions | $4000 |
RIMM's balance-sheet is pretty clean. At current prices it would be a bargain for Samsung, but also impossible. For $4 billion the shareholders would almost certainly reject the offer.
Samsung would only have to come up with slightly more than $2 billion, given RIMM's cash position. They could also restructure the company and leverage it so that the operation is cash neutral but this is just speculation. The point is that at current prices it would be a great buy for them but they would need to offer a significant premium to have success.
Now let's see if Samsung could do the transaction.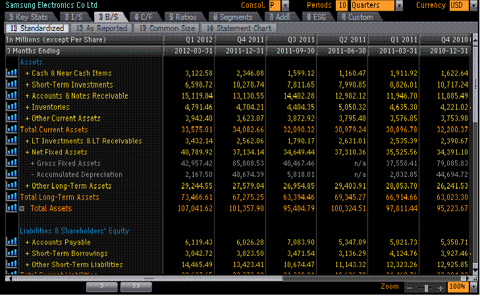 Samsung's cash and short-term investments alone would probably be more than enough to get the operation done, even without considering RIMM's cash. Also, should the offer be at around $10 billion, the risk to Samsung's balance-sheet would be very manageable if things turn out badly in the long-term.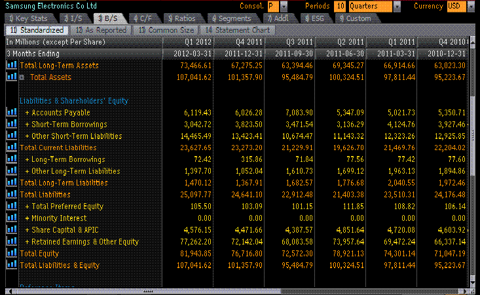 Samsung's debt structure is very light so they could also leverage easily to finance the deal if they wanted to.
As a shareholder, I would prefer to see RIMM recover by itself with BB10 being a success. I believe that would be the best way to create long-term value to the shareholders but BB10 would have to go as expected and without any further delays. There is no more margin for error for the company.
As a conclusion, Samsung buying RIMM can make a lot of sense, both strategically and financially. I just don't know if the shareholders will be happy with the price offered.
Disclosure: I am long RIMM.