By Carla Fried
In case you missed it, Pimco bond chieftain Bill Gross crossed asset lines last week and declared "the cult of equity is dying" given souring investor sentiment, and poor fundamentals.
But he wasn't exactly talking up his own book. Gross was even more dour on bonds. While he proposes a 4% nominal return for stocks going forward, he's looking at 2% for bonds.
"With long Treasuries currently yielding 2.55%, it is even more of a stretch to assume that long-term bonds - and the bond market - will replicate the performance of decades past."
Gross is referring to the fact that over the past 30 years bonds have enjoyed an epic ride down. That fueled strong capital appreciation for bond investors. (Bond prices rise as yields fall.) Going forward there's not much room for rates to fall further reducing the probability of any extended capital gains from this point forward.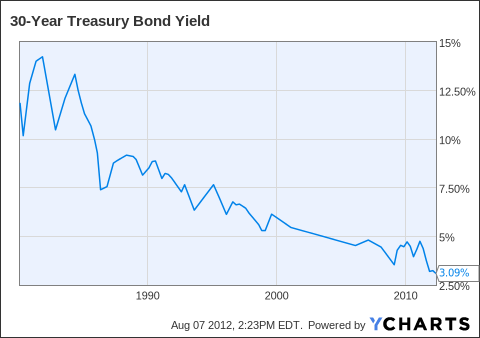 30-Year Treasury Bond Yield data by YCharts
The higher probability is we'll see bond price declines once interest rates begin to rise. That should have been the bigger headline, given the fact that ever since the financial crisis, massive inflows into bond funds and ETFs and large outflows out of stocks has created a dangerous cult of equity.
What's an investor to do?
While Gross' stock prognostication dominated the headlines, it's his take on bonds that should carry more weight. That's his wheelhouse. Stock calls? No so much. "As the folks at Fortune note, "the researchers at Birinyi Associates compiled more than a decade of Gross's stock calls, and it's not pretty."
Besides, if Gross foresees a 4% nominal return for stocks going forward, it seems like savvy investors can best that by focusing on dominant market players with a history of consistent dividend payouts. Right now the S&P 500 stock index has an aggregate yield of around 2%, but plenty of multinationals - Johnson & Johnson (NYSE:JNJ), Exxon (NYSE:XOM), Kimberly Clarke (NYSE:KMB), Intel (NASDAQ:INTC) -- have dividend yields well above that.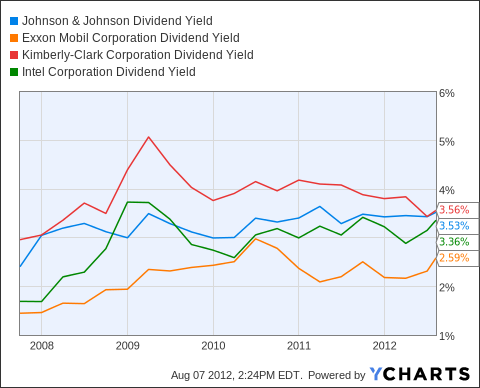 JNJ Dividend Yield data by YCharts
If you are nailing a nominal return of 3% or higher just from the dividend alone, it doesn't seem like a stretch that your total return will exceed 4% over the long run. Moreover, that 3%+ dividend yield is 50% more than what Gross pegs as a target nominal return for bonds.
The challenge for investors is to a) make sure that a company has a commitment to dividend growth -- that's what gives you some nice inflation protection. And b) make sure you're not paying up for the dividend by getting in at a high valuation -- exactly what unsuspecting yield seekers are getting caught with in the utility sector.
To nail the dividend consistency, you can check out a company's history of dividend growth coupled with its payout ratio. The lower the payout ratio the better; it signals the company has breathing room to keep increasing the payout. To measure valuation, you can start with a stock's price-earnings ratio. As a benchmark, the S&P 500 index has a current PE ratio of 13.
Here's how Intel shakes out: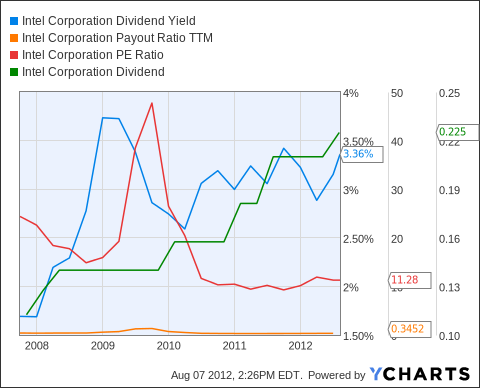 INTC Dividend Yield data by YCharts
A 3.5% yield from a company that has a nice history of increasing its dividend, yet still has a payout ratio below 30%. Meanwhile, it currently trades at a below-market PE ratio.
Exxon-Mobil is another example of a solid dividend payer with solid fundamentals: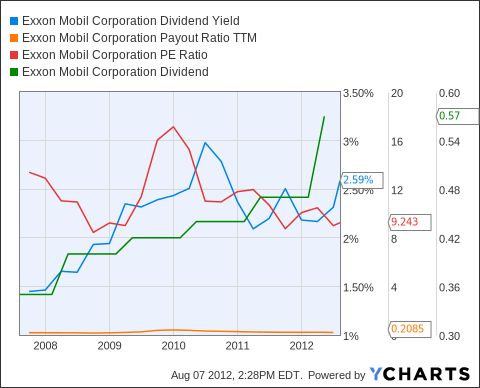 XOM Dividend Yield data by YCharts
Regardless of what happens to the over-arching cult of equity, with some thoughtful research it's not terribly hard to find dividend-payers selling at compelling valuations that sure beat the current cult of bonds.

Disclosure: I have no positions in any stocks mentioned, and no plans to initiate any positions within the next 72 hours.