The S&P 500 Index (SPX) (NYSEARCA:SPY) just closed above 1400 for the first time in months. The Dow Jones Industrial Average (INDU) (DIA) is above 13000. It's been a strong year for stocks in general, yet negativity abounds, as we've pointed out recently. CNBC's Bob Pisani just discussed this very subject:
Could this be the most hated stock market rally in history? Not only do traders not like the market, the average public doesn't believe the stock market is rallying.

Yet it is. The S&P 500 Index is up 12.9 percent, one of the best year-to-date performances in a while.

The S&P 500 is less than 1 percent from a four-year high.

NYSE short interest is near a five-year peak, which is a decent contrarian indicator.

Why the rally?

1) A widespread belief that more quantitative easing is coming from the U.S. Federal Reserve and the European Central Bank: traders in particular are expecting the ECB to lay out more definitive steps on a bond buying program at its next meeting on September 6th;

2) There's nothing for sale, and people cannot afford to be under-invested; most hedge funds -and even many large cap mutual funds - have underperformed this year; and

3) While the global economy is still weak, and Europe is certainly not looking like it is bottoming, there's hope that China will soon embark on a much more aggressive infrastructure program. The Australian Central Bank left interest rates unchanged today and said China's growth was "not slowing further".

As Europe has calmed down, the U.S. market leadership has been inverting. In a month where the S&P is up 1.6 percent, defensive/dividend payers (telecoms, drug companies, utilities, and Real Estate Investment Trusts) have underperformed this month, while growth/cyclicals have outperformed.

Dividend payers in August:

Drugs (PPH) (XPH) flat
REITs (VNQ) (IYR) down 0.7 percent
Telecom (TTH) (IYZ) (XTL) down 0.8 percent
Utilities (XLU) down 1.0 percent

Cyclicals in August:

Oil Refining/marketing (OIH) (XLE) (XOP) up 6.9 percent
Construction/engineering (ITB) (XHB) up 6.7 percent
Coal (KOL) up 5.5 percent
Steel (SLX) p 6.0 percent

Of course, anything can go wrong in Europe.

And if that doesn't impress just look at the CBOE Volatility Index (VIX) (VXX), which is near a multiyear low; while the value of the VIX as an indicator of tops and bottoms is more doubtful these days, the lows in March did correctly telegraph the highs of the market that same month."

Courtesy of Bob Pisani, CNBC.com
As we often say, the chart tells the tale. So when we see this strong price action amid negativity, this immediately flashes to us as big picture contrarian bullish.
Remember that the strong start to 2012 by stocks (QQQ) (IWM) was a very good indication based on 40 years of data that the year-end net performance would be strongly higher -- we've previously researched and discussed this. However, one of the exceptions was last year, 2011, where the market started strongly but ended lower.
It's very interesting when you look at 2012 vs 2011 vs 2010 how similar the first half of the year were. Take a look at the chart below:
SPX 2010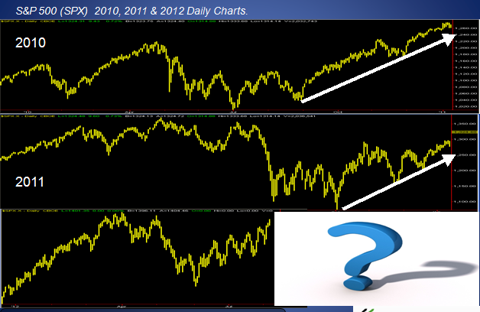 It's unusual to see this type of pattern replicate itself consistently. But note in August and the 2nd half of these years there was wildly divergent performance.
At this point, we would anticipate 2012 to have yearly results more similar to 2010 than 2011 -- none of these will be an exact match (the market just doesn't do that), but the historical data suggests further upside, and the strong recent technical action amid large amounts of negativity (and cash on the sidelines) is certainly a good potential backdrop to more stock gains.
Disclosure: I am long XLU.
Additional disclosure: ETFTRADR clients are in an XLU option position, but this may be closed at any time.