We previously researched; analyzed and compared Exelon (EXC) versus Wisconsin Energy (NYSE:WEC) and our report was published on June 8th. We made this comparison because we were intrigued by the fact that Exelon's shares had paid a sharply higher dividend yield than Wisconsin Energy, which we have held since 1997. A number of factors that previously attracted us to Exelon in order to research and analyze it versus Wisconsin Energy were as follows:
Exelon's three utility subsidiaries each served a larger metropolitan area than WEC's largest metropolitan area of Milwaukee.
Exelon was part of the Dow Jones Utility Index
Exelon had the largest fleet of power plants that not only generated electricity and gas for its utilities, but also for other companies. WEC used to own all of its power plants but sold its Point Beach Nuclear Power Plant to NextEra Energy (NYSE:NEE) in 2007.
Exelon's dividend yield of 5.4% as of June 7th was higher than WEC's 3.13% dividend yield
The potential for "natural gas prices to normalize" which is the siren song of the EXC bulls
Based on our analysis, we concluded although Exelon had a significantly higher dividend yield versus Wisconsin Energy, the difference was justified because Wisconsin Energy had a stronger record of operating and financial performance versus Exelon and its subsidiaries. We see Exelon as a big, bloated utility conglomerate seeking to grow its business through its political connections, lobbying for the Waxman-Markey cap-and-trade bill and attempted acquisitions of other utilities. We don't judge John Rowe and Exelon for lobbying for the bill because he was acting on behalf of Exelon and its stockholders. If cap-and trade passed, his company would have seen its baseline operating income increase by 36% and this increase would continue indefinitely. Cap-and-Trade passed in the House of Representatives in 2009, but wasn't taken up by the Senate. We're weren't surprised to see Exelon lobbying for the bill since Exelon and its predecessors have a tradition of seeking favors from government, all the way back to Samuel Insull's (Commonwealth Edison) advocacy for state regulation of utilities.
We followed up our first report on Exelon and Wisconsin Energy with a research report dedicated to Exelon's struggles and then another report on the lowlights from Exelon's Investor Day. After we received much feedback on those reports, we followed it up with another report comparing the performance of Exelon's business operations to Wisconsin Energy's. We saw that while Exelon was a world class leader in the merchant power generation segment, Wisconsin Energy simply outclassed Exelon overall, especially in the utility energy segments.
Wisconsin Energy has a more low-key political profile than Exelon. Wisconsin Energy focuses on providing reliable generation and distribution of electricity, natural gas and steam energy to its 1.1M electricity and 1.1M gas heat customers throughout Wisconsin and the Upper Peninsula of Michigan. We noticed that Exelon is one of the largest political donors at $1,268,491 in 2012. Constellation Energy (NYSE:CEG), which was acquired by Exelon in March 2012, donated $225,611. Compare that to Wisconsin Energy and its We Energies subsidiary, which only donated $47,000.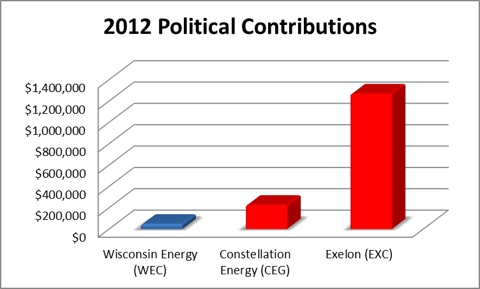 Source: CampaignMoney.com Political Action Committee Search
A quick glimpse at the awards each company has earned shows the difference between the business models these companies pursue. Exelon's most notable awards come from non-corporate or non-business related activities. Wisconsin Energy has not only earned more awards and recognition, but we like the fact that its utility operations are hands-down by far and away more reliable than Exelon and its subsidiaries. We were amused that Exelon won an award for its pension plan, especially since Wisconsin Energy's pension plan deficit is much smaller than Exelon's.

Source: Wisconsin Energy's About Us Webpage

Sources: Exelon, ComEd, PECO and BGE's Websites
We can see Exelon is more successful at generating favorable publicity while Wisconsin Energy is more successful at providing reliable energy services. Now let us examine the call that "natural gas prices will normalize". Our take on natural gas prices is that natural gas prices are back to normal. We don't expect the spike in natural gas prices from 2002-2008 to be repeated again. We found that the oil and gas boom was due to a number of unnatural statist interventions that won't be repeated on the same scale as before:
The Afghanistan and Iraqi military operations in response to the 9/11 terrorist attacks.
The rapid reduction of interest rates coupled with the original extended low-interest rate policy from 2001-2004 and the slow increase in interest rates from 2004-2006.
The weak dollar policy of the US government from 2001-present and the Quantitative easing of the Fed and central governments from 2008-present
The lack of budget discipline from the US government from 2001-present due to the rapid increase in federal spending, particularly on entitlements
The offshore outsourcing boom, which picked up steam thanks to Sarbanes-Oxley
The emergence of the BRIC nations, which derived a material portion of the combined GDP of those countries from the commodities boom
The emergence of alternative investments as an investable asset class
We believe that the advent of hydraulic fracturing (fracking) has served to normalize oil and gas prices, particularly in the United States. U.S. natural gas prices at the wellhead increased from $2.19 per thousand cubic feet to $10.79 per thousand cubic feet in July 2008. Since its 2008 $10.79 per thousand cubic feet peak, natural gas at the wellhead has declined to a low of $1.89 in April 2012. Since reaching a bottom in April, gas prices have rocketed up to $3.15 as of July. While this would certainly give Exelon some breathing room we don't see any reason for the natural gas prices to go back to the levels achieved in 2008. Part of this was due to the economic crisis that has gripped the Western World and part of this is due to fracking serving as a game-changer in producing natural gas. We also believe that fracking will be able to keep West Texas Intermediate Prices from rising about $100 for the near future. For those who are concerned about fracking's impact on the environment and water resources, there are always the non-water based fracking solutions available from GasFrac. Natural Gas bulls also float the idea of US gas exports. We believe that though natural gas exports are always a possibility, we are not as optimistic on that as the natural gas bulls. Right now the US imports crude oil, primarily from OPEC and has the potential to be a natural gas exporter. We think that it would be a bad idea for the US to import expensive and dirty sour crude from OPEC and export cheap, clean, abundant natural gas. This isn't just our observation, but also the observation of T. Boone Pickens and Donald Trump. We believe that Exelon stakeholders should not be too optimistic with regards to natural gas prices because we believe that natural gas prices have already normalized. We believe that Exelon and other power generation utility stakeholders who are expecting a return to 2008 gas price levels are living in a dream world and need to wake up from their somnolence immediately. We believe it is worth reiterating that gas prices have increased by 50% since February 2002 in spite of the following macroeconomic factors since 2002
The 2001-2003 economic recession, corporate scandals and slow recovery in the US
The 2007-present economic crisis in the US and Europe
The growth of hydraulic fracturing in the production of natural gas and even oil.
The Emerging Markets countries are starting to see headwinds to growth as well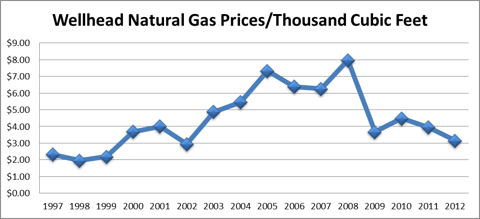 Source: U.S. Department of Energy's U.S. Energy Information Administration
In conclusion, we believe that if one is looking for a high-quality utility to invest in, we recommend that investors buy Wisconsin Energy instead of Exelon. In our first report comparing Wisconsin Energy and Exelon, we found nine reasons why any rational investor should prefer to invest in Wisconsin Energy instead of Exelon. In our second report comparing Wisconsin Energy, we found that the only area Exelon was beating Wisconsin Energy was in merchant power generation resources and even Exelon Generating LLC's Q1 adjusted profit margin slightly outperformed WEC's profit margins by the thinnest of margins. We also found three other reasons supporting our WEC replacing EXC investment thesis, most notably the fact that EXC's EPS grew at a slower rate than WEC's EPS during the 2002-2008 commodities boom. We believe investors should stop and think about that previous sentence. Despite the 2002-2008 commodities boom which jacked up the cost of natural gas and served as a powerful tailwind to utility generating companies like Exelon, its EPS growth during the period was less than Wisconsin Energy. That would be the equivalent of the Green Bay Packers beating the Chicago Bears at Soldier Field while being forced to play with 10 men on the field at a time while the Bears get to play with 12. And in this report, we find two more reasons supporting our thesis that investors who want a high-quality dividend rich utility should go with Wisconsin Energy instead of Exelon. Our three part comparison series highlight that not only does Wisconsin Energy have a satisfactory current dividend and yield, but it has a much lower payout ratio and more room to grow the dividend based on multiple different ways.
Disclosure: I am long WEC.
Additional disclosure: Saibus Research has not received compensation directly or indirectly for expressing the recommendation in this report. Under no circumstances must this report be considered an offer to buy, sell, subscribe for or trade securities or other instruments.