Last month, MRI Interventions' (MRIC.OB) ClearPoint technology was featured in a local news story by a San Francisco television station. The system, which can be added to existing hospital MRI suites, allows surgeons real-time guidance in minimally invasive cranial procedures. For instance, the news story explains how doctors at UCSF used ClearPoint to enter the skull through a minute hole - viewed in real-time with magnetic resonance imaging - and apply a localized therapy to the patient's brain tumor. While intracranial operations for treating a plethora of brain affectations are not new, ClearPoint is the first system that allows on-screen visualization of the procedure. The system takes the guesswork out of standard intracranial surgeries and significantly decreases operation time.
The technology was developed by MRI Interventions, but collaborators include some major names in the healthcare development world. The University of California San Francisco, one of the premier neurosurgery centers in the U.S., acts as an academic research partner and has adopted the system for use in its own surgery suites along with Johns Hopkins. BrainLab AG and Siemens (SI) develop imaging solutions for use in the medical industry and have been long-time partners in ClearPoint's development. Most important, however, are the collaborations that have resulted in full-system compatibility between ClearPoint and existing MRI systems.
The VISIUS Surgical Theatre, by IMRIS (IMRS), incorporates magnetic resonance imaging, fluoroscopy and CT into a multi-purpose surgical suite for use in hospitals and surgical centers. VISIUS is an enormous but necessary system that costs upwards of $5 million and takes days or weeks to install; it is a multi-room platform that sees daily use. But while an MRI system like VISIUS is able to take pre- and post-procedural images, the ClearPoint system images during an operation. And unlike the VISIUS system, ClearPoint is an addition to an existing MRI suite rather than a new installation. At $180,000 the capital expenditure is low as ClearPoint adapts to other imaging systems: Siemens, Phillips (PHG), IMRIS, BrainSuite, and GE Healthcare (GE) products are all compatible.
More important for MRIC than the low cost-of-installation, however, is the recurring revenue generated from ClearPoint's disposable component. While the hardware and software are permanent capital installations, the SmartFrame guidance system is a single-use attachment for each procedure. MRIC sees revenue from sales of the system itself, but the high-margin disposable aspect is the real revenue driver; the SmartFrame costs $7,300 per procedure and MRIC is the sole supplier.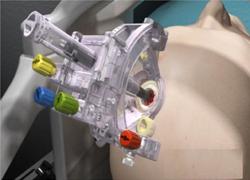 Significant value lies in ClearPoint's use as a platform system, as a delivery tool for a number of indications and treatments. For instance, AC480, a kinase inhibitor licensed to Bristol-Myers Squibb (BMY), is in trials measuring its efficacy against some forms of brain cancer; the treatment is applied directly to the tumor. Similarly, ImmunoCellular Therapeutics' (OTCPK:IMUC) two pipeline products ICT-107 and ICT-121 use dendritic cells extracted from tumors to create vaccines that work directly against the cancer's genetic makeup. These, and treatments like them, are excellent candidates for delivery by ClearPoint, in which a non-invasive procedure can administer drugs more simply than surgical methods. Products from MedTronic (MDT) use deep brain stimulating electrodes to control certain movement and psychiatric disorders, electrodes that can be implanted using ClearPoint. Pfizer's (PFE) Avastin (bevacizumab) has even been tested in animal models for intratumoral indications, which could transfer to forms of brain cancer. The options for MRIC's technology are extensive both in institutionalized medicine and in research settings. As treatments advance, specifically in neurological indications, MRIC will find a broadening market; the company already identifies 2.2 million potential patients for a wide variety of ClearPoint-adaptable indications.
For a company that went public in May, MRI Interventions is generating surprising revenue. Its nearly $1 million in 2012 revenue and existing cash position was fortified by a recently completed $6 million public offering. Since the July 5 offering, share price has declined slowly from a $4.45 high as investors stepped away from new dilution. With the downside to the offering, however, comes the reassurement that MRIC should be able to sustain operations for the next year until revenue can create positive cash flow. The company's steep $3.4MM net loss in Q1 will be quickly offset by increasing product sales. Additional financing should be unnecessary until at least late 2013.
The largest risk to investors lies in a slow adaptation to use of ClearPoint. Already the system is more advanced than the treatments available for utilization. Many neurological therapies, though promising, are still in the development stage. Treatments for epilepsy, dystonia, and Parkinson's that require direct intracranial procedures, possibly using minimally-invasive technology, are still in trials. For now, the system relies heavily on research institutions as providers experiment with these novel treatments. The ClearPoint system, however, is already installed in 15 institutions in the U.S. and growing as providers adapt the technology. Sales of the SmartFrame will increase in parallel to sales of ClearPoint and generate lasting revenue. MRIC currently walks the fine line between development-stage and MedTech, but should soon cross into the world of revenue production and sustainability.
Disclosure: I have no positions in any stocks mentioned, and no plans to initiate any positions within the next 72 hours.