When the 2008 recession hit the United States, it magnified the flaws in Ford's (NYSE:F) North American business model. Ford had a very high cost structure in North America, which meant that it could not make a profit when industry sales fell to recession levels. After the recession, Ford made drastic changes in order to reduce its cost structure. To cut costs, Ford made its North American factories operate much more efficiently and reached a new deal with the UAW to lower labor costs. Ford's cost cutting in North America has been a resounding success, and the company can now boast an impressive 11.5% operating margin in North America.
It is a good thing that Ford has experience in cutting its cost structure, because the success of its European operation will depend on how effectively the European unit can decrease costs. Currently, Ford's European operations are burning cash at an alarming rate. In the second quarter of 2012, Ford had a pre-tax operating loss of $404 million in Europe, and management stated that total losses in Europe for 2012 could exceed $1 billion.
What's the cause of these ugly losses? One of the main catalysts for the losses was shrinking industry volume. As you can see in the graph below, industry volume in Europe has fallen and doesn't seem able to get back up.
Click to enlarge images.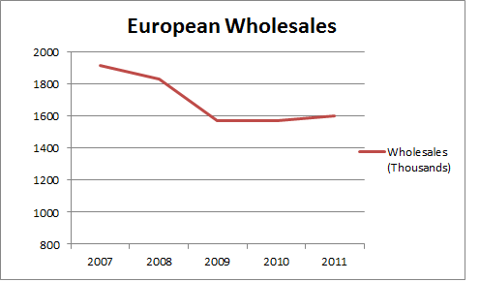 The automakers were not prepared to be profitable with low and stagnant growth in Europe. This low wholesale volume has led to large losses in what Ford calls the "volume/mix" category.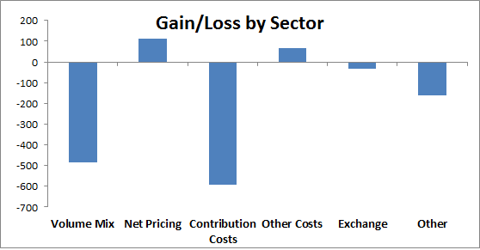 Ford breaks down its losses in four categories: industry, market share, stock levels, and mix/other.
This chart tracks the year-over-year change in each sector. I included data from the 2011 first-quarter 10-Q to the 2012 second-quarter 10-Q (the current one). (Note that all of the following charts follow this same format.)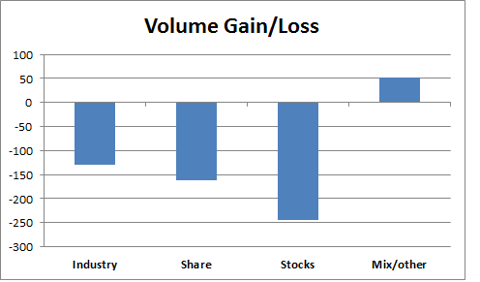 The biggest negative in the volume/mix category has been due to falling production levels. Producing fewer units is a good and necessary move, but it is really hurting Ford's revenue in the meantime. Also, in a reversal of previous trends, Ford has been losing market share in Europe.
Perhaps the worst thing about the losses in the volume/mix segment is that they don't seem to be improving.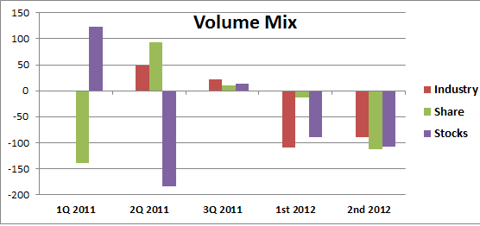 It is likely that industry volume for Europe will take years to recover. During the second-quarter conference call, Ford's CFO stated that "it's not going to come back fast" (in reference to industry volume) and "we will bring production down because the demand is not there."
Falling industry volumes have also caused a severe problem in other parts of the industry. In an attempt to maintain their volume numbers, dealers have resorted to aggressively discounting their vehicles. European dealers complain that if they do not heavily discount their vehicles, the cars never sell.
This chart shows the negative effect that incentives have had on net pricing over the last year and a half: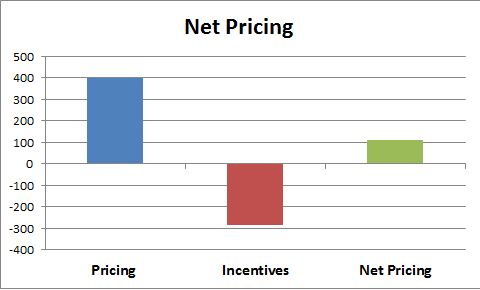 This chart does not look very grim -- in fact, net pricing rose. However, if you dive into the details, the data gets a little scarier.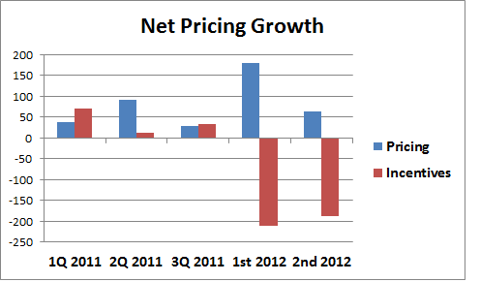 Pricing power seems to be a downward trend, and there has been a steep rise in incentives in both the first and second quarters of 2012. The reliance on incentives is troubling for Ford and its entire European car industry.
Another drag on Ford's business has been commodity costs. Commodity costs have been the biggest individual negative year-over-year change for Ford.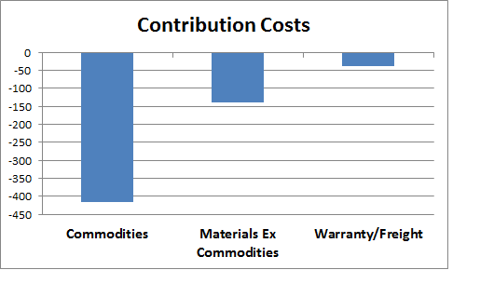 Luckily for Ford, many of the key commodities that the company uses, such as copper, have declined in price over the last two quarters and are down from last year's peak. Although it may take awhile for lower commodity costs to have an effect on Ford's business (because Ford "locks in" prices with suppliers and uses commodity hedges), it is positive that the increase in Ford's commodity costs seems to slowing.
An important metric to pay attention to is the "other costs" segment, which is the segment in which Ford places manufacturing, engineering, and overhead costs.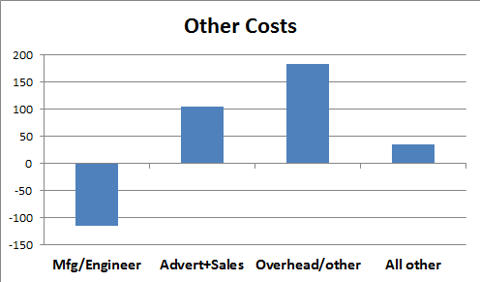 Since Ford can control these costs more than, say, commodity costs, it can be a good indicator of management's commitment to lowering costs. The fact that management has significantly reduced overhead costs is a positive signal for Ford, and the lowering of controllable costs such as overhead is a trend that needs to continue.
Overall, we like Ford despite the European situation. We do not see car sales in Europe experiencing a sharp rebound to pre-recession levels similar to what happened in the United States. Because volume is unlikely to rebound, success in Europe will have to be achieved by shutting down plants, decreasing inventory, and increasing plant efficiency. Luckily, key executives at Ford seem to have accepted this new reality and are planning accordingly. During the second-quarter conference call, Ford noted that it was attempting to make the European plants as efficient as the North American plants by implementing cost-saving measures, such as running its European factories full-time.
For the stock to be a good investment, Ford doesn't have to hit a home run with its European operations; it just has to slow the cash hemorrhage. With its commitment to cost cutting and success at achieving impressive operating margins in North America, we feel like this is a good bet to make.
We currently have a two-year price target of $11.90 for Ford.
Disclosure: I am long F.