As everyone knows, American International Group (NYSE:AIG) was in such distressed condition in September 2008 that the Federal Reserve Bank and the U.S. Treasury had to step in with a bailout package totaling $182.5B. AIG required federal intervention when its credit rating was downgraded below 'AA' levels in September 2008. In exchange for federal aid, AIG issued a stock warrant to the Federal Reserve for 79.9% of AIG's equity. AIG was once the bluest of blue-chip diversified insurance and investment product firms in the world but now is a turnaround project. We reiterate that when investing in companies, we believe that investors should view their potential investments as a collection of exposures. We agree that investors should view AIG as four firms consisting of the following exposures:
Chartis (AIG Property Casualty): Chartis is AIG's Property Casualty Division and is the largest division of AIG. It offers property, casualty, specialty and professional liability insurance to individuals and consumers.
SunAmerica: SunAmerica is AIG's Life Insurance and Retirement Services Division and underwrites life insurance and annuities sold to individuals and groups. It also sells third-party mutual funds and financial planning services as well. SunAmerica sells its products and services through affiliated and non-affiliated brokers, agents and non-affiliated financial institutions, as well as through direct-to-consumer platforms.
International Lease Finance Corporation: ILFC generates its revenues primarily from leasing new and used commercial jet aircraft to foreign and domestic airlines. Its biggest competitor is GE Capital Aviation services, a subsidiary of General Electric Corporation's (NYSE:GE) GE Capital division.
AIG Other Operations: Consists of corporate expenses, retained interests in assets businesses sold and assets AIG is trying to shed or run-off.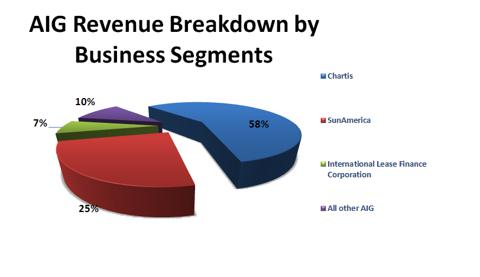 Source: AIG Q2 2012 10-Q
This analytical framework we believe allows us to have a prudent and rational opinion of our investment in AIG. We have no illusions about the company's past and present performance. We believe that while it has not caught up to blue-chip industry leaders like Travelers (NYSE:TRV) in the property casualty segment and MetLife (NYSE:MET), we believe that it is taking positive steps to catch up. We believe that a rational, dispassionate investor should be able to see the changes going on with AIG and that this isn't Martin Sullivan's AIG anymore. We took a long position in May because the market price of the company's stock was trading at a large discount to book value of and the magnitude of the discount has increased slightly due to the net income retained by the company during the last 3 months.
Evaluation of AIG's Strategic Corporate Finance Performance
We were pleased to see that AIG has been able to recover some of the company's previously written off deferred tax assets during the period. AIG was able to release $1.3B of its deferred tax asset valuation allowance during the period and this allowed the company to generate a $593M income tax benefit for the period even though the company generated $1.75B in pre-tax income. Also AIG repurchased $5B worth of its stock during the first half of 2012. AIG's shareholders' equity increased by $3.13B due to the company generating $5.54B in net income and $2.6B in net unrealized gains on its securities held on its balance sheet, offset by the aforementioned share repurchase.
The Treasury announced that it would be selling another $5B of its stock at $30.50/share and AIG has pledged to repurchase $3B of the shares offered for sale. We think that is a shame as AIG could have easily afforded to buy back the other $2B since the company has $105B in shareholders' equity. AIG's shareholders' equity represents almost 19% of its total assets and it exceeds the $74B in long-term debt on its balance sheet. Even with the mixed results posted from its business units, the company is still undervalued at a near ~50% to book value. We are also pleased to see that the company further reduced its long-term indebtedness by $1.3B in the first half of 2012 as well.

Source: Bloomberg LP and Saibus Research Scenario Analysis
Evaluation of AIG's Business Segments
Chartis: Chartis saw a slight decline in its net premiums written and premiums earned for the quarter and for the year to date periods versus last year's comparable periods. It saw a strong benefit from reduced claims and claim adjusted expenses (9% for Q2 2012 and 17% for H1 2012). This was partially offset by a 9% in Q2 2012 underwriting expenses (14% for H1 2012). This enabled AIG to reduce its Q2 2012 underwriting loss to $217M from $359M in the prior year's period. Net investment income and realized gains were relatively flat on a quarterly and YTD date basis and this enabled Chartis to rack up $961M in Q2 2012 pre-tax income, which was a 16% jump from the prior year's period. Chartis's reduced claims and claim adjusted expenses was due to lower catastrophic losses and underwriting improvements.
SunAmerica: SunAmerica had mixed results during the quarter and year-to-date periods. The company saw a slight decline in premiums and policy fees, a slight increase in net investment income and a sharp increase in realized capital gains. The division saw a steady reduction in operating expenses, which was offset by a negative impact from the change in benefit reserves and DAC, VOBA and SIA related to net realized capital gains.
International Lease Finance Corporation: The bad news for ILFC is that its revenue and pre-tax segment income was flat on a year-over-year basis for Q2 2012 and H1 2012 versus the respective 2011 time periods. This bad news is compounded by the fact that despite GE Capital Aviation Services having only ~20% more revenues than ILFC, GE Capital Aviation Services has earned 50% more profit in Q2 2012 than ILFC earned in H1 2012. GE Capital Aviation Services and ILFC both saw lower lease revenue due to early returns of aircraft by bankrupt lessees and lower lease revenue earned on re-leased aircraft in its fleet. Based on this negative disparity between AIG's ILFC Unit and GE Capital Aviation Services, we believe that AIG needs to take proactive steps to improve profitability, sell it to another firm like GE Capital or Steve Udvar-Hazy's Air Lease Corp. (NYSE:AL) or spin it off to AIG shareholders.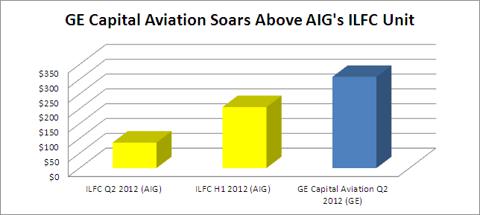 Source: AIG s Q2 2012 10-Q and GE s 2012 Q2 Earnings Release
AIG Other ("run-off assets"): This segment is meeting our low expectations. We expect that this segment should "just not screw things up" and since this segment only lost $116M in the period, we can see that our expectations are being met here. The segment benefitted from gains from its direct investment book and retained assets interests such as Maiden Lane III which were offset by change in the value of its AIA securities and a boost to corporate expenses due to a $719M litigation liability.
Conclusion
In conclusion, we are intending to hold on to our stake in AIG, as well as looking to selectively accumulate a larger position. Due to the market weakness and deep discount from market price relative to its tangible book value, we will be looking to opportunistically add to our position. The basis for our accumulate recommendation and positive outlook for the company is based on the following observations:
~50% discount for its market price relative to its book value
$8B in net share repurchases YTD as of August.
World-Class business operations subsidiaries
Eventual sale or spin-off of International Lease Finance Corporation
Revenue stability in business unit subsidiaries
Reduced expenses for policyholder claims and benefits (reduced underwriting loss)
Steady progress towards deleveraging
Strong equity capital base
Potential further share sales from US Treasury
Disclosure: I am long AIG.
Additional disclosure: Saibus Research has not received compensation directly or indirectly for expressing the recommendation in this report. Under no circumstances must this report be considered an offer to buy, sell, subscribe for or trade securities or other instruments.