Arguably more than any other company today, Lockheed Martin (NYSE:LMT) will remain a stalwart in its industry for a long time. By producing goods fundamentally important to the largest consumer in the world, the U.S. government, with methods superior to competitors and barriers to entry so large that only a few existing companies within the defense industry could even think of assuming Lockheed's responsibilities, Lockheed has an incredibly strong position. This same position puts the company in a difficult position to achieve substantial growth. This is additionally coupled with the uncertainty of government sequestration. At the same time, cash flow and profits will likely increase in the future even without top line growth, as the abnormal adverse effects of their pension situation wear off. With this cash flow, they will continue to increase their dividend for immediate shareholder returns, while creating long-term per share performance by decreasing the overall share count through buybacks. As long as one believes that government spending on Lockheed Martin does not decline significantly, the company represents an excellent investment opportunity.
Lockheed Martin is by many accounts the supreme defense contractor. This has been evidenced by the type of contracts the company has received, including the incredibly complicated space capsule for the Mars landing, significant classified projects, and most significantly the F-35. Raytheon (NYSE:RTN), Boeing (NYSE:BA), General Dynamics (NYSE:GD), and others are quite technologically savvy; however, I don't think it's a coincidence that the most demanding engineering projects that often have no precedent are given to Lockheed. In producing 4200 F-22 raptors, which take 18,500 hours to make, they have made 59 perfect jets that have not had a single malfunction. Their mechanical products are manufactured to tolerances of 1/6000th of an inch, which, to put in perspective, compares with 1/16th of an inch in the construction sector. These are testaments to the technological prowess and production skill that are all but unmatched.
They are also developing products that will clearly keep us and our soldiers safer with more unmanned crafts and more comprehensive security systems, for which there will undoubtedly be demand. Possibly most telling is the opinions of the soldiers who use Lockheed products. In short, they unequivocally rave about what they produce saying that not only does it offer more functionality but that it is more maintenance free, and when malfunctions do occur, they are easier to fix. This evidence gives me the utmost confidence that Lockheed Martin will remain a main recipient of defense contracts for years to come.
At the same time, much of what Lockheed produces does not lend itself to tremendous revenue growth, often due to a lack of network effects. Just because the government buys F-35 jets from Lockheed does not mean that it will have to buy helicopters from Lockheed. Although Lockheed makes some security systems for military systems, other companies such as Microsoft may offer products that are complementary. Additionally, many of the products they produce are one-time purchases. Unlike, for example, a smart phone which often has a 2-year turnover, the F-35 contract is for 50 years. This requires Lockheed to constantly obtain new contracts to increase its revenue. This simply is not happening as its principal customer is not increasing defense purchases significantly. Great evidence for this idea is that over the past three years, the company's revenue has only increased about 13%, its net income is actually down almost 20%, and its cash flow from operating activities is practically unchanged.
By contracting with the government through cost reimbursable contracts and fixed cost contracts, they are able to achieve stable profits. Larger and more variable projects such as the F-35 are executed under cost reimbursable, allowing Lockheed to make superior products with premium materials because every cost is paid for by the government. They then get a profit depending upon performance incentives which Lockheed has historically almost always met. They enter into fixed price contracts for items they have already produced allowing them to book a consistent profit. While putting the company in a stable position, it also removes upside that could occur through margin expansion because the company will never be able to benefit from saving money on materials, and their profits on performance are capped according to the contract.
The F-35 contract is far and away the most notable for Lockheed Martin. The government plans on purchasing 2443 F-35 planes for a total of $323B. This does not include research or maintenance costs which also boosts Lockheed's bottom line. There has been some worry about the F-35 program getting cancelled, or Lockheed Martin's role being reduced. This possibility is very remote given the confluence of forces. Secretary of Defense, Panetta, has recently said that the F-35 remains of utmost importance to national security. The current fleet or aircraft is over 22 years old, and more importantly, maintaining the current fleet would cost four times as much as developing the F-35, without even mentioning performance specs.
The U.S. has not lost a plane since Vietnam, and I believe the government has tremendous pride in their air dominance and is not about to relinquish it. Other countries such as India and Russia are currently developing fifth generation fighters, which if successful, would force the U.S. to keep pace. All signs point to the further development of the F-35. The government could hypothetically switch contractors. However, Lockheed Martin is arguably the most innovative of all contractors and more importantly, has the most in depth knowledge of fighters. They combine both prior knowledge of older fighters and trade secrets they have already acquired by developing the F-35. Lockheed Martin has been criticized for increased costs of the project. Yet these claims have been overblown and this is explained well in the following Forbes article. In short, much of the increased cost has been the result of the government and its changes to the program, while Lockheed Martin has actually exceeded expectations.
The F-35 also represents a nice source of growth because the government has partnered with eight different countries to which Lockheed Martin will sell F-35 jets to, albeit in smaller numbers. This opportunity is quite promising because this is one way in which Lockheed can achieve significant margins because international sales do not constitute a typical government contract. Additionally, more countries such as Japan recently are deciding to buy the F-35. I believe this trend will continue as there is truly no legitimate competitor to the F-35 in arguably the most important of industries. Finally, the F-35 should become slightly more profitable as the company moves towards more production as opposed to research.
The company has a very stable base of revenue due to the F-35 contract and its superior products, and some but limited opportunity for growth due its technological prowess. The main headwind to Lockheed Martin's success is the imminent fiscal cliff and the possibility of sequestration. The government has already approved a $487B reduction in the defense spending to occur relatively evenly over 10 years starting in 2012. This could be doubled if the government does not agree to a new budget, allowing sequestration to go into effect. Lockheed is well positioned to not have its projects slashed because of their importance such as the F-35, the innovation such as unmanned aircraft and their technological superiority. Yet this will prevent revenue growth because the government will reduce new projects. Sequestration would actually have an even greater impact upon Lockheed because it would force them to get rid of employees making them pay significant severance charges.
The company's pension plan upon first glance appears to be a significant obstacle. The company has been hit by a decrease in the rate of return on its plan and a lower discount rate. They paid over $2B, which is included in cost of goods according to their accenting, into the pension plan this year, and yet the pension shortfall rose from $10.5B to over $13B. It may be smart on their part, given the low returns they are expecting, to not close the gap now. The underfunded status may close by itself as almost half of the plan is in either cash or government fixed income securities with little upside.
The impact of the pension liability on the company's cash flows and profits, however, is more important than a single liability, because these reward shareholders. By contracting with the government, they get reimbursed for pension expenses associated with all these contracts. In brief, about 80% of pension funding is typically reimbursed by the government. In fact, $899M of their pension payments came from the government. In their 10K they state:
"We generally are able to recover these costs related to our plans as allowable costs on our U.S. Government contracts, including FMS, but there are delays between when we contribute cash to the plans under pension funding rules and recover it under government cost accounting rules."
The large amount contributed to the pension fund this year was the confluence of abnormal factors, namely the decrease in the discount rate and rate of return, that are likely to not reoccur, at least to the same degree in the future. Payments were also high because of prepayments needed for harmonization between the various pension accounting standards they must follow as seen in this quote:
"The PPA became applicable to us and other large U.S. defense contractors beginning in 2011 and had the effect of accelerating the required amount of annual pension plan contributions. We made contributions related to our qualified defined benefit pension plans of $2.3 billion in 2011, $2.2 billion in 2010, and $1.5 billion in 2009."
This all leads to lower future payments combined with a higher percentage of government reimbursement, which effect can be summarized as such:
"Based upon current assumptions which may change, the increase in CAS costs caused by CAS Harmonization should result in increased earnings a few years from now, as our CAS costs should be in excess of the pension expense we record under GAAP."
Thus, even if revenue is low, free cash flows should increase in the years to come. As long as revenue remains stable, Lockheed Martin can create shareholder value. It currently yields 4.47% and the company has increased its dividend each of the past three years. The company has on average repurchased over $2B of stock over the past four years and plans to do so in the future. These buybacks are significant because they continually decrease the number of shares outstanding causing free cash flow yield and EPS to rise, which should cause price appreciation in the future. These forces should continue as Lockheed has consistently had a FCF yield near 10%, their revenue base appears stable, and management has stated that free cash flow is a priority for them.
The company's valuation to competitors can be summarized by the following chart: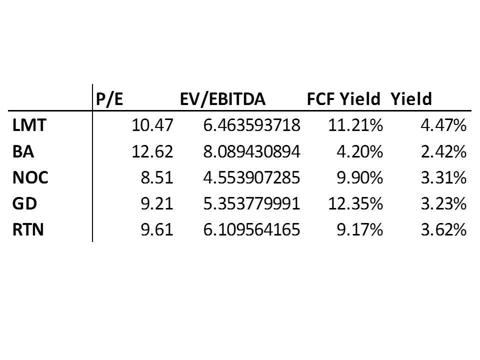 On a P/E and EV/EBITDA basis, Lockheed may appear to be expensive. However, by FCF yield, Lockheed Martin appears inexpensive, and I believe this metric is the most important of the three as it is least sensitive to accounting manipulations and includes capital expenditures, which are significant in this industry. Additionally, it does have the best dividend of its main competitors. I believe any premium indicated by P/E or EV/EBITDA ratio is justified given the innovation the company provides and its stable earnings.
Even if Lockheed Martin does not experience explosive growth in the coming years, it remains a strong investment opportunity because of the qualitative strength of the company, management's commitment to shareholder value creation, the F-35 program, and the overlooked impact of lower pension costs in the future.
Disclosure: I have no positions in any stocks mentioned, and no plans to initiate any positions within the next 72 hours.