Ralph Lauren (NYSE:RL) beat the Street's estimates for earnings and revenue, as per its Q1 results for the fiscal year 2013. This was in line with our expectations for RL, as highlighted in our previous article. The stock showed a small decline (1.1%) due to the weaker Q2 revenue outlook. Regarding the pressure on its revenue, the company cited strategic moves regarding its distribution in China and the American living brand, as well as the unfavorable currency exchange rates. We maintain our buy rating for RL because only 22% of its revenue comes from Europe, and it is taking the right steps by focusing on online sales and focusing its efforts on markets like China. With stores like Nordstrom (NYSE:JWN), Macy's (NYSE:M) and Gap (NYSE:GPS) beating their same-store sales for July, we can place confidence in U.S. consumer spending boosting retail sales.
Q1 Results and Future Outlook
The table below gives a summary of the results: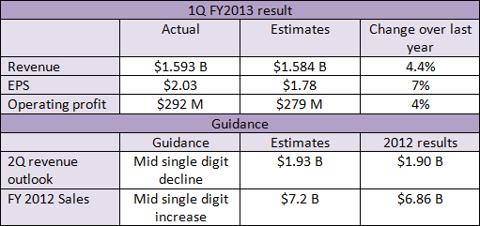 Overall, the company saw revenue and operating income increase from all segments (i.e. wholesale, retail and licensing operations). Revenue was partially offset by European operations and strategic closing of certain American and Chinese retail operations. Wholesale sales in the U.S. rose by double digits (though they were hurt by J.C. Penney (NYSE:JCP) dropping RL's American Living brand in the summer), while those in Europe dropped by 10%. The online sales are also contributing to margin expansion. EPS increased by 7% despite heavy spending for growth and inflation in raw material costs.
The retail network now stands at 379 stores, which are operated directly, and 478 concession stores around the world. The company's partners operate 142 stores under its license. These include 27 concession shops and 55 Ralph Lauren stores. In the fourth quarter last year, there were 474 concession shops, while licensees operated 144 stores comprising of 59 RL stores and 27 concession stores.
Ralph Lauren also gave its future outlook for the company. Currency effects from European operations coupled with strategic moves to reduce partner-run stores in China (and replacing them with its own), and distribution for its American Living Brand, will have a -5% effect on the full 2013 fiscal year's (calendar year 2012) revenue growth. In FY2012, the revenue growth rate was 21% year over year. In 2013, net revenue is expected to increase by mid-single digits. This is not too far from analyst estimates of $7.2 billion for 2013. Operating margins are expected to be slightly above last year's margins, as the company will continue to spend heavily on expansion in promising Asian regions, as it shifts from wholesale to retail channels.
For the second quarter of FY2013, the company expects net revenue to decline by mid single digits due to a decline in wholesale distribution and the currency conversion issues that have been mentioned above. Strategic investments will cause operating margins to be about 2% less compared with the same period in the last fiscal year.
The following are the reasons that we are still bullish on Ralph Lauren. Some of these we already discussed briefly in our last article on RL:
The exposure to Europe is only 22% of its revenue as of 2012; much less than the U.S.' 64%.
The company is focusing on faster growth areas in Asia like China, Japan, Malaysia and Singapore. In FY2012, 14% of its revenue came from Asian regions, compared with 12% and 9.4% in FY2011 and FY2010, respectively. The company is going to focus on replacing partner-operated stores in China with Ralph Lauren shops in better locations. If the pace of these developments continues, Asia will soon be a major source of Ralph Lauren's earnings.
U.S. operations constituted 64% of revenue in FY2012. This is beneficial for the company for the current period, as the July same-store sales figures for various apparel retailers indicate that consumers are willing to spend despite the economic slowdown. The back-to-school/college season will bring its share of sales. According to an NRF survey, consumers are going to be spending more this year, and clothing stores are going to be the second most popular shopping destination after online retail.
Online retail formed a significant chunk of the total retail revenue. This will help the company capitalize on the growing trend toward online retail.
Move from wholesale to the faster growing retail business is aimed at increasing brand equity, although it requires capital expenditure over the coming periods.
Dividend paying capacity is good, and there is a possibility that the company can repeat its 100% dividend increase in the future. In May 2012, the dividend was increased from $0.2/share to $0.4/share. With $885 million in operating cash flows, the company has enough cash to distribute to shareholders. Currently, the dividend yield is 1.1%.
Valuation
Since our last recommendation, the stock is up 8%.
RL is trading at a forward P/E of 18x, as compared with peers like VF Corp's (NYSE:VFC) 15x, Coach's (COH) 14x and Fifth and Pacific Companies' (FNP) 43x. At the current price of $150, it is roughly 17% down from its 52-week high.
The next 5-year growth rate is 13.5%, almost the same as the last 5-year growth rate of 13.8%.
Based on Thomson Reuters EPS estimates, and a forward P/E of 18x, the valuations come out to be:

We reiterate buying Ralph Lauren because we believe that the strategic moves undertaken so far, and those planned for the future, are beneficial for RL in the long run.
Disclosure: I have no positions in any stocks mentioned, and no plans to initiate any positions within the next 72 hours.