We wanted to elucidate the preliminary Phase II data that Celldex Therapeutics (NASDAQ:CLDX) presented on May 23rd. The market's reaction thus far has been muted given the opportunity at hand. In our view, the data warrants further investigation of CDX-011 in Phase 3 trials, earlier in the disease setting and in combination with approved drugs. We look forward to the full results at the San Antonio Breast Cancer Symposium, December 4th thru 8th. You can find the slides and webcast of the May 23rd data presentation here. We'd like to walk readers thru some of the data.
Preliminary Data
To begin, Celldex conducted a randomized Phase II trial of CDX-011 versus Investigator's Choice (IC) in patients with GPNMB-positive advanced/refractory breast cancer. Note, this is NOT a placebo-controlled study, but IC patients are receiving active therapy. These patients have failed all previous therapies and have visceral disease (spread of cancer to liver or lungs); median prior anticancer regimens in the CDX-011 arm were 6 and 5 in the IC arm. The patients in the CDX-011 arm appear slightly more advanced, given greater duration of metastatic/locally advanced disease (4 years vs 3 years) and more previous treatments. It's important to give the context of the disease setting here because the further you go down the treatment ladder, the less likely you are to see a response.
Below are the preliminary top-line results from the primary endpoint of overall response rate (ORR = Confirmed Response + Partial Response):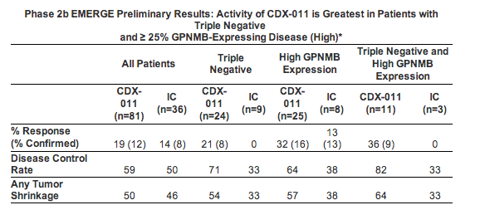 As you can see, CDX-011 compares quite favorably to currently approved therapies in this disease setting in the ITT population. The efficacy was most prominent in the 3 predefined subgroups: triple negative patients, triple negative patients who are also high GPNMB expressors and high GPNMB expressors. Notably, a 36% partial response (PR+uPR) rate in patients who received CDX-011 versus 0% in the patients receiving Investigators Choice. There is also meaningful separations in the disease control rates between arms, all in favor of CDX-011.
Their progression-free survival (PFS) data presented were quite immature, but they showed encouraging signs of activity at this point. With a median PFS of about three months in the triple-negative high expressors, this is very encouraging since it is around what they expect with 1st-line treatment of triple-negative patients. CDX-011 was generally well-tolerated with the exception of rash and some peripheral neuropathy.

Some caution should be taken in examining these cohorts due to their lower numbers and the maturity of the data. There are also differences between confirmed and unconfirmed response rates, however, Celldex's SVP/CMO Tom Davis gave some detail on this in the context of the RECIST 1.1 criteria. The crux of their argument was that "confirmation essentially reflects durability of responses, duration of response or progression-free survival from a randomized study are actually better readouts to confirm responses" and RECIST 1.1 not requiring confirmation in in Phase II studies. SVP/CMO Tom Davis also had the following to say:
Some of these unconfirmed partial responses fall into the category of incomplete or variable data rather than short duration. And we continue to collect information to better characterize each response.
See image for more details from the call transcript.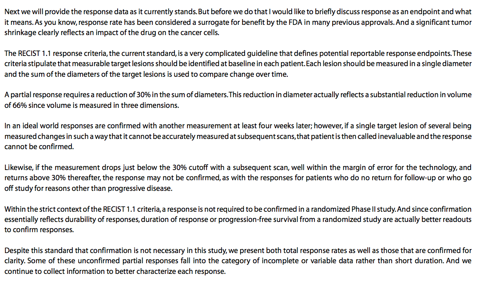 A quote from Dr. Linda Vahdat, of Weill Cornell Medical College, during the CDX-011 conference call when asked about whether the response duration was better than, equal to, worse than currently approved agents:
I would say that it is at a minimum equal to. It is sort hard to say that something is better unless you have -- because we treated a lot of patients. But I think without actually going through my individual numbers and saying, oh well, yes, this is better than what we saw otherwise, I wouldn't want to make an overreaching statement. But I would say it is at a minimum as good as any drug where you have a response going. And you have to remember, this is a very heavily pretreated population, so in general you wouldn't expect any response.
Overall, we think the data are quite positive. With prospectively defined subgroups and a targeted agent, Celldex appears to have a very valuable pipeline asset. If any mid-cap to big-pharma reported these data, Wall Street would have been gushing over it.
Path Forward: Accelerated Approval?
At several points Celldex's management spoke about the possibility of pursuing accelerated approval of CDX-011. There is a significant unmet need for patients with triple-negative disease, given the data to date. Naturally, Celldex would love to convince the FDA that a single-arm study based on PFS (with a follow-up randomized study to test overall survival) is adequate. Although we view this as somewhat unlikely, we think that under the new PDUFA V regulations, Celldex might be able to come up with a plan.
In our view, there are really only two options going forward: partner the drug or sell the company. A large pharmaceutical company will have the resources to optimize the potential of this drug and create a commercial assay for GPNMB. It seems like a no-brainer, in Dr. Vahdat's words, to test this drug earlier in the disease (1st-line, 2nd-line, 3rd-line, etc) and combos in patients with high GPNMB expression and triple-negative disease with high GPNMB expression. The commercial potential of the drug could be very large.
Triple-negative (TN) breast cancer accounts for roughly 15 to 20%. Celldex believes about 35% of all breast cancer patients (high-GPNMB and TN) could benefit from CDX-011. This is roughly the size of the HER2 population (overexpressed in 18-30% of invasive breast cancer cases). While it's much too early to say CDX-011 is the next Herceptin, the market should consider the potential given how widely successful Herceptin has become.
In our previous conversations with management, they have indicated that they are actively seeking a worldwide deal for rights to CDX-011. Following the data release, management had several parties express their interest in the program within hours. Celldex also has data supporting use in melanoma and sees opportunities in lung cancer, lymphoma and leukemia.
Conclusion
We look forward to their presentation at SABCS in December. They should have data with significantly longer follow up, so the PFS and OS data presented here will be more robust. We believe their shares are currently undervalued at these levels given the large future potential of their breast cancer drug, CDX-011. They also have value in their CDX-1127 and Rindopepimut (CDX-110) programs. We will not be underestimating a management group composed of ex-Medarex scientists, a company that was acquired by Bristol-Meyers and continues to payoff for them. We have been following Celldex for quite sometime and will continue to track their progress.
Disclosure: I am long CLDX.