NetEase (NASDAQ:NTES) is scheduled to report its Q2 2012 results on Aug. 15, 2012, after the closing bell. The Street expects EPS and revenue of $1.08 and $333.53 million, respectively.
In this article I will recap the historical results of NetEase, its latest EPS estimates vs. surprises, the latest news from the company, and the latest news from its closest competitors.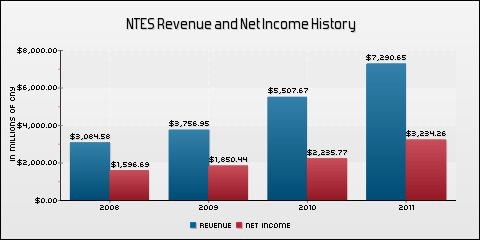 Recent EPS: Actual vs. Estimates
The company has met or beaten analysts' estimates in the last four quarters. In the last quarter it reported EPS of $1.14, beating analyst estimates of $1.01.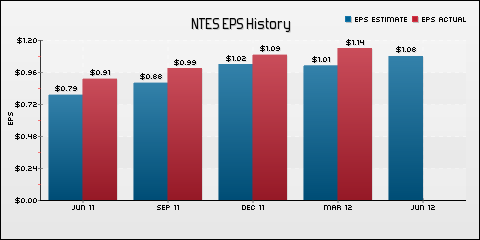 The consensus EPS estimate is $1.08 based on 14 analysts' estimates, up from $0.91 a year ago. Revenue estimates are $333.53 million, up from $268.22 million a year ago. The median target price by analysts for the stock is $67.50.
Average Recommendation: Overweight
Source: MarketWatch.
Latest News
On May 16, 2012, NetEase announced its unaudited financial results for the first quarter ended March 31, 2012. Net profit for the first quarter of 2012 totaled RMB941.7 million (US$149.5 million), compared to RMB898.6 million and RMB737.4 million for the preceding quarter and the first quarter of 2011, respectively. Total revenues for the first quarter of 2012 were RMB2.0 billion (US$318.2 million), compared to RMB2.1 billion and RMB1.5 billion for the preceding quarter and the first quarter of 2011, respectively.
On March 29, 2012, NetEase announced that it received shareholder approval at the company's extraordinary general meeting of shareholders (EGM) to change its corporate name from NetEase.com, Inc., to NetEase, Inc.
On March 20, 2012, Blizzard Entertainment (NASDAQ:ATVI) and NetEase announced that they will continue their existing cooperation on Blizzard Entertainment's "World of Warcraft" in mainland China. The new license will continue for an additional three years following the expiration of the current license agreement.
Competitors
Baidu (NASDAQ:BIDU), Perfect World (NASDAQ:PWRD), Renren (NYSE:RENN), SINA Corporation (NASDAQ:SINA), and Sohu.com (NASDAQ:SOHU) are peers of NetEase, and the table below provides the key metrics for these companies and the industry.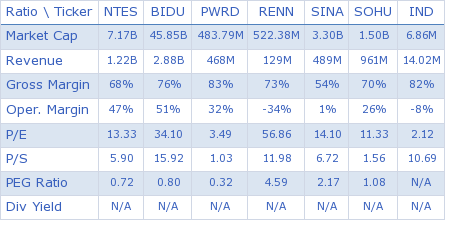 The chart below compares the stock price changes as a percentage for the selected companies for the last one-year period.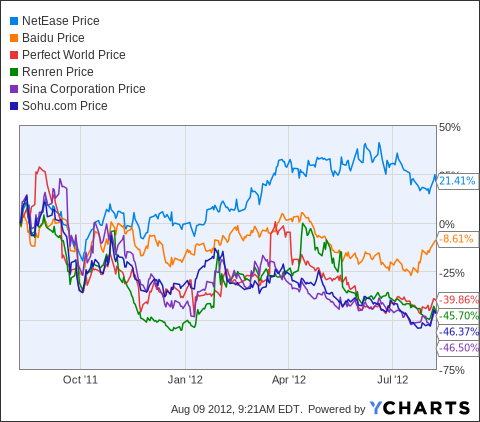 Competitors' Latest Developments
Technical Overview
The stock has a market capitalization of $7.17 billion and is currently trading at $54.78, with a 52-week range of $35.74 to $65.54. The stock's year-to-date performance has been 22.14%. It is currently trading above the 20-day and 200-day SMAs, but below the 50-day SMA.
Data sourced from Yahoo Finance, Google Finance, Marketwatch, Finviz, and Reuters.
Disclosure: I have no positions in any stocks mentioned, and no plans to initiate any positions within the next 72 hours.