On August 7th, the new Indian finance minister, Chidambaram, junked the policies of the old finance minister and has ordered a review of the foreign corporation tax law which will help investor confidence massively. This change in rules will result in foreign companies to reinstate their India plans which should result in a flow of capital back into the country which will be beneficial for the Rupee.
Over the last year, the Indian Rupee, INR, has sold off 26% against the US Dollar and has lagged the other Asian currencies by quite a margin as well. The main reason for the underperformance has been the imposition of draconian retroactive taxes on foreign corporations. This led to the foreign corporations not just stopping but also reversing their foreign direct investments (FDI) into India. As the FDI flows are a big support for the currency, the currency suffered as it fell 26% over the last year.
But on my recent trip to India I was able to do some digging into what has transpired there recently and the changes afoot. The finance minister has been replaced, the government has announced a massive infrastructure project to stoke economic growth and the government seems to be now backing away from the proposed taxes.
Besides reversing the FDI flows, the new finance minister also has a secondary reason for strengthening the currency and that is to fight imported inflation. A weaker currency has resulted in a price hike for oil in domestic terms. Some of these price hikes have been passed through to the consumer and some have been absorbed by the government and the oil companies. This has resulted in inflationary pressures as well as contributed to weaker growth. India's GDP has fallen from +7% to about 5%.
Another thing to keep in mind for the Indian Rupee is that the short term interest rates are at 8% compared to 0% in the US. This means that you earn 8% a year for just holding the Indian Rupee even if it does not appreciate at all against the US Dollar.
Chart of INR vs. USD (INR is traded as number of Rupees per 1 US Dollar)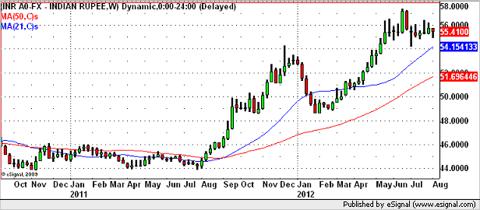 There are several ETFs that can be used to play the impending strength in the Indian Rupee. ICN is a Wisdom Tree Currency ETF, while EPI will give you exposure to the Indian stock market as well as the currency.
I am looking for the Rupee to gain 10% to 15% over the next few months.
Disclosure: I have no positions in any stocks mentioned, and no plans to initiate any positions within the next 72 hours.