Market Recap: The market moved fairly flat again on light volume as the market continues to look for signals of direction. The issue for the market, right now, is that we have basically everyone of importance on vacation. Traders and bankers are on vacation. Congress is on vacation. The ECB is on vacation. The Fed is not doing anything until Jackson Hole in late August. It's just a wait and see period, which does not create a lot of movement for the market of substance. Large moves are on light volume, which during these times is mostly created by computer/bot trading and algorithmic trading. The market did get some positive news that jobless claims were lower than expected, and the trade balance did narrow. Yet, the market did not see much upside as the ECB catalyst has worn off, and the market is awaiting real action in Europe or here at home.
The market showed some signs of rolling over, but all major dips to this point have been bought. We do get some more data points and earnings tonight and tomorrow morning, but we would not expect much in the way of movement for the market tomorrow. Any moves of significance should be reversed as volume is very light and should slow even more on Friday.

Two Trades:
Two trades we like right now are Yum Brands (NYSE:YUM) options as well as a pair trade long 3D Systems (NYSE:DDD), short Lululemon (NASDAQ:LULU). Right now, YUM seems to be signaling a breakout. The stock was a great outperformer until some weakness in the early summer, but their latest results in July were very strong. We upped our PT on the company for the next 12 months from $71 to $88 on the results. The company saw no currency issues of significance and has exceptional double-digit growth. They have an amazing bottom at $62.50 that has been holding since January, and we like using that level for selling puts or adding bull put spreads. As for DDD vs. LULU, we believe DDD is about to be one of the next high-growth, momentum stocks that everyone wants to own. 3D movies are becoming wildly popular, and we believe LULU's time in the sun is over. DDD is in a great technical upward channel while LULU is in a strong downward channel. Buy DDD on any weakness and hedge with shorting LULU.
Trade #1: YUM, Sep22, 62.50/60 Bull Put Spread
Trade #2: DDD Long, LULU Short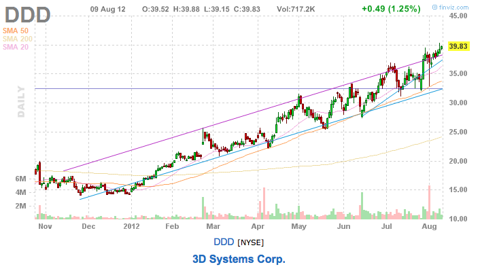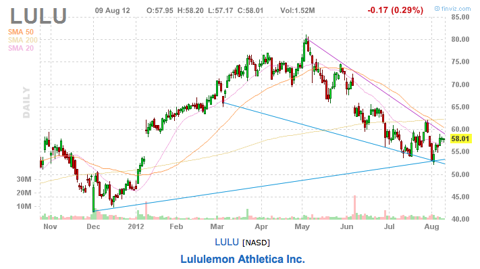 Tomorrow's Outlook:
The market will be looking at another potentially flat day. We do get some data in the form of Export/Import Prices and the Treasury Budget here at home. Neither report are very market impactful. We will get some interesting information from overseas, including the Chinese Trade Balance, Japanese Industrial Production, and German CPI. The Chinese data may be the most impactful. Things have been weak, and that news may start to produce some "risk-off" trading for the market. Earnings continue to be impactful with the lack of other news, and tonight we will be watching for some moves off of the reports from Nordstrom (NYSE:JWN) and NVIDIA (NASDAQ:NVDA). Tomorrow morning, an interesting report to watch will be J.C. Penney (NYSE:JCP). None of the three are market moving material, but retail will be highly impacted. With such a light day as well, they may help set the mood. Look for pretty flat movement tomorrow overall, but the ability for some stocks to see some larger swings on light volume.
Our Moves:
We had a mixed day in the market as we were able to close a bull put spread in Apple (NASDAQ:AAPL) for an 11% gain today from our Options Portfolio, but we had to take losses on an Adobe (NASDAQ:ADBE) and Tiffany (NYSE:TIF) bear call spread. We added a long in PPG Industries (NYSE:PPG) to our Short-Term Equity Portfolio. We added some sold puts in Discover Financial (NYSE:DFS) for Sep 22 to our Earnings Alpha Portfolio as well as a Yum Brands bull put spread to our Options Portfolio.
We have the following positions:
In our Short-Term Equity Portfolio we are long PPG, Target (NYSE:TGT), Carnival (NYSE:CCL), Dollar Tree (NASDAQ:DLTR). We are short Pall (NYSE:PLL), Omnicare (NYSE:OCR), and Liberty Property (LRY).
In our Options Portfolio, we are long Yum! Brands, Starbucks (NASDAQ:SBUX), United States Oil (NYSEARCA:USO), Monsanto (NYSE:MON), Dollar General (NYSE:DG), Home Depot (NYSE:HD). We are short Eli Lilly (NYSE:LLY) and Adobe.
In our Earnings Alpha Portfolio, we are long Discover, Apple and American Eagle Outfitters (NYSE:AEO). We are short Dell (DELL). We have a reverse iron butterfly in F5 (NASDAQ:FFIV). We have reverse iron condors in Coinstar (NASDAQ:CSTR) and Facebook (NASDAQ:FB).
In our Goldman Sachs Up/Down Paper Portfolio, we are long Cubist (CBST) and Atmel (NASDAQ:ATML).
Chart courtesy of finviz.com.
Disclosure: I have no positions in any stocks mentioned, and no plans to initiate any positions within the next 72 hours.