Governments around the globe are struggling to get their spending in check. Annual deficits in the developed world are, in many cases, devastatingly obscene.
And yet, if an industrialized country (e.g., Germany, Japan, United States, Great Britain, etc.) has enough cache with global borrowers, that nation may presently borrow-n-spend with impunity. Treasuries, gilts, JGBs, German "bunds" - the rich sovereigns have been racking up enormous "credit card" debts at ridiculously low rates. (Of course, that only works for so long ... just ask Italy or Spain.)
On the flip side, large multi-national corporations have also been able to take enormous advantage of cheap borrowing. Consider a late July move by IBM (NYSE:IBM) where they raised millions of 10-year money at a paltry 1.88%. That's less than the cost of historical inflation. In fact, it is less than the cost of our so-called deflationary environment where inflation has averaged 2.25% over the past three years. In other words, IBM is effectively earning an inflation-adjusted gain - increasing its purchasing power - by paying back its loan over the next decade.
At first glance, one might suggest that governments are doing the same thing. And with the power to print money, the investor doesn't have to worry about a big country going belly up. The problem with that thinking is that we all know a country can indeed lose its access to easy credit as well as find itself unable to pay its current obligations when it dramatically overspends.
On the other hand, the IBMs of the worldwide community have used the easy money/cheap borrowing to strengthen their balance sheets since 2008. The multi-nationals are sitting on piles of cash to continue funding their operations, where profits and revenues themselves are not dependent on a single country's GDP.
Indeed, multinationals are equipped to muddle through a global growth slowdown; that is, the micro-economic environment will expand over time with less trauma than we witnessed in 2008. In contrast, governments running unsustainable deficits are barely able to support their respective macro-economies; if there are going to be dramatic shocks going forward, they'll hit macro-economic GDP/employment more than micro-economic earnings/revenues.
Regardless of where one stands on the macro-economic picture, it's difficult to believe that investors would dump corporate credit out with the bath water. The micro-economic picture is vastly improved since the 2008 banking collapse.
It follows that, in spite of pending uncertainties related to Greece, Spain and "Taxmageddon," I would give strong consideration to these ETFs:
1. Vanguard Long-Term Corporate Bond ETF (NASDAQ:VCLT). Vanguard keeps the expenses very low (0.14%) on this exchange-traded, fixed-income vehicle. VCLT tracks the Barclays 10+ Year Corporate Bond Index, holding roughly 860+ individual bonds with an average maturity of 13 1/2 years. Recent capital appreciation has sent the annualized yield of approximately 4.4% down from 4.7% a few months back. That said, the reliable monthly payout and the potential for additional price appreciation in the "Grexit" fear-filled days of September make VCLT worthy of buying on the dips.
Click to enlarge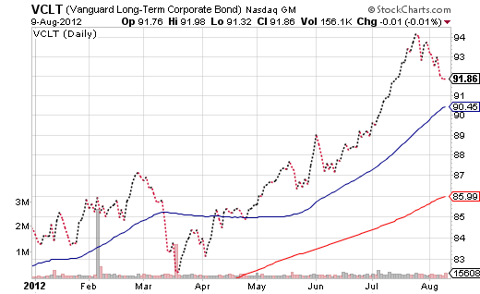 2. WisdomTree Emerging Market Corporate Bond (NASDAQ:EMCB). Until recently, investors only had access to sovereign emerging market bonds. Moreover, one of my largest holdings across client portfolios is PowerShares Emerging Market Sovereign Debt (NYSEARCA:PCY) due to the exceptionally low debt-to-GDP ratios across the developing world. Still, the same demographics, fundamentals and growth rates that we associate with emerging market stock assets should be an even bigger bang for emerging market corporate bond assets. EMCB is expensive (0.60%), yet the dollar-denominated investment sports an attractive 5.0% distribution yield.
Click to enlarge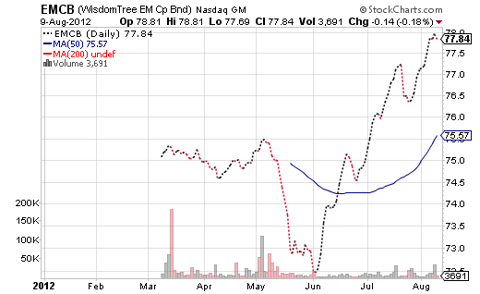 3. Market Vectors Preferred Securities excluding Financials (NYSEARCA:PFXF). I remain an advocate for the highly liquid iShares Preferred Fund (NYSEARCA:PFF). That said, I recognize the extreme volatility and uncertainty associated with financial institutions since the banking collapse in 2008. With up to 75% of all preferred shares eminating from financial companies, this recent introduction by the Van Eck Market Vectors team is conceptually refreshing; that is, you may still pursue the historically higher yields associated with corporate preferred securities over those corporations' traditional bonds, while simultaneously eliminating the excessive volatility of the financial sector. The net expense ratio (.40%) is reasonable for an asset that should serve up monthly distributions at an annualized yield of 6%-6.25%.
Disclosure: Gary Gordon, MS, CFP is the president of Pacific Park Financial, Inc., a Registered Investment Adviser with the SEC. Gary Gordon, Pacific Park Financial, Inc, and/or its clients may hold positions in the ETFs, mutual funds, and/or any investment asset mentioned above. The commentary does not constitute individualized investment advice. The opinions offered herein are not personalized recommendations to buy, sell or hold securities. At times, issuers of exchange-traded products compensate Pacific Park Financial, Inc. or its subsidiaries for advertising at the ETF Expert web site. ETF Expert content is created independently of any advertising relationships.