Tongjitang Chinese Medicines Company (NYSE: TCM) reported that its Q1 revenues and profits were lower than a year ago. The company blamed the heavy February snowfalls as the reason behind the disappointing quarterly results, even though the rest of China biopharma was largely able to dramatically increase its sales and net income in the same period.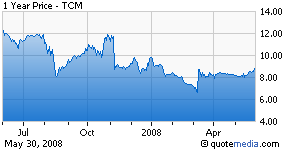 Tongjitang said its revenues decreased 29% in Q1 to 106 million RMB ($15.1 million), largely because sales of its lead drug, the osteoporosis drug Xianling Gubao, fell 39% to 70 million RMB ($10.0) million. Wintertime is usually a good season for osteoporosis drugs, though sales are hurt if patients are unable to transport themselves to pharmacies. The rest of its product line was off by 29% at 13.5 million RMB ($1.9 million), but Guizhou LLF products, a new acquisition completed in Q4 of 2007, contributed 7% to Q1 sales.

In recent quarters, Xianling Gubao has posted lackluster increases in revenues, forcing Tongjitang to look elsewhere for growth. Among other initiatives, Tongjitang was investing in domestic China IPOs, a business move that made sense in 2007 when the China's stock market was hot, but has now become a more dubious proposition. Although the company did complete the Guizhou acquisition, it is a fairly small-scale foray into the world of M&A.

In March, the company's chairman, Mr. Xiaochun Wang, made a cash buyout offer of $10.20 for each publicly traded ADS. That number was 20 cents above the $10 per ADS price of the IPO, which Tongjitang completed in March 2007. A special committee of the board, composed of independent board members, is still examining the offer.

Tongjitang recorded net income of 12 million RMB ($1.7 million) for the quarter and earnings per ADS at 5 cents. Those numbers are after consideration of 9 million RMB ($1.3 million) in share-based compensation expenses. The company also increased its R&D spend as it seeks to bring new products to market.

At the end of the quarter, Tongjitang had 797 million RMB ($113.7 million) of cash on hand, virtually unchanged from the amount it held three months earlier.

Tongjitang Chinese Medicines fell 6% following its earnings announcement. Its ADSs were down 50 cents at $8.31. Before the offer of $10.20 to take the company private, Tongjitang was trading at $6.60 per ADS.

Disclosure: none.