I've been meaning to add some financials to my portfolio ever since the subprime crisis began. I traded Goldman Sachs (NYSE:GS)  for some short-term profit recently, but in general found the headlines a little too hard to handle. Okay, so that was a bit tongue in cheek. I actually have a couple names in this sector on my short shopping list again. But the point I'm trying to make is that there is a less risky way to play the financials -  through their preferred shares, or you can do even better through closed-end funds of those preferreds that are trading at a discount to NAV.
click to enlarge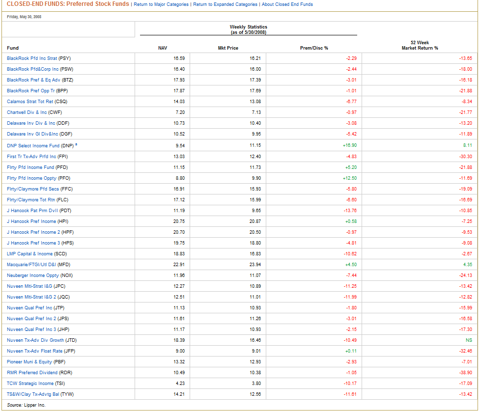 Above is a list of closed-end funds of preferred stocks, provided by the WSJ market data center. I looked up these ticker symbols, with emphasis on the ones trading at significant discount to NAV at ETFconnect.com, my favorite site for doing research on closed-end funds. What I found most interesting was Nuveen MultiStrategy Income and Growth Fund 2 (NYSE:JQC) [and its close cousin Nuveen MultiStrategy Income and Growth Fund (NYSE:JPC)], both managed by Nuveen.
As of May 29, JQC had a distribution rate of 10.39% and was trading at a 11.82% discount. Its top holdings are Wachovia (NASDAQ:WB), Citi (NYSE:C), Banco Santander (STD), ING (NYSE:ING), AgFirst Farm Credit Bank, JPMorgan (NYSE:JPM), Lincoln National (NYSE:LNC), HSBC (HBC), Developers Diversified Realty (NYSE:DDR), and Ace Limited (NYSE:ACE). I doubt many of these companies will go bankrupt, and even if they do, the preferred holders have precedence over common stock holders in claiming any assets.
The chart on JQC shows that it has pared back some losses sustained since last summer. I would love to get my hands on shares below $10, but I may have to wait an aweful long time.
click to enlarge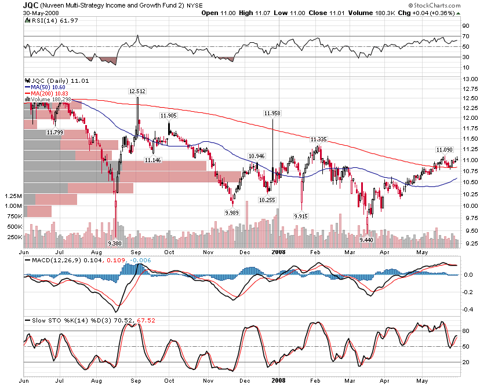 Going back to my statement that the preferreds are less risky way than the common stocks (for financials), below is the long term JQC: Select Sector SPDRFinancial (NYSEARCA:XLF) ratio chart. There wasn't any sustained down draft (longer than say, six months), and currently we're in a period of upswing. Combined with its yield and the discount to NAV as a cushion, JQC is quite attractive right now. In fact, in my on-going portfolio rebalance, I have switched out of my short government bond fund in lieu of JQC in the fixed income allocation.