Plains All American Pipeline LP (NYSE:PAA) reported Q2 2012 earnings on August 6, 2012. It roughly met analysts' estimated revenues, which amounted to approximately 10.5% year over year growth; but it beat hugely on earnings. It reported earnings of $1.85 per unit compared with the analysts' estimate of $1.66. It smashed the year ago quarter's earnings of $1.12 with a 65% increase in earnings year over year. In July, PAA declared an 8.4% year-over-year increase in its annualized distribution to $4.26 (a 4.98% dividend/distribution) per common unit. It has averaged a 7.5% CAGR in its distribution amount for the last 11.5 years. Since 1998, it has gained 388% due to stock appreciation alone. This far surpasses the gains of the S&P500 even with considering PAA's higher dividend/distribution. Further, PAA upped its FY2012 EBITDA guidance by $80 million (or 4%) over its last guidance announcement of May 7, 2012.
PAA's estimates for Q3 are generally good. In the Transportation segment, PAA expects volumes to average approximately 3.59 million bpd. Adjusted profit is expected to be $0.57 per barrel or $188 million for the segment. This is slightly better than the Q2 result of $180 million. Q2 volumes were 3.56 million barrels, with an adjusted profit of $0.56 per barrel.
In the Facilities segment, Q3 guidance assumes an average capacity of 112 million barrels of oil equivalent. This is a 3 million barrel increase. It is due to additional natural gas storage capacity placed into service in Q2 and new capacity to be brought online in Q3 2012. Adjusted segment profit is expected to be $115 million or $0.35 per barrel in Q3. This is slightly below the $119 million of adjusted profit in Q2, but this small difference may just be conservative guidance. Subsidiary, PAA Natural Gas Storage (NYSE:PNG), is 62% owned by PAA as an LP interest, 2% owned by PAA as a general partner interest (with IDRs) and 36% owned by the public as an LP interest.
The Logistics segment volumes are expected to average 945,000 bpd in Q3. The midpoint of guidance calls for earnings of $106 million or $1.22 per barrel for Q3. This is far below the $221 million in adjusted profit from this segment in Q2 2012. The Q3 guidance is expected to be significantly lower than Q2 2012 due to a lower Midland/Cushing differential and lower NGL sales prices. However, PAA feels that the Q3 result is largely a timing issue associated with the impact of inventory cost accounting. Higher margins are expected later in the NGL season, especially in Q1 of 2013.
Some of these NGL prices are already starting to rise as you can see in the propane price chart below.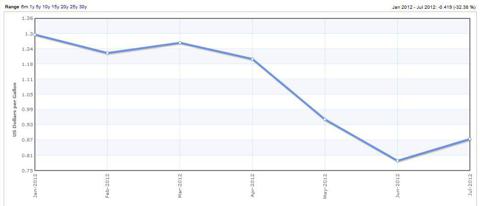 The August 10, 2012, price of propane is $0.9382. This is far above the approximate $0.70 near-term low price at the beginning of June. Of course, at the beginning of April 2012 the price was approximately $1.20, so there is still quite a ways to go to regain that level. Plus there are all of the other NGLs. Still this example is indicative of the general trend.
PAA announced progress on projects that could positively impact near term earnings and revenues. PAA announced it is constructing new crude oil rail facilities in Tampa, Colorado and Yorktown, Virginia. These are expected to be completed by Q3 2013 at a cost of $125 million. PAA announced it has completed or is nearing completion on new crude oil pipeline projects that total over 145 miles. These are expected to provide 200,000 bpd in additional takeaway capacity from the Bone Spring, Spraberry, and Wolfberry producing areas in West Texas. The total cost is estimated at $135 million.
PAA announced it is expanding its Gardendale gathering system. It is constructing a new condensate stabilization facility in the Eagle ford; and it is building a new pipeline along the Gulf coast. These projects are expected to be completed by the end of 2013 at a total cost of $190 million. The company later announced that it had formed a new joint venture with Enterprise Products Partners (NYSE:EPD). For this, PAA has combined portions of its Eagle Ford projects with EPD's Eagle Ford projects. This will mean the construction of a new 20-inch pipeline segment from Three Rivers to Lyssy (the start of EPD's pipeline from the Eagle Ford to Houston). The pipeline is supported by long-term shipper agreements for 60% of capacity (so far). The tariff for uncommitted shippers will be $1.25 per barrel.
In sum, the outlook is still great. NGLs prices will hit PAA's Q3 2012 earnings. However, this is expected to be a short-term problem (according to PAA). The project lineup should increase earnings in the future. I note the new organic growth announcements are not the only projects. PAA does acquisitions on top of its organic growth projects. These have totaled approximately $6.8B from 2001-2012. The most recent years have seen the heaviest acquisitions with an average of approximately $1.4B per year over the last two years. PAA is expanding rapidly to quickly meet the needs of the quickly expanding U.S. oil and gas E&P industry. This aggressive behavior could lead to mild negative surprises in the very short term. However, if you are in this great dividend play (4.98% annual dividend/distribution) for the long haul, PAA's aggressiveness should pay off immensely for you. Being first in a rapidly expanding pipeline business can be a big advantage.
The two-year chart of PAA gives some technical direction to the trade.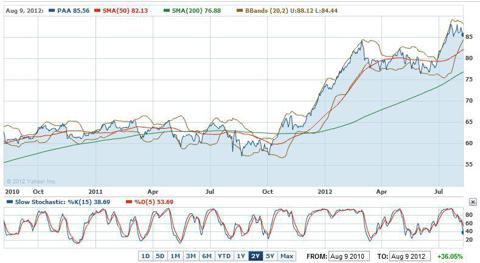 The slow stochastic sub chart indicates that PAA is neither oversold nor overbought currently. The main chart indicates that it has been in an uptrend since last October. It appears to be consolidating after a recent sharp run up. The much lower Q3 guidance for the Logistics segment is a concern, but keep in mind that the company did raise its FY2012 guidance by 4%. Plus the rapid growth of this company even in the face of tough world economic times tells you it is likely to be hugely successful in the long run. This is a buy for a long-term investor. I would choose to average in. the overall market may be about to fall from the top of its current range. PAA currently trades at a P/E of 14.99, which is low for a good dividend paying pipeline MLP. Again the dividend/distribution is 4.98% annually.
NOTE: some of the fundamental fiscal data above came from Yahoo Finance.
Good luck Trading.
Disclosure: I have no positions in any stocks mentioned, but may initiate a long position in PAA over the next 72 hours.