No doubt Coca Cola (NYSE:KO)'s stellar financial performance and strategic foresight make it a must have for any long term portfolio, but recent market indicators reveal that now may not be the right time to buy the dividend king. We maintain that Coke has solid financial results, but signs point towards possible overpricing of the stock. In light of these and other developments, which we explain below, we recommend a hold position on KO.
Coca Cola has maintained gradual dividend increases (Chart 1) for the last several years, with the latest increase in April 2012, shooting the dividend to 51 cents per share.
Chart 1:

Chart 2: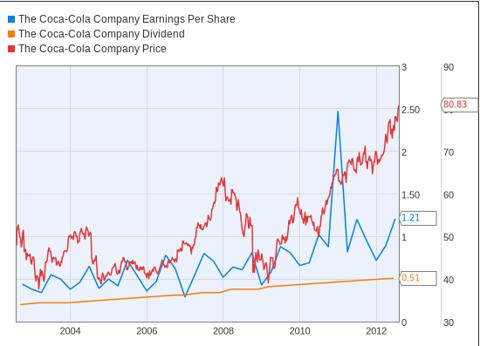 The chart given above reveals the price trend for the last decade, in addition to EPS and dividend per share. Most prominent is the long term upward trend of earnings per share, with dividends moving in tandem, pointing towards the management's astute use of a stable dividend policy. Somewhat of a troublesome trend noticeable in the chart has been how price has outpaced EPS for the last two years, with the price now close to its all time high of $88.94, last achieved in 1998. Couple this with the green light shareholders have shown in July 2012 for a 2-1 stock split, and the more one is convinced that the stock might be overpriced. We will consider this in the valuation at the end of the report.
Industry and Coke's Strategy
Coke operates in the mature non-cyclical beverages industry, dominated by a few sizable players, where continued dominance is guaranteed by successfully competing to gain market share. With limited growth opportunities, the race for the larger pie calls for shrewd acquisitions and distribution agreements to expand one's reach. Changing consumer tastes and rising health consciousness add to the operating uncertainty, which compel companies to seek operational efficiency and cost control. Not surprisingly, Coca Cola has embarked upon projects that will help it sustain its unparalleled brand acceptance, extend distribution channels and incur savings.
In line with its 2020 vision, Coke is determined to aggressively expand its reach to both developed and emerging markets. Coke will strive to attain an impressive single digit EPS growth for the next decade and concurrent sales volume increases. Part of the strategy has been the acquisition of CCE's North America Bottling business, expected to improve Coke's supply chain in its largest market (North America) and incur cost savings. KO has also purchased Aujan Industries, which holds the most dominant position in the still beverages business in the Middle East; a move that stands as an example of Coke's commitment to invest today to reap dividends in the future. The acquisition will propel Coca Cola in the fast growing still beverages industry in the Middle East. Total acquisition and investment activities for the six months ending June 2012 stood at $756mn, which apart from Aujan Industries, included acquisitions of bottling operations in Guatemala, Vietnam and Cambodia. Furthermore, given the need for operational efficiency, the company revealed its 4-year productivity and reinvestment program, which will, according to its estimates, lead to $550-$650 total incremental saving by the end of 2015.
North America gained a total market volume and value share in sparkling, still and non-alcoholic beverages for the full year, with North America now accounting for 43% for total revenue, up from 31.8% last year. Part of this increase in the share was achieved through a 4% price increase. Volume increases were similarly witnessed across the Pacific Group and Latin America. Additionally, despite Europe's economic woes, the company registered full year volume growth of 2%, which was brought about by the right pricing and packaging mix. The findings reiterate Coca Cola's effectual implementation of its strategy to integrate its supply chain, to enhance revenue opportunities, and improve logistics.
Credit Analysis
Table 1:
| | | | |
| --- | --- | --- | --- |
| | Coca Cola | PepsiCo(NYSE:PEP) | Dr. Pepper Snapple (NYSE:DPS) |
| Total Debt | $ 32.48b | $ 28.33b | $ 2.72b |
| Debt/Equity | 99.55 | 137.57 | 118.56 |
| EBIT/Interest | 24.35 | 11.25 | 8.98 |
Source: Yahoo Finance and Bloomberg
Chart 3: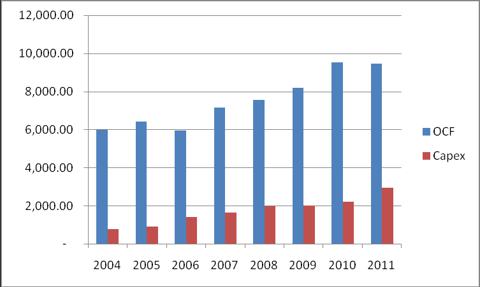 We have included Table 1 and Chart 3 to reveal some important findings. Although Coke's D/E ratio is on the higher side, to review this ratio in isolation would be folly. A more meaningful analysis would incorporate competitors' D/E ratios and its ability to sustain its debt level through the interest coverage ratio. Both reveal the company's solid financial strength.
The purpose of Chart 3 is to show whether the company has been generating enough cash from operations for its capital expenditures. OCFs have risen to allow enough breathing space for the company.
Chart 4: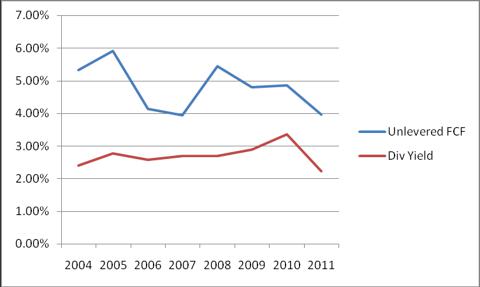 Table 2:
| | | | |
| --- | --- | --- | --- |
| | Coca Cola | PepsiCo | Dr. Pepper Snapple |
| Payout Ratio | 50.00 | 49.55 | 43.67 |
Source: Bloomberg
Coke has maintained on average a near industry average payout ratio, and has consistently increased its dividends. Chart 4 highlights the sustainability of its dividends. With unlevered FCFs yield having a stable relationship with dividend yield for the last seven years, and operating cash flow being enough to pay down capital expenditures, we project sustainable dividends in the future as well.
Valuation:
| | | | |
| --- | --- | --- | --- |
| | Coca Cola | PepsiCo | Dr Pepper Snapple |
| Trailing P/E | 21.4x | 19.17x | 16.37x |
| Dividend Yield | 1.3% | 3% | 3% |
Source: Yahoo Finance
The price increase we touched upon initially brings us to the company's valuation. Coke is currently trading at a 21.4 times its earnings, above that of its competitors PepsiCo and Dr Pepper Snapple. Couple this with Coke's lowest dividend yield amongst its competitors, and you have a rich stock. Also note that the company is trading above its five year historical P/E of 18.68x. This however does not mean you should short the stock. For those who are long, we recommend a hold and reinvestment of dividends in more attractive stocks e.g. PepsiCo. For those wishing to go long, they should wait for the stock to be more accurately valued.
Disclosure: I have no positions in any stocks mentioned, and no plans to initiate any positions within the next 72 hours.