Johnson & Johnson (NYSE:JNJ) is a perfect example of why serious investors must always conduct their own in-depth research rather than relying simply on the word of others.
At first glance, J&J looks expensive. Go to Google Finance, Yahoo Finance, or a similar website. You'll see that the quoted P/E is 21.73 and that the quoted EPS is $3.14. Dividend growth investors looking to pick up stocks "on sale" might immediately cross J&J off their list. But doing so would be shortsighted.
Take a look at the following chart. Notice the huge divergence in free cash flow and net income over the past few years.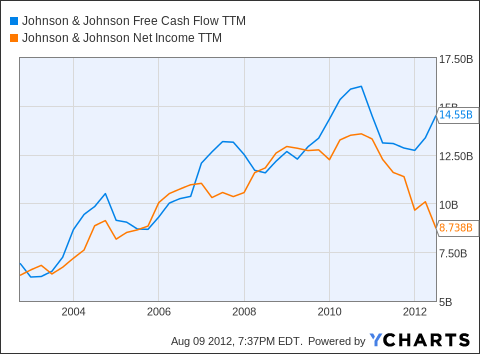 JNJ Free Cash Flow TTM data by YCharts
The situation at J&J is similar to what Microsoft (NASDAQ:MSFT) just experienced when they reported a first-ever loss. The loss at Microsoft was due to a write-down and is, if you will, only existent "on paper." Free cash flow is still very strong. Thus, the quoted P/E data for Microsoft is essentially useless.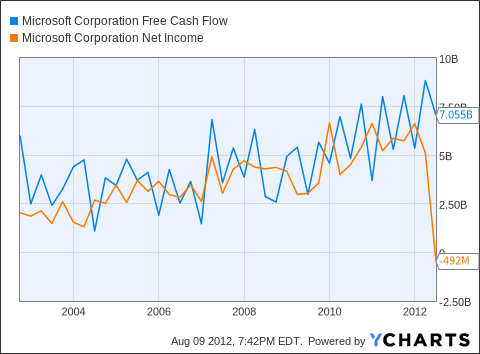 MSFT Free Cash Flow data by YCharts
The same thing happened at J&J, just on a broader scale. Free cash flow shows that J&J is still just as strong as ever. However, J&J has had a string of lawsuits over antipsychotic Risperdal as well as recalls on hip implants and Motrin. In Q4 2011 alone, J&J took a $3 billion charge on these matters. This has led to TTM EPS falling from nearly $5 to $3.15.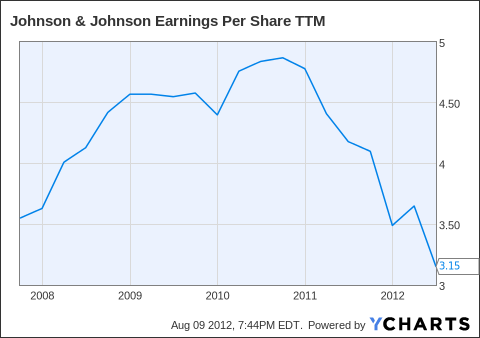 JNJ Earnings Per Share TTM data by YCharts
But in reality, since free cash flow is as strong as ever and the litigation and recalls were one-time incidents, investors should consider J&J's "true" EPS to be higher. Using a figure of $4.50 for EPS, J&J's P/E falls to 15.1, which is in line with the broader market and honestly somewhat of a discount for such a high quality, consistent company. Using a figure of $4.75 for EPS would yield a P/E of 14.3, and using 2013 mean analyst EPS of $5.46, J&J trades at a pretty cheap forward multiple of 12-ish.
Given J&J's strong dividend history and fairly inexpensive adjusted valuation, investors should be happy to pick up shares of such a quality company at a P/E below any period since '95, with the brief exception of the post-financial-crisis sell off.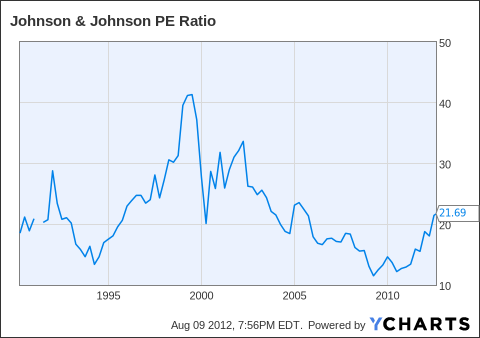 JNJ PE Ratio data by YCharts
Key takeaway: J&J isn't expensive. Ignore the quoted valuation, because it doesn't paint the full picture. Excepting the occurrence of a black swan event, now is as good a time as any to pick up some J&J shares.