I sure don't see many people talking about Fuqi International (OTCPK:FUQI), a "relatively" cheap stock, despite the stock hitting new highs. Stocks that slip under investors' radar screens that have this kind of growth is simply good news for me. 
First off, the EPS growth the past four quarters have been fantastic with the stock showing 133%, 225%, 60%, and 244% sequential growth. Sales have been even stronger growing 62%, 19%, 20%, 15%, 9%, 90%, 122%, and 177% the past eight quarters. 
This current growth, along with the 2008 and 2009 earnings estimates for 122% and 36% growth, is very bullish for the long term. That is why there are already 8 mutual funds involved in this stock despite its young age. The 0% debt helps a lot also. 
Better yet, however, is the 17% ROE, 42% EPS growth rate, combined with a 16 p/e ratio which is still in the middle of its range of 8 to 26 throughout its short stock life. 
Management still owns 58% of the shares outstanding, proving that management is going to ride this stock for a while so that they can profit from the amazing growth that this high quality gold, platinum, karat gold, diamond, and other precious stone jewelry in China. 
In Investors Business Daily, the stock already has very strong ratings, with an EPS rating of 98, a RS rating of 92, an SMR rating of A, an accumulation/distribution rating of B, a composite rating of 95, a timeliness rating of C, and a sponsorship rating of B. The only weak rating is the group RS of 36. However, both Tiffany (NYSE:TIF) and Zale (NYSE:ZLC) in the retail/wholesale-jewelry group are starting to look real strong the past three quarters.  
This is a great stock and any pullback is a great chance to get long. I am looking to get long with a pullback to the $10 area or the 50 day moving average.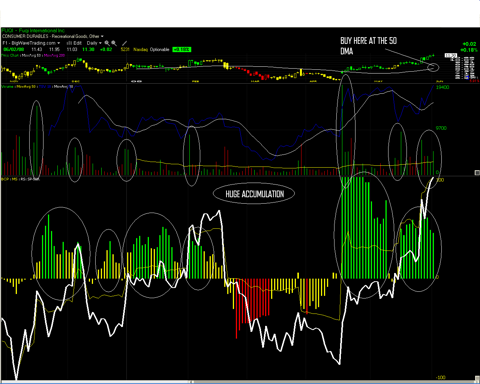 click to enlarge image
Disclosure: At the time of publication, author had no position in FUQI stock