Introduction
Microsoft (NASDAQ:MSFT) is currently an extremely cheap company. At a Price/Cash flow multiple of only 8.2, the company trades at a discount compared to its competitors. Some will argue that we are in the post-PC world, which, to some degree, is probably true. But Microsoft has the potential to generate income from other sources as well, most notably the mobile, gaming, tablet and cloud markets. We also must not forget that Windows and Microsoft Office are currently two extremely profitable cash cows which have the potential to generate high levels of income in the long-term.
The Windows & Windows live division

This division is very sensitive to the PC market worldwide, as 75% of total revenue comes from Windows operating system software purchased by original equipment manufacturers (OEM). The remaining revenue is generated by commercial and retail sales of Windows and PC hardware products and online advertising from Windows Live.
In 2010 OEM sales were strong (high PC market growth) and revenue increased by 22%. In 2011 revenue disappointed expectations, even though unit sales increased (which can be explained by the fact that Microsoft sold a higher percentage of units to emerging markets, where unit prices are lower). In 2012 revenues have been kept artificially low, as Microsoft reported $540 million in deferred revenues. Adding the deferred revenues to reported revenues, revenue declined in line with the PC market of around 1-2%.
Looking forward, I predict high short-term growth due to the launch of Windows 8, which will be released together with the tablet Microsoft Surface and Windows Phone 8. I expect revenue growth on an annualized basis of 5%, and I expect operating margin to decline gradually from 65% in 2013 to 45% in the terminal period.
The Server and Tools division

This division develops and markets technology and related services that enable information technology professionals to be more efficient (e.g. Microsoft SQL server, Windows Azure). This division has experienced high growth rates over the last couple of years, which is primarily explained by increased product sales of Windows Server, SQL Server, Enterprise CAL and Windows Embedded. The operating margin has increased as well, up from 33% in 2009 to 40% in 2012. One of the reasons for the increase in the margin can be attributed to Microsoft raising prices on SQL server 2012 by up to 15-20%.
Looking forward, I think that an operating margin of 40% is a realistic expectation, though I expect gradually declining margins until they reach 30% in the terminal period. The global public cloud market is expected to increase by $200 billion in 2020, up from $41 billion in 2011, and I believe that Microsoft is capable of increasing its revenue by a growth rate of 7% per year in the budget period.
The Online Services Division

The Online Services Division consists of Bing, MSN, Access (dial up internet), adCenter and advertiser tools. In 2010, revenue increased by 4%, reflecting higher advertising revenue (though it was partially offset by a decrease in revenues generated by Access). Costs increased mainly due to the Yahoo Commercial Agreement (which added $157 million to the operating loss).
In 2011, revenue grew due to a 19% increase in online advertising revenue. Unfortunately, costs grew even more due to costs associated with the Yahoo Search agreement and increased traffic acquisition costs.
Could things get much worse for the Online Services Division in 2012? Apparently they can. As some of you may remember, Microsoft spent $6.3 billion in acquiring Aquantive in 2007. Back then Microsoft predicted that this acquisition would make them become the "industry leading, Internet-wide advertising platform." But in Q4 2012, Microsoft announced that they were taking a $6.2 billion impairment charge from Aquantive.
I am not convinced that Microsoft is capable of making this division profitable in the short-term, and at some point management has to decide whether to continue investing in this division or to try to cover their losses. Therefore I calculate with a negative operating margin of 30% in the budget period, and I believe this division will break even in the terminal period.
Microsoft Business Division

The Microsoft Business Division is the division behind the Microsoft Office system. Consumer revenue decreased by $142 million in 2010 primarily due to deferred income. Business revenue decreased as well, reflecting a decline in licensing of the Microsoft Office 2007 system.
2011 was fantastic for the Microsoft Business Division as consumer revenue increased by 10% and Business revenue increased by 13%. These increases were mainly driven by an increase in revenues from Office 2010 and the recognition of revenue from the deferred income in 2010. In 2012, revenue has increased by 7% and operating margin improved to an impressive 66%, reflecting increased sales of Office 2010. The Business Division also released the cloud-based Office 365 in 2012, which is a subscription-based version of Office. In the short term, this could have a negative impact on margins (as they will sell less licenses), but in the longer term I think this will have a positive impact on operating profit.
I expect an average annual growth rate of 3% for this division, and a gradual deterioration of margins until 2022 when the terminal period begins, where I expect an operating margin of 50%.
Entertainment and Devices Division

Revenue decreased in 2010, reflecting lower revenue from the Xbox 360 platform and PC games, but non-gaming revenue decreased as well (the Windows Phone is not doing too well).
2011 was a fantastic year for the Xbox platform, as the revenue of the platform increased by 48%. I think that the increased revenue can be explained by the introduction of the Kinect sensors, which had unit sales of an impressive $18 million. It also caused a synergy effect, as sales of Xbox 360 most likely would have been below 10 million if Kinect had not been introduced. Instead Microsoft shipped 13.7 million Xbox 360 consoles during 2011.
Revenue increased by 20% in 2012, but this increase can purely be explained by the inclusion of Skype. Excluding Skype, I think this division did pretty poorly as Xbox 360 unit sales fell by 35%. This is terrible for this division, as it almost exclusively relies on the Xbox platform to generate profit. Currently, the impact that the Windows Phone has on the division is minimal, and as Nielsen reports, the market share of Windows Phone 7 is extremely small. I think, however, that this division has a lot of potential for growth. The Surface tablet and Windows Phone 8 are expected to be released in October, and I have decent faith in those products. Looking forward I estimate that revenue will grow by 7% in this division on an annual basis with an operating margin of 10%.
Valuation
To value the fair price of 1 share of Microsoft, I have to make 3 further assumptions:
Sales to capital ratio of 0.6 in 2013, which will decline gradually, as management needs to make further capital investments to maintain the current level of revenue.
WACC of 7.12 % in 2013, which will decline gradually until it reaches 10.2 % in the terminal period, as Microsoft becomes a more risky investment.
Effective tax rate of 27%.

As one can see in the below table, I estimate that Microsoft is currently undervalued by 6 %. Even though I base my calculations on Microsoft losing its competitive advantage, becoming more risky, and obtaining close to no growth in revenue, I believe it is still an investment which has the potential to generate positive alpha for investors.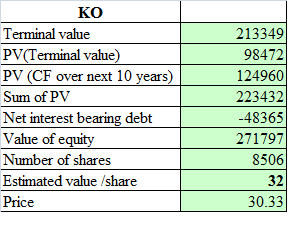 Disclosure: I have no positions in any stocks mentioned, and no plans to initiate any positions within the next 72 hours.