By Brendan Gilmartin
Cisco Systems (NASDAQ:CSCO) is slated to report Q4 2012 earnings after the close of trading on Wednesday, Aug. 15. The results should be available at 4:05 p.m. ET and the company will follow up with a conference call at 4:30 p.m. Given its size and influence, Cisco has the potential to impact the broader market gauges, including the index futures and large-scale ETFs.

Outliers and Strategy
Cisco typically provides a value for non-GAAP EPS that is comparable to consensus views. During the previous conference call, Cisco said non-GAAP EPS is expected to range from $0.44 to $0.46 per share. The current consensus is $0.46 (source: Yahoo Finance).
Revenues are the next most important measure for Cisco. Cisco previously said it expects Q4 2012 revenues to increase 2% to 5% year over year. Based on the Q4 2011 revenue figure of $11.195 billion, the projected range would equate to $11.419 billion to $11.755 billion. The consensus is $11.62 billion.
Note that Cisco typically provides upcoming quarterly guidance in the ensuing conference call following the earnings release. CEO John Chambers tends to be conservative in his outlook, resulting in a share price reversal. For the Q1 2012 period, estimates are for non-GAAP EPS of $0.46 on revenue of $11.65 billion.
Sympathy plays include Juniper Networks (NYSE:JNPR), F5 Networks (NASDAQ:FFIV), Riverbed (NASDAQ:RVBD), Radvision (NASDAQ:RVSN), and Cavium (NASDAQ:CAVM).
Cisco continues to aggressively repurchase shares. At the end of the Q3, Cisco repurchased 27 million shares of common stock under the stock repurchase program.
Recent News
Aug. 9: Piper Jaffray upgraded Cisco from Neutral to Overweight and raised the price target from $22 to $24, according to Barron's. The positive outlook is in anticipation of a strong Q4 report, based on recent channel checks.
Aug. 9: Goldman Sachs added Cisco to the Conviction Buy List with a price target of $24, according to Barron's. The firm reportedly believes Cisco will deliver revenue of $11.76 billion and non-GAAP EPS of $0.46 -- the high end of the Street estimates, thanks to improving fundamentals and forecasts for stronger-than-expected expansion of network infrastructure in 2012.
Aug. 6: Oppenheimer believes Cisco's July results are tracking in line with expectations, according to a report on StreetInsider.com. The firm noted that solid demand in the U.S. is being offset by weakness in Europe, while checks point to strength in the October quarter offset by continued headwinds in Europe.
Technical Review
After sinking to as low as $15.12 at the close on July 24, Cisco shares have since rallied, climbing more than 15% over that time frame. While the sell side is warming up to Cisco shares, the question is whether or not a good report is now priced in. Should the company follow through with impressive results and offer an upbeat outlook, resistance is at $18.50 -- just above the 200-day SMA and the upper end of a window that preceded the Q3 earnings release in May. Support is at $16.50, nearly coinciding with the 50-day SMA.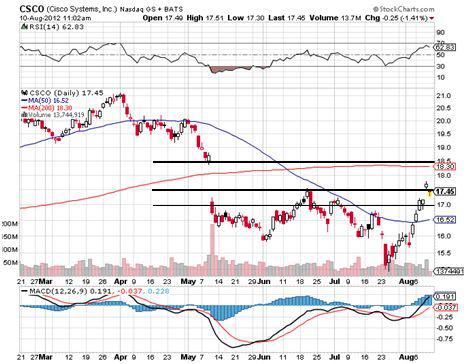 Summary
Cisco shares are rallying ahead of the Q4 2012 earnings release, thanks in part to a series of analyst upgrades, checks showing the North American networking market remains robust, and improving fundamentals. At 9.2 times forward earnings and a PEG ratio of just 1.2, Cisco shares also appear to be discounting the expected weakness in Europe and the typically cautious outlook relayed during the conference call. That said, look for non-GAAP EPS and revenues at the high end of guidance ($0.46 and $11.755 billion, respectively) to push the shares higher.
Disclosure: I have no positions in any stocks mentioned, and no plans to initiate any positions within the next 72 hours.
Disclaimer: By using this report, you acknowledge that Selerity, Inc. is in no way liable for losses or gains arising out of commentary, analysis, and or data in this report. Your investment decisions and recommendations are made entirely at your discretion. Selerity does not own securities in companies that they write about, is not an investment adviser, and the content contained herein is not an endorsement to buy or sell any securities. No content published as part of this report constitutes a recommendation that any particular investment, security, portfolio of securities, transaction or investment strategy is suitable for any specific person.