In June, Ascent Solar (NASDAQ:ASTI) entered the consumer market for the first time in its history. The company announced that it will be coming to market with EnerPlex, an aftermarket solar rechargeable battery for Apple's (NASDAQ:AAPL) iPhone. It dawned on me that Ascent Solar should be researched a bit more to see if this company could do with the solar battery market what Zagg, Inc. (NASDAQ:ZAGG) did with the protective screen market for mobile devices.
I believe that anyone who owns Apple stock, an iPhone and/or an iPad should take a look at this brief video which displays the solar rechargeable battery in use. To me it is sleek, light and useful - take a look:
(click to view video)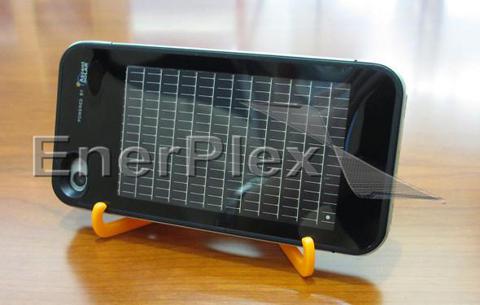 Company CEO Victor Lee's comments tell you all you need to know, and here are some of the comments that he made when announcing its first order of 50,000 units:
"Ascent unveiled the EnerPlex charger at Intersolar Europe last week to a tremendous response. The market is clearly excited about our sleek design which provides consumers with a new and fashionable way to power their smartphone. With this launch of our first EnerPlex product, with many more to come, we are taking the first step toward driving a new revenue stream with significant growth opportunity for the company."
In addition, if you take his comments as word, you can bet we're going to see a lot more orders and new products in the weeks and months to come - he continued:
"Initial response to the EnerPlex solar charger has been excellent. We are very encouraged by the initial orders we have received from our distribution partners in Asia and we are receiving strong interest from potential distributors worldwide. We plan to work closely with our channel partners in Asia to support the retail launch of EnerPlex while continuing to pursue expansion opportunities for this revolutionary line of products around the world."
Now, let's take a look at Zagg, Zagg produces shields, cases and other accessories for the iPhone and other smart phones. Zagg started out with one product, a protective shield for the iPhone, and it now has numerous products on the market for the iPhone, the iPad and every popular tablet and smart phone. You could have purchased ZAGG at $0.80 in 2008 and put on a small trading position along with a long term position and you could have comfortably made 8 -10 times your money, or 15 times if you got out at the high. Ascent may have this ride ahead of them because its product is functional, fashionable and reasonably priced ($68.00) in a world that is using more portable devices than ever before as data is being streamed to mobile devices at incredible rates. The other positive is that e-readers and tablets are new markets that are estimated to be 300-400 million units in the next three years, ZAGG never had that market available in its initial run.
CHART: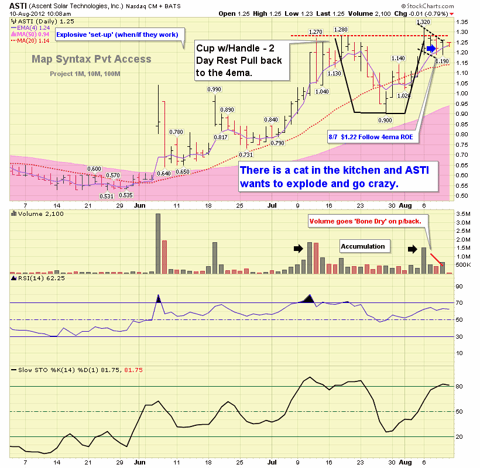 The chart is setting up very nicely as it recently broke its downtrend line with the recent run up. The stock has been consolidating and creating a base for over a year and I see a close above $1.29 with heavy volume (1.5 - 2.0 million shares) as a key buy signal on a technical level. Technically, I see ASTI's chart forming a textbook cup and handle and it's just a matter of hours or days before we see a breakout to the upside. We recently had further confirmation when we saw a golden cross when the 50 day MA crossed the 200 day MA. I fully expect that the company will deliver the positive news in the near term to bring Ascent into momentum hands and rally the shares to $1.75 - $2.50 over the next 30-45 days and $2.50 - $3.50 per share over the next 3-4 months.
FUNDAMENTALS:
Cash - $13.9 million
Debt - zero
Shares Outstanding - 42 million
Market Cap - $55.1 million
Revenue (NYSE:TTM) - $3.21 million
% held by Insiders - 39%
TFG Radiant Group in the past year doubled its stake in ASTI to 41% of the company. This means 17.2 million shares are in tight hands.
Potential Revenue - the smart phone market (Apple and Samsung) is 300 million units, if ASTI gets 2% of this market that will be 6 million units @ $25/unit equal to $150 million in sales which I believe would make the company profitable.
CATALYSTS:
Over the next 30 - 120 days, I would expect to see new products for the iPhone, Galaxy III and a host of other smart phones. I believe that the biggest near term catalysts will come from new customers as demand takes off and when it enters big box retailers like Best Buy and online retailers like Amazon. if you like the Enerplex as much as i like it, then maybe Apple will like it which could potentially feature it on Apple's online store, which could give the company a marketing boost.
While I advise using only speculative funds for an investment in ASTI it must be noted that there are inherent risks investing in a small market cap company. The main risk is execution; failure to execute on this EnerPlex product would cause the stock price to fall and may also increase the odds of the company raising additional funds at dilutive prices.
In 2008, Zagg was a bulletin board stock that had its back up against the wall, but the play off the smart phone market proved right, in a big way. I believe buying Ascent here at $1.30-1.40 per share with the speculative money in your portfolio will prove to be a great trading vehicle as I detailed above on the plethora of potential announcements that could positively propel the price of the shares. Instead of buying APPL at $600, you could buy ASTI at $1.35 as a play on APPL. I see Ascent Solar's shares getting as much energy from Apple as Apple's products will get from Ascent.
Disclosure: I am long ASTI.