In my recent article Fundamentals Do Not Support The Stock Market Rally, I highlighted the fact that the stock market rally is being driven almost purely by hopes for more stimulus from the U.S. Federal Reserve (Fed) and the European Central Bank (ECB). But if more policy action from these central banks is considered a foregone conclusion, this raises a critically important question. While stocks are likely to enjoy upside under such a scenario, do superior investment opportunities exist outside of the stock market? The answer is yes.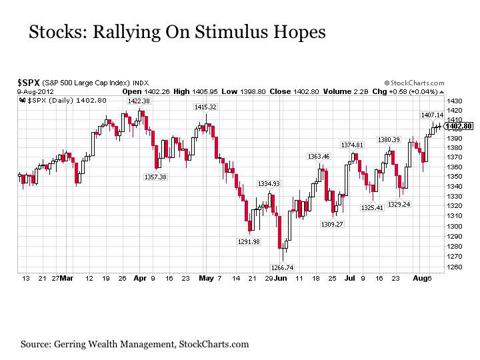 Overall, stocks have been in rally mode since the beginning of June. But the fact that the market has already advanced by nearly +11% as measured by the S&P 500 (NYSEARCA:SPY) over the last two months suggests that stocks have already begun meaningfully pricing in more balance sheet expanding monetary stimulus before it has actually been delivered or even explicitly promised by policy makers. This presents a potential dilemma for stock investors going forward. If more stimulus is eventually delivered by central banks, the potential upside will likely be less than expected. However, if policy makers disappoint markets with less stimulus than expected, or worse yet no stimulus at all, the unwinding of the recent hope trade in stocks would likely be most unpleasant.
The risks associated with stocks under the current scenario favors a strategy of seeking out asset classes that are just as likely to benefit from more balance sheet expanding monetary stimulus but have yet to begin pricing in such an outcome.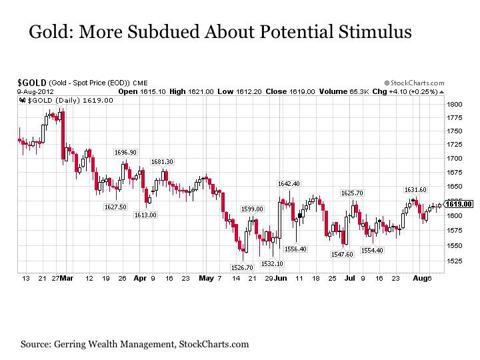 Gold (NYSEARCA:GLD) offers a particularly attractive opportunity under this thesis. But before going any further, it is first worthwhile to revisit the fundamental case for owning gold. In short, it remains strong. The current bull market in gold began in January 2002, which marked the exact moment that U.S. policy makers shifted from a strong dollar policy to a weak dollar policy. And given the fact that global central banks including the U.S. Federal Reserve remain engaged today in the mindset of applying even more monetary stimulus and currency debasement in an attempt to rekindle economic growth, it is likely that this trend is going to continue going forward.
And the prospects for gold look particularly favorable at present in the context of more stimulus hopes. Whereas stocks have aggressively begun pricing in the prospect for additional monetary stimulus, gold has hardly budged. This fact suggests one of two things. Either the stock market is incorrect and no further monetary stimulus is forthcoming, which would be negative for stocks and neutral for gold, or the gold market is missing the fact that more monetary stimulus is soon on its way, which would be positive for stocks but likely even more so for gold. Under this framework, the risk-reward profile for gold is more favorable than stocks.
A look back at the performance of the two asset classes since the early days of the financial crisis highlights the fact that gold represents the more attractive relative returns opportunity as well as the more favorable protection against downside risk going forward from today.
First, during periods when either the Fed or the ECB was engaged in balance sheet expanding monetary stimulus, both stocks and gold performed well.
In the early days after the outbreak of the financial crisis when the Fed began aggressively expanding its balance sheet through the end of QE1 on March 31, 2010, the performance of both stocks and gold were comparable.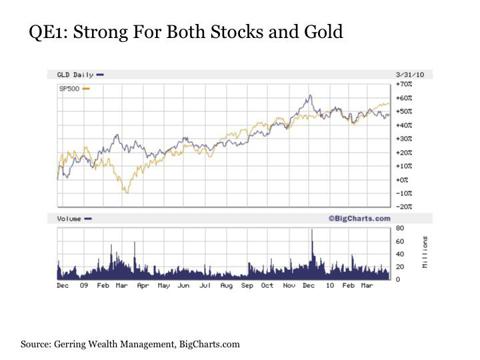 While some divergence existed during QE2 from its effective announcement on August 26, 2010 through its end on June 30, 2011, both stocks and gold ended up in roughly the same place.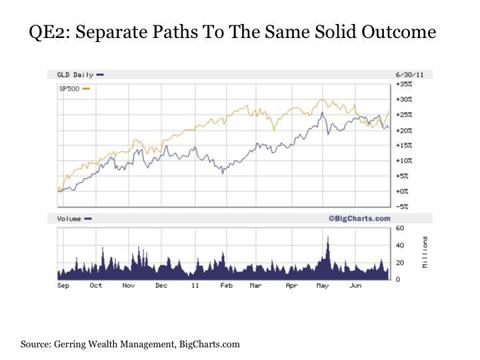 Even when the stimulus was coming from abroad as it did with the ECB's LTRO program, both stocks and gold followed a similar course.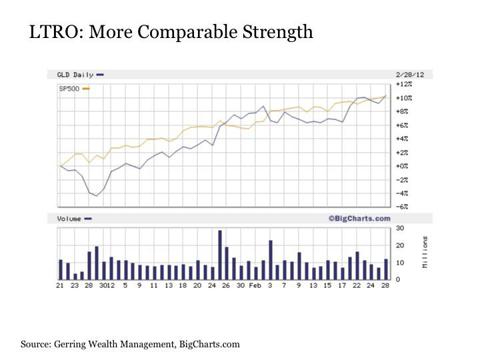 So in conclusion, when stocks and gold receive balance sheet expanding monetary stimulus, the total returns performance has proven fairly similar through the duration of these programs.
But what about the periods when no balance sheet expanding stimulus is being applied? This is where the differentiation between stocks and gold has been most pronounced. Following the conclusion of QE1, gold continued to post solid gains while stocks headed lower.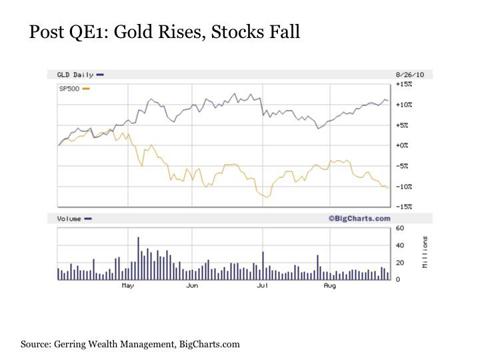 After the end of QE2 during the summer of 2011, gold moved sharply higher while stocks immediately rolled over. And even after the launch of balance sheet neutral Operation Twist in early October 2011, gold continued to maintain its overall post QE2 lead over stocks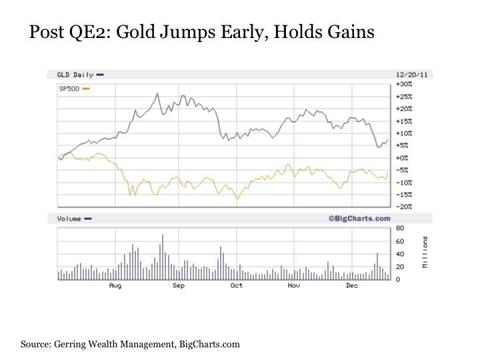 But it has only been since the conclusion of the ECB's LTRO program at the end of February 2012 where we have seen a stark contrast to the traditional post crisis relationship. Both stocks and gold struggled through the beginning of June, although gold underperformed during this time period. And once hopes began to build for more balance sheet expanding monetary stimulus, stocks rallied higher while gold has simply ground sideways.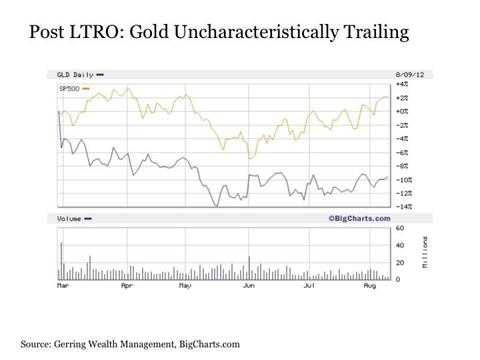 The performance divergence since February 2012 has created a particularly attractive opportunity not for stocks but instead for gold. In the past gold would start from a meaningfully higher point than stocks and perform on par during a balance sheet expanding monetary stimulus program. But at present, gold would be starting from a meaningfully lower point than stocks. As a result, if monetary policy makers eventually deliver more balance sheet expanding stimulus, gold has a great deal of catching up to do having almost completely missed this potential outcome in its price performance. Thus, gold has the potential to outperform stocks by a wide margin under this scenario. Conversely, if no further stimulus is delivered, or if any future stimulus program falls short of expectations, gold is positioned to continue to move sideways if not even rise further under a potential flight to safety scenario that should more than return gold to its previous non-stimulus relative outperformance, while stocks have the potential to correct sharply lower, particularly given the fact that fundamentals do not generally support recent stock gains to this point anyway.
For these reasons, I recently added to long positions in gold. My preferred way for establishing this exposure is the Central Gold Trust (NYSEMKT:GTU) and in part through the Central Fund of Canada (NYSEMKT:CEF), the latter of which also contains a meaningful allocation to silver (NYSEARCA:SLV). I will be evaluating the white metal more closely under this same context in my next article on the topic.
Disclaimer: This post is for information purposes only. There are risks involved with investing including loss of principal. Gerring Wealth Management (GWM) makes no explicit or implicit guarantee with respect to performance or the outcome of any investment or projections made by GWM. There is no guarantee that the goals of the strategies discussed by GWM will be met.