Quanta Services (NYSE:PWR) has been exceeding expectations so far in 2012. Their annual income has been increasing each year for the last three consecutive years and is projected to continue to do so in 2012. Quanta Services has a comfortable amount of back log, both 12 month (as of December 31, 2011) and farther into the future, Quanta Services also has virtually no debt. However, I cannot recommend the stock because with a P/E of 22.6x the stock price is to high.
Quanta Services is a company with a market cap of $4.8 billion. Quanta Services builds and maintains a variety of infrastructure including, but is not limited to, power lines and pipelines. Quanta Services operates in all 50 states and Canada. They also have "major offices in 40 states."
At $1.425 billion Q1 2012 revenue was up significantly. Net income attributed to common stock was $45.707 million in Q1 2012.
"The first quarter of 2012 was the most profitable first quarter in the company's history," said Jim O'Neil, president and chief executive officer of Quanta Services.
While it is impressive that Q1 2012 broke records, what really stands out is how this compares to Q1 2011.
$848.959 million = Q1 2011 revenue VS $1.425 billion = Q1 2012 revenue.
Q1 2011 = $17.594 million net loss attributed to common stock VS Q1 2012 = $45.707 million net income attributed to common stock.
Q2 2012 also was impressive with respect to net income attributed to common stock vs Q2 2011.
Q2 2012 = $65.538 million
Q2 2011 = $31.801 million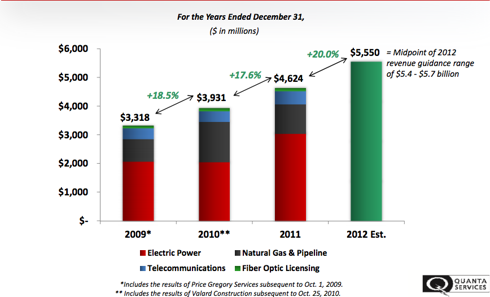 Quanta Services' annual revenue has been increasing for the past three consecutive years and is projected to continue in 2012. From 2009 to 2010 revenue increased 18.5% and from 2010 to 2011 revenue increased by 17.6%. However, during this period their expenses have grown more quickly than revenue and net income has declined. The average net income attributable to common stock from 2009-2011 was $149.284 million ($132.515 million = 2011, $153.176 million = 2010, $162.162 million = 2009).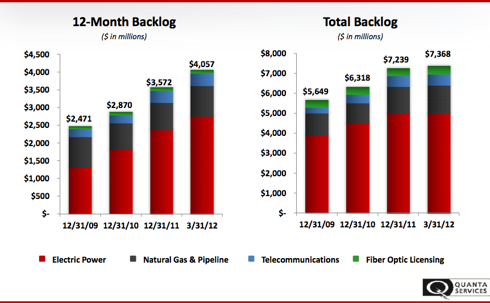 Quanta Services has a substantial backlog. As of December 31, 2011 total backlog was $7.200 billion (up 15% from 2010) and 12 month backlog was $3.600 billion (up 24% from 2010). However, as of March 31, 2012 total backlog was $7.368 billion and 12 month backlog was $4.056 billion.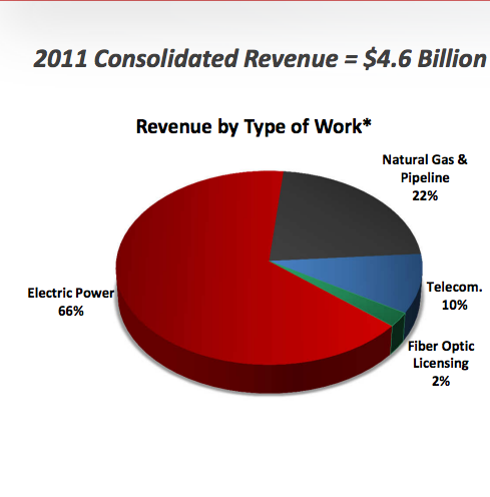 Most of Quanta Services income is earned from electric power infrastructure (66%). This is a service that will not become obsolete in the foreseeable future since everybody needs access to electricity. In addition, Quanta Services not only builds the equipment, but they also maintain it. Their other sources of revenue are natural gas and pipeline (22%), telecom (10%) and fiber optic licensing (2%).
Quanta Services has virtually no long term debt. They achieved this in 2010 by redeeming $143.800 million of subordinated notes. This is a significant strength as they do not have to be concerned about maturing debt.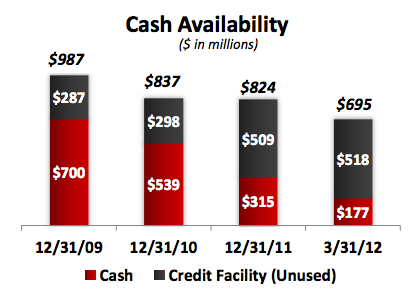 Quanta Services has a reasonable amount of cash at $177 million and has $518 million of availability on their credit facility. Therefore they have a sufficient amount of ready capital if the need arises. However, I would like to see Quanta Services have more cash.
Quanta Services has grown tremendously over the past years. The question remains, has this growth hurt them? I believe the answer is yes and no. Quanta Services has significantly increased sales. However, expenses have also increased dramatically. They grossed $1.425 billion in Q1 2012 and only netted $45.707 million or 3.2% of their revenue. For Quanta Services growth has been a double edged sword.
While the company is profitable, their price to earnings ratio is too high. At 22.6x this stock is over priced. Quanta Services needs to control their expenses and improve their earnings per share before I would consider investing in this stock.
Disclosure: I have no positions in any stocks mentioned, and no plans to initiate any positions within the next 72 hours.