Salix Pharmaceuticals (NASDAQ:SLXP) is a $2.66 billion large-cap compelling growth story with a vast array of gastroenterology treatments. To put it simply, Salix sells various drugs for bowel disorders. The company is committed to be the leading U.S. specialty pharmaceutical company licensing, developing, and marketing innovative products for gastrointestinal (NYSE:GI) disorders. Salix also has treatments for other disorders beyond the GI realm.
The company has an established product line of 15 FDA approved treatments. Some of Salix's products include: Pepcid, Relistor, Apriso, Xifaxan, and MoviPrep (which is not a snack to eat before going to the Movies). The company also offers Diuril for hypertension and other disorders.
The company's bread and butter is Xifaxan which accounted for 64% of the company's revenue in Q2 2012. This drug has two different doses for two different disorders: a 550 mg treatment to reduce the risk of overt hepatic encephalopathy (HE); and a 200mg treatment for traveler's diarrhea due to E Coli.
Salix generates revenue by selling its products to pharmaceutical wholesalers. These wholesalers then resell and distribute the products to pharmacies.
Salix has five new drugs in its pipeline which are under development for various GI disorders:
| | | |
| --- | --- | --- |
| Compound | Treatment | Status |
| Rifaximin | Irritable bowel syndrome | Phase 3 retreatment study |
| Crofelemer | HIV-associated diarrhea | PDUFA decision date 9/5/12 |
| Budesonide foam | Ulcerative proctitis | Phase 3 studies |
| Methylnaltrexone bromide (SI) | Opioid induced constipation in patients with chronic non-malignant pain;subcutaneous injection | Complete Response letter from the FDA states that it wants more clinical data |
| Methylnaltrexone bromide oral | Opioid induced constipation in patients with chronic non-malignant pain | Phase 3 |
Salix is undervalued with a forward PE ratio of 14.19 and a PEG of 0.71. Net income increased 4.7% in Q2 year-over-year from $19.2 million to $20.1 million. Earnings per share estimates for the quarter were exceeded by 43.6% which was $0.79 over an estimate of $0.55. The trailing twelve month operating cash flow is $54 million.
The company has beaten its earnings estimates for the past four quarters. Salix just increased its earnings per share estimates by about 10% for 2012 from $2.59 to $2.86. This should lead to positive results and higher stock prices for the second half of the year. The company is expected to grow earnings annually at 22.29% for the next five years. If this growth is achieved or exceeded, the current stock price of $45 could reasonably increase to about $120 in five years for a 167% gain.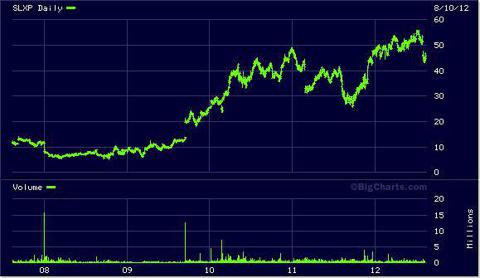 The stock is off its high of nearly $56 for the year and is now rising off of its recent low of $43. The recent earnings beat for Q2 and the resulting earnings upgrade should propel the stock higher in the near term. The company's top selling drugs should continue to propel the stock higher for the long-term.
Disclosure: I have no positions in any stocks mentioned, and no plans to initiate any positions within the next 72 hours.