Shares of insurance holding company CNO Financial Group, Inc. (NYSE:CNO) are up more than 39% so far in 2012 and are trading at a 52-week high. That said, there are three reasons why CNO Financial Group can continue to rally.
Click to enlarge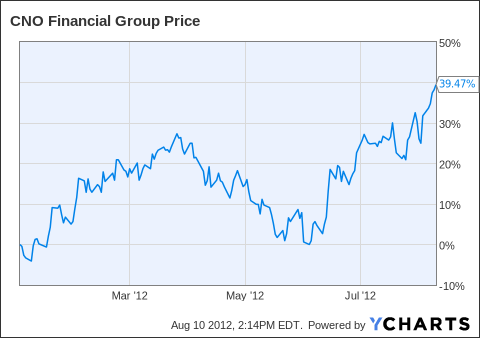 Short Interest
As of July 13, 2012, short interest in CNO Financial Group stood at more than 25 million shares or 12% of the float. This means that many market participants still have their doubts about CNO. As CNO Financial Group continues to move higher, short sellers are likely to feel pressure to cover. Such a situation could lead to a short squeeze.
Insider Buying
Despite the fact that CNO Financial Group is trading near a 52-week high, insiders have been buying shares. Two directors, James Frederick Sievert and Keith Roger Long, recently purchased shares of CNO Financial Group. The combined total of the purchases was 57,300 shares. The insider buying indicates that insiders at the company believe that the stock is still a buy even at elevated levels.
Valuation
Currently, CNO Financial Group trades at just 0.43 times book value. As shown by the chart below, on a historical basis, this is not expensive. In the past, CNO Financial Group has traded above book value.
CNO Price / Book Value data by YCharts
Conclusion
While shares have moved up by nearly 40% so far in 2012, I believe the stock can continue to rally. The high short interest, insider buying, and reasonable valuation are all reasons why CNO Financial Group can continue to rally.
Disclosure: I have no positions in any stocks mentioned, and no plans to initiate any positions within the next 72 hours.