Moody's expresses continuing concern over the robustness of the capital levels of some US banks in a new report, Capital Framework & Update on U.S. Banks' Capital Management.
When they entered the illiquid market of the second half of 2007, U.S. banks' capital positions were not robust. In Moody's view, there are still institutions where capital levels may be insufficient considering their risk profiles.

In Moody's hindsight, capital levels were insufficient at the beginning of 2007. During the benign first half of 2007, companies continued their high dividend and repurchases resulting in little capital accretion. In the problematic second half, for many dividends alone were in excess of earnings. With the addition of share repurchases, almost half paid out more than they earned, which led to the need for external capital raising. We expect this need to persist throughout 2008.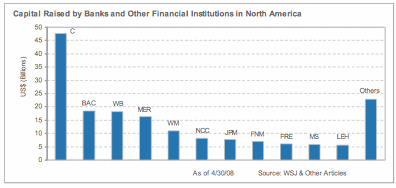 For banks, Moody's limits the amount of common equity credit for hybrid instruments to 25% of tangible common equity plus hybrid equity credit. "The limitation reflects our view that common equity may be more reliable as a source of credit support under stressful circumstances, and therefore should be the dominant component of a company's capital structure."
Moody's said that of the rated U.S. banks, Citigroup (NYSE:C) and Washington Mutual (NYSE:WM) have issuances that exceed the 25% hybrid equity cap. Others that are at or getting close to the limit include U.S. Bancorp, (NYSE:USB), Bank of America, (NYSE:BAC) Fifth Third, (NASDAQ:FITB), National City, (NCC), SunTrust (NYSE:STI), and Wachovia (NASDAQ:WB). Hybrids beyond the 25% equity credit limit will be treated as debt in Moody's analysis.
Capital is a key consideration for ratings. In fact, in our revised bank rating methodology released in early 2007, capital has equal weighting as earnings, which was somewhat of an analytical shift. Because U.S. banks did not have sufficient levels of capital at the beginning of the credit crunch, capital level rather than internal capital generation has proved to be more important given the magnitude of losses. Therefore, we are also more focused on capital management initiatives such as dividends, share buybacks, and capital raising.

Ratings will continue to be influenced by robustness of capital ratios and regulatory capital surplus relative to stress losses.