Strap in kids, this is going to be a wild one!
Of course we have the inventory report at 10:30 but we already had a nice productivity number . Seee my comments in last night's post because the markets will do what they will do as we are once again being driven by fear and greed, with the Lehman Bros. (LEH) and oil situations still to be resolved.
In addition to the strong productivity numbers (with tame unit labor costs) we also celebrate Barack Obama's historic clinching of the Democratic nomination with a surprisingly strong ADP Report, which shows we ADDED 40,000 jobs in May vs. the 60,000 jobs that "Economists surveyed by Dow Jones Newswires had expected."   A note to Dow Jones:  When you call the same "economists" for years and they are wrong over 75% of the time - FIND SOME NEW ECONOMISTS!
The ADP report does not include government jobs, and GW has been expanding those at a record pace (supposedly in his quest for smaller government) so we could get some huge numbers on Friday, when we get the NonFarm Payroll report pre-market.  We get the ISM Service Report at 10 am and the market is probably going to wait for confirmation before going green but, reading the jobs numbers, it looks like we'll get a clear beat of the flat 52 expected.  So it's recession, what recession today and if we can keep asking that question through the weekend, we should be able to mount a retest of 12,700 at least.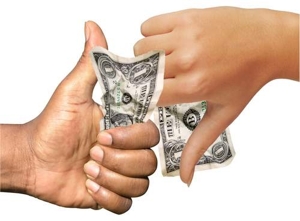 The dollar slammed back into the 73.5 mark again and failed to break through again in yesterday's trading, which is very pathetic with the Fed coming out and pretty much saying they are on hold so let's keep an eye on that on.  The dollar's 1/2 point rise caused the CRB to fall 1.5% and that's a ratio we should keep an eye on.  Will a 10% rise in the dollar lead to a 30% drop in commodities?  Oil fell 2.7% as the roaches ran for the exits over at the NYMEX and we also discussed those targets last night so I won't get into it here (and don't miss the play on PCX!).
We had huge signs of long-term demand destruction yesterday with truck sales off 30% in May and General Motors (NYSE:GM) indicating they will dump Hummer entirely and scale back almost all truck and SUV production.  At the same time United Airlines (UAUA) announced it will cut 70 of 460 aircraft from their fleet, and kill its entire "Ted" brand service.  It's all about the fuel economy as the jets being retired are the least efficient of the fleet and I do not understand how people think this is bad for Boeing (NYSE:BA), who already have $360Bn worth of orders for the new fuel-efficient 787s that will take twice as many people to the same places as the A320s and 737s they are replacing for 20% less fuel.  I've never seen so many bozo analysts in my life as those who think that high fuel prices are bad for a company that bet their decade that fuel efficiency would be the top concern of their clients.
Asia was mixed, if you can call the Hang Seng down 252 and the Nikkei up 226 mixed…  India was forced to raise subsidized fuel prices for the second time this year, yet another indicator of demand destruction and their market fell 2.8% on that news.  Telcom providers continue to kill China's market while auto makers boosted the Nikkei as the Japanese 3 seem to be the only car makers selling cars in this environment.  Our TM play from last week is doing fantastically and it's time to cover at $105. 
Our energy sector sell-off of yesterday hit the EU today and those markets are trading down hard ahead of our open, over 1.5% in the red as of 9am.  The OECD cut its 2008 and 2009 growth forecasts for the 30 developed economies that are its members, now expecting their combined gross domestic product to expand 1.8% this year and 1.7% next, having forecast in December that their combined GDP would increase 2.3% and 2.4%, respectively.  The U.S. is the main reason for the reduction in its overall forecast. It now expects the world's largest economy to grow 1.2% this year and 1.1% next, having previously forecast it would expand 2.0% and 2.2%, respectively.  My take on this - Hey, they said we're going to grow!
Our futures are sharply lower ahead of the open but I'll be looking for some bottoming action today at 12,350, if we move quickly back through 12,400 and hold 12,450 for the day, we'll have something we can get excited about.  We need those XLFs to turn around and we'll be rolling down to the June $24 calls and doubling down at .85 as I really think LEH will not get burned the way BSC did and we could see a rapid recovery in the banking sector.  Of course we still love our Cs and we're staying true to them as well.
Let's have some fun out there!