United Airlines, the number two airline in The United States, has been battered along with the rest of the industry (a subject we have blogged on recently) by soaring fuel prices, says the FT.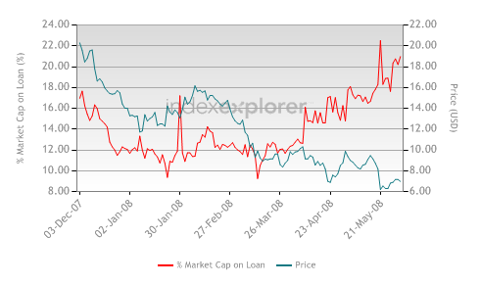 As you can see from the graph to the right (click to enlarge), which traces the percentage of UAL's (UAUA), (the parent of United Airlines) Market Cap on Loan (%MCOL), short interest has increased by 100% - from 8% MCOL in mid-May, to 16% today. Investors who increased their positions at the correct time will have made a very profitable trade, as the share price has halved - from 16USD on May 2nd to 8USD today. Utilisation is at 18% and there are 6 Days to Cover.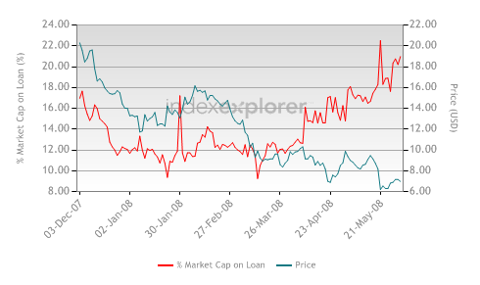 The average Utilisation for the rest of the North America Transportation sector is 13.54%, and for the rest of the US Small Caps it is 18.16%. AMR (NASDAQ:AMR), who own all of American Airlines' common stock, is also a heavily borrowed company, with 21% of their shares on loan to short investors. Utilisation is at 45% and there are 12.5 Days to Cover. Please see the graph (right) of AMR's short interest.