Investors who want to outperform the major indices may want to consider an investing catalyst. A special cash dividend or a company spin off can increase significant value creation. I want to highlight a few investment opportunities currently available. Time will tell if the special dividends pay off. One must be cognizant and attentive to corporate dividend news. Value added spin offs can generate real wealth via special dividends for the retail investor.
Special one time cash dividends are extremely tempting. Choice Hotels International Inc. (NYSE:CHH), for example, is very soon about to pay a $10.41 per share special cash dividend.
Choice Hotels Special One Time Cash Dividend
Choice Hotels franchises 6,100 hotels. The company announced a solid 2nd quarter on July 26th. Management is optimistic about the future. Shareholders were pleasantly surprised to hear a $10.41 special dividend will be paid to investors holding shares on a record date of August 20. The dividend will be paid on August 23. On July 25th, Choice Hotels was trading at $38.75. On August 10th, the stock closed at $41.27.
CHH Total Return Price data by YCharts
Dean Foods Company (NYSE:DF)
The company, on August 8th, held their 2nd quarter conference call. The focus was the WhiteWave Alpro growth trends.
Dean Foods filed a registration statement to issue an Initial Public Offering (NYSEARCA:IPO) for up to 20% of their WhiteWave Alpro business unit. The spin off will be known as WhiteWave Foods Company.
Dean Foods is a global leader in food products within the U.S. The company is a European leader in branded soy foods and beverages.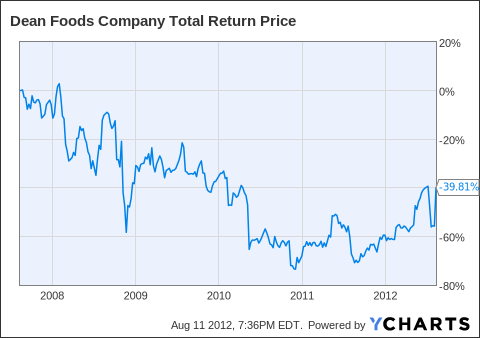 DF Total Return Price data by YCharts
The Fresh Dairy Direct Morningstar business unit is the largest U.S. processor and distributor of milk, creamer, and cultured dairy products. The products are marketed under regional and private labels.
The WhiteWave Alpro business unit produces and sells branded dairy, soy and plant based beverages and foods. WhiteWave brands include Silk® soy and almond milk, Horizon Organic® milk and dairy products, International Delight® coffee creamers, and Land O'Lakes® creamers.
WhiteWave Alpro have increase operating income and earnings per share by 31%. These are June 30th, 2012 comparisons versus the June 30th, 2011 comparables.
Abbott Laboratories (NYSE:ABT)
Abbott Laboratories, on July 18th, confirmed the year end spin off is on track. Abbott is spinning off its research and development company from the established pharmaceuticals business, diagnotics, nutritional products and animal health unit.
The company spin off will occur by December 31st. The company, in current form, is expected to earn $5.00 - $5.10 per share. The current annual dividend is 3.1%. This blue chip name should continue to hold its own, in terms of revenue and earnings' performance, until the two entities are separated by 2013.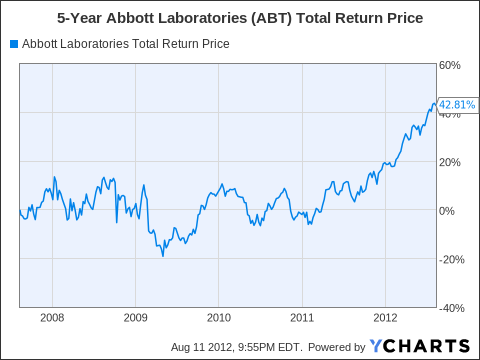 ABT Total Return Price data by YCharts
Warner Chilcott plc (NASDAQ:WCRX)
Warner Chilcott is a leading specialty pharmaceutical company centered on the women's healthcare, gastroenterology, urology and dermatology revenue markets. The focus is clearly on the N. American markets.
Warner Chilcott plc, on August 7th, announced a special $4.00 per share cash dividend. The company announced a new dividend policy and continuation of its share redemption program.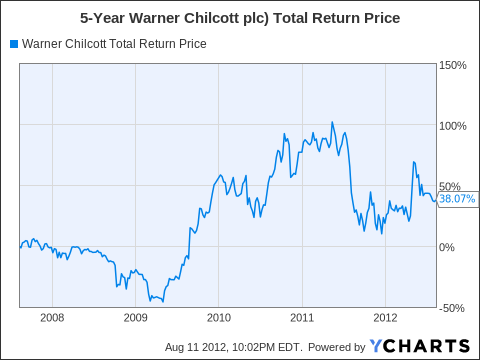 WCRX Total Return Price data by YCharts
The $4.00 is expected to be paid by the end of September 2012.
Action
My plan is to buy WhiteWave Alpro shares after the IPO. Whole Foods Market, Inc. (WFM) has proven consumers want wholesome and natural food products. Whole Foods Market has 329 stores as of July 29th, 2012. WhiteWave Alpro offers leading natural foods and beverages. These are exactly the products stocked in Whole Foods Market stores.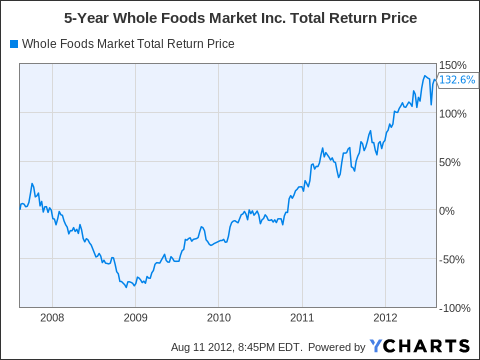 WFM Total Return Price data by YCharts
I will wait to buy the Dean Foods stock until I hear management is committed to spinning off the remaining 80% of WhiteWave Alpro shares.
Disclosure: I am long ABT.