Ben Bernanke's ZIRP [zero interest rate policy] has left pension plans and retirees desperate for securities that generate reasonable income streams. Unsophisticated buyers often are tempted to chase after what look like great yields. That's especially true in a sea of fixed-income now paying basis points rather than a fondly remembered 4% - 7%.
During the boom years of 2003 - 2006 interest rates were higher than today. Even then, people were still in search of the Holy Grail; well above average dividend payments. American Capital (NASDAQ:ACAS) had become a regulated closed-end, non-diversified investment company back in 1997 to avoid paying federal income tax on the income and capital gains it distributed to its stockholders.
ACAS bought equity and lent money to operating firms in the hope of pocketing good total return. They paid out 103%, 109%, 97% and 87% of net income to shareholders in 2002 - 2005 respectively. Average shareholder yields were 10.2%, 10.9%, 9.5% and 8.7% in those years [source: Value Line]. As the 2007 housing bust started damaging America's economy, ACAS merrily increased its quarterly payout four times.
ACAS shares appeared desirable for those seeking income. Management used the steadily rising stock demand to repeatedly make secondary offerings of common shares. The number of shares outstanding surged by 350.7% from year-end 2002 through Dec. 31, 2007 [from 43.47 MM to 195.9 MM].
Book Value grew from $15.82 per share to $32.88 during those five years due to the constant issuance of shares at a premium to existing asset values. The influx of money from the secondary offerings is what permitted ACAS to pay out north of 100% of their income in some years.
2008's recession and corporate credit crisis put the kibosh on both those sources of cash flow. ACAS posted huge losses in the first half of 2009 and ultimately they were forced to sell an enormous number of newly issued shares, at horrendously dilutive prices, in order to avoid bankruptcy.
2007's YE $32.88 in stated book value/share dissolved to $8.28 by the end of 2009. ACAS shares collapsed to a low of $0.60 at the dead low when it looked like they might not remain solvent. The dividend, which had drawn in almost all their previous investors, went to ZERO. Three years later it's still MIA (missing in action).
Once all the income investors had fled and survival was again assured, smart speculators moved in to scoop up the now-abandoned shares. Ironically, devastated formerly high-income stocks often post great returns as disgusted dividend buyers are replaced by value investors.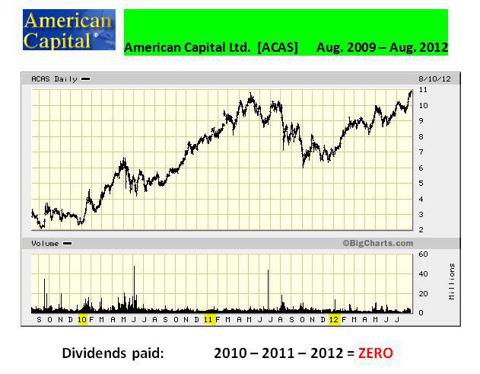 Other examples of this phenomenon? Check out the action from some utilities that previously had completely eliminated their payouts.
In the year 2000 California-based PG&E (NYSE:PCG) was paying $1.20 per share and traded near $32. Management suspended all dividends in 2001. The stock bottomed at $8.00 in 2002. Income investors cursed and threw in the towel. The result was predictable.
NV Energy (NYSE:NVE) (formerly Sierra Pacific Resources) gradually cut from annual dividends as high as $1.60 per share (in 1997) to none at all in 2003. From a peak of $17.20 in 2001 the stock was crushed to $2.90 in early 2003 as yield-lovers fled, licking their wounds.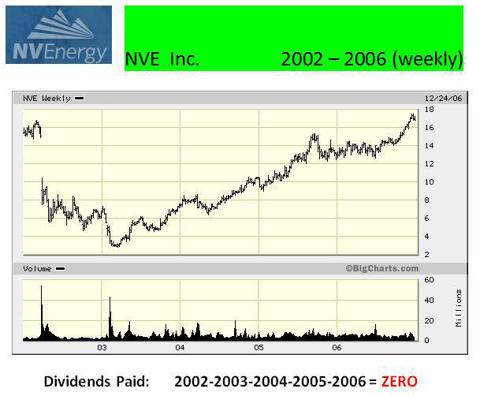 You need to think about more than just yield if you expect to be a great investor. Dividends are just one component of total return. Blindly buying shares with unsustainable or questionable income streams often leads to disastrous results. Buying 'busted' income vehicles after the yield is gone can be a recipe for success.
Disclosure: I have no positions in any stocks mentioned, and no plans to initiate any positions within the next 72 hours.