On July 27th AmREIT, Inc. (NYSE:AMRE) listed 3,962,498 shares of its Class B common stock shares offered at $14.00 per share. Trading on the New York Stock Exchange, the new AmREIT shares utilized net proceeds of around $46.3 million to repay secured debt and for general corporate working capital purposes, including future acquisition, development, and redevelopment activities.
As a 28-year old Houston-based company, AmREIT has focused its almost three decades of experience on maximizing the value of retail and mixed-use properties on behalf of shareholders, investors, and joint venture partners. Prior the recent NYSE listing, AmREIT was primarily engaged in raising equity via non-traded REIT offerings and the company has around 11,666,563 shares on Common A shares valued at around $ 163 million.
AmREIT had considered entering the publicly traded arena earlier; however, the company waited until recently as management was focused on its strategic IPO plan referred to as Vision 2012. This plan included strategic initiatives such as providing liquidity for stockholders and growing and diversifying the portfolio and sources of capital. For example, last year AmREIT sold a portfolio of 19 IHOP properties at a strong profit for stockholders. In addition, AmREIT expanded its footprint into Atlanta, GA through the acquisition of two high-quality shopping centers.
AmREIT's market strategy is to invest in areas that have high barriers to entry, attractive demographic characteristics, and that have both growth potential and mitigating factors during downturns. Using this formula, AmREIT has expanded its geographic footprint from the affluent submarkets of Houston, to Dallas, San Antonio, Austin, and most recently to Atlanta. Each city is unique, with Houston having the largest medical center in the world and also being the energy capital of our nation; Dallas being the financial center of the Southwest; San Antonio being the tourist capital of the region and the economic doorway to Central and South America; Austin being a major center of government, education and high tech; and Atlanta being the market leader and financial center in the Southeastern U.S.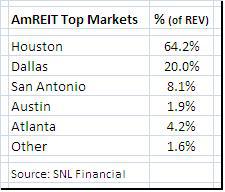 Operationally, AmREIT's portfolio is exceptionally solid. The company ended the second quarter 95.8 percent leased (source: SNL Financial). Leasing spreads (the difference between the expiring rental rate and the new rental rate for the same space) in 2011 were a positive 4 percent, and same property net operating income growth was a positive 6 percent. These accomplishments, and others, helped AmREIT realize its overall financial goal, which was Core Funds from Operations of $0.60 per share (excluding IPO related costs).
AmREIT Shoots for Irreplaceable Corners™
AmREIT seeks to invest in properties that possess the following attributes, which the company refers to collectively as the "5Ds":
Demographic purchasing power - average household incomes within a one-mile radius of $100,000 or more, resulting in an affluent population with substantial disposable income;
Density of population - 45,000 or more households within a three-mile radius and additional retail drivers such as favorable daytime employment population, tourism and regional draws;
Demand for retail space - limited nearby retail properties or land available for the development of new retail properties, providing for favorable retail per capita figures as compared to the national and metropolitan statistical area averages;
Desirability of physical layout - physical attributes that provide the best opportunity for our tenants to attract and serve their target customers; and
Demarcation advantage - site-specific factors that will encourage traffic to our properties and require analysis beyond the raw demographic data.
AmREIT's Irreplaceable Corners™ are found in some of the highest quality locations in a given submarket and the REIT focuses its acquisitions on exceptional demographics. As evidenced by the snapshot below, AmREIT properties are considered "best in class" as the exceptional property-level fundamentals are superior to many leading shopping center REITs.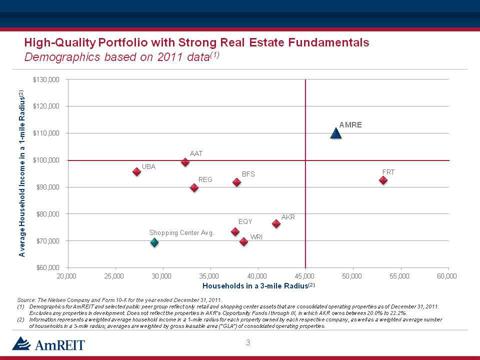 AmREIT owns 29 properties that include a mix of multi-tenant centers and single tenant properties. The REIT's portfolio is well-balanced as Kroger is the only tenant with exposure over 5 percent. Other leading grocery tenants include H-E-B and Publix.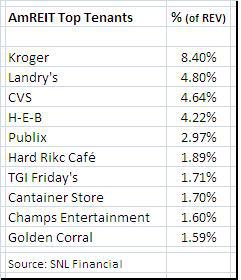 AmREIT: A Differentiated Sharp Shooter from Texas
In the second quarter of 2012, AmREIT generated funds from operations of $3.7 million, or $0.32 per share, as compared to FFO of $3.0 million, or $0.26 per share, in the second quarter of 2011. For the six months ended June 30, 2012, AmREIT generated FFO of $7.3 million, or $0.63 per share, compared to $6.1 million, or $0.53 per share, for the comparable six-month period in 2011.
Net income was $1.4 million and earnings per share was $0.12 per share for the second quarter of 2012, as compared to net income of $566,000 and earnings per share of $0.05 for the second quarter of 2011. For the six months ended June 30, 2012, AmREIT reported net income of $2.7 million and earnings per share of $0.23. This compares to net income of $1.9 million and earnings per share of $0.16 for the six months ended June 30, 2011.
AmREIT has assets of $331 million and debt of around $218.7 million. The current dividend yield on its common equity is 5.7 percent. AmREIT's peer shopping center REITs include Federal Realty Trust (NYSE:FRT), Regency Centers (NYSE:REG), Weingarten Realty Investors (NYSE:WRI), Saul Centers (NYSE:BFS), Urstadt Biddle (NYSE:UBA), American Assets Trust (NYSE:AAT), Acadia Realty Trust (NYSE:AKR), and Equity One (NYSE:EQY).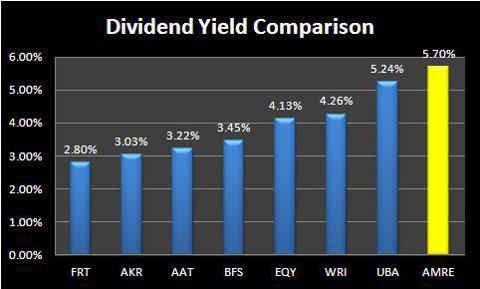 Disclosure: I have no positions in any stocks mentioned, and no plans to initiate any positions within the next 72 hours.