Blood In The Streets, Spain, Part 1
Blood In The Streets, Spain, Part 2
Blood In The Streets, Spain, Part 3
Blood In The Streets, Spain, Part 4
This is part 5 of a multi-part series on the Spanish (NYSEARCA:EWP) stock market. The logic is, again, the same: as Baron Rothschild once said, "The time to buy is when there's blood in the streets". The blood is certainly flowing in the European periphery.
In looking at the stocks, I'll try to gauge the sensitivity to internal demand, some factors important to their industries, the multiples they trade at and how the local stocks compare to U.S. listed alternatives in the same sectors. Obviously to trade some of these stocks, investors would need an account with a full-service broker.
I will cover the stocks that are members of the Spanish Ibex 35 Index. This index has the following 35 constituents and in this article I'll cover those bolded:

Abertis
Abengoa
ACS
Acerinox
Amadeus
Acciona
BBVA
Bankia
Bankinter
Bolsas Y Mercados
Caixabank
DIA
Endesa
Enagas
Fomento Construcciones
Ferrovial
Gamesa
Gas Natural
Grifols
IAG
Iberdrola (OTCPK:IBDRY)
Indra (OTCPK:ISMAY)
Inditex
Mapfre (OTCPK:MPFRF)

ArcelorMittal

(NYSE:MT)
OHL
Banco Popular
Red Electrica
Repsol
Banco Sabadell
Banco Santander
Sacyr Avllehermoso
Telefonica
Mediaset Espana
Tecnicas Reunidas
Iberdrola
Iberdrola is yet another Spanish utility. Iberdrola gets 51% of its EBITDA from the regulated market, 30% from the liberalized market and 19% from renewable sources (which usually entail special regulation to favor them). Iberdrola is diversified geographically between Spain, the EU, Brazil and the United Kingdom, with minor operations in other South American countries.
Taking into account its earnings report for 2011, these are the multiples that Iberdrola trades at today (all values are in Euros):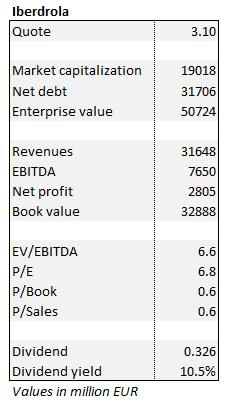 Iberdrola's significant debt keeps it from trading as cheap as EDP or Endesa, making it a lot less desirable. Although net debt can be considered to be lower given the tariff deficit, it's still far from competitive with the other investment alternatives (EDP, Endesa).
While being less attractive than either EDP or Endesa, Iberdrola still shows up as being cheaper than U.S. comparables such as Duke Energy (NYSE:DUK), which trades at 19 times earnings, 1.3 times book value and yields 4.6%, or American Electric Power (NYSE:AEP), which trades at 10.2 times earnings, 1.4 times book value and yields 4.5%. This might be because of the quest for yield that's being influencing share prices in the U.S. market.
Indra
Indra is a large IT consulting company with subsidiaries in 45 different countries and many different sectors. 54% of Indra's revenues come from Spain, 21% from Latin America, 17% from the rest of Europe and US and 8% from Asia and others. Indra still shows a significant exposure to the Spanish economy in a sector that usually gets significant cuts during economic crisis.
Still, up until now growth in international markets has been enough to compensate stagnation in Spain.
Taking into account its earnings report for 2011, these are the multiples that Indra trades at today (all values are in Euros):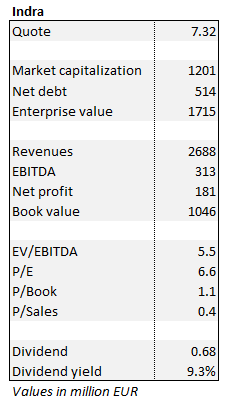 Indra does not show up as incredibly cheap from an EV/EBITDA standpoint due to the debt it carries. Still, it's quite a bit cheaper than, say, CA Technologies (NASDAQ:CA), which trades with a P/E of 13 and an EV/EBITDA of 6.2. Indra also carries an extremely elevated dividend yield which it might be able to hold at the present levels going forward.
Inditex
Inditex is perhaps the crown jewel of Spanish stocks, with its Zara brand expanding the world over. Inditex is a clothes retailer with its own brands including Zara, Pull and Bear, Massimo Dutti, Bershka, Stradivarius, Oysho, etc. 25% of revenue comes from Spain, 45% from Europe ex-Spain, 12% from the Americas and 18% from Asia and the rest of the world.
The Zara brand represents 64.8% of revenues.
Taking into account its earnings report for 2011, these are the multiples that Inditex trades at today (all values are in Euros):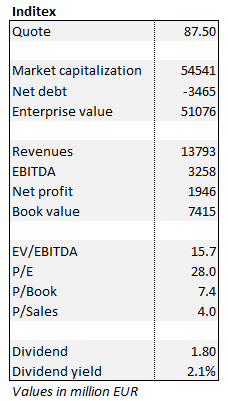 Inditex trades with growth multiples and completely impervious to the Spanish crisis. It's thus not really within the scope of this article. The net cash position is somewhat deceiving because I didn't capitalize rents and leases, even without doing so the EV/EBITDA is quite large at 15.7, though obviously Inditex has been a high-quality stock for which international funds don't mind paying a premium.
Mapfre
Mapfre is an insurance company. 37.7% of Mapfre's insurance revenues came from Spain, so the exposure to the Spanish market is not incredibly high. The main risk, which I could not quantify, would be on how Mapfre has invested its reserves, with 52.8% of those seemingly invested in Spanish assets.
Given the composition of Mapfre's assets, it becomes risky to invest in it even if the underlying business seems less exposed to Spain than what one would otherwise have expected.
Taking into account its earnings report for 2011, these are the multiples that Mapfre trades at today (all values are in Euros):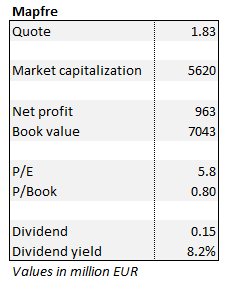 It's a rather cheap and high-yielding equity. One that might be interesting for those that expect Spain not to default (like me), but still a stock that's vulnerable to sell-offs due to Spanish fears.
ArcelorMittal
ArcelorMittal is an integrated, worldwide, steel and mining company. It's also quoted in the U.S. markets. The main problem with steel companies right now is that China has almost 50% of the world's steel production capacity, and due to a slowdown in its residential construction market, now has excess steel production. It's likely that this steel will spill over into the world markets and depress prices and margins for all steel producers, as is already happening. ArcelorMittal, being one of the largest steel producers in the world, cannot but suffer, independently of what happens in Spain.
Taking into account its earnings report for 2011, these are the multiples that ArcelorMittal trades at today (all values are in Euros):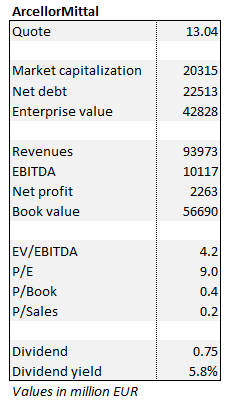 I don't see the negative dynamics affecting the world's steel market ending soon, so it's hard to see ArcelorMittal as a buy yet. I have been covering these dynamics at length in other articles.
Conclusion at this point
At his point, we found the following attractive equities:

Two construction and engineering companies, Abengoa and ACS, which given their geographical diversification might already be cheap enough to warrant inspection. Still, construction isn't usually the kind of sector that attracts great attention;
Amadeus might also be interesting because of its long term prospects;
Bolsas Y Mercados, can be interesting on weakness due to the possible consolidation in the sector, where it would be a natural target, while trading at reasonable multiples and carrying a large dividend yield;
Endesa is very cheap for an electrical utility, and might even be cheaper than it looks if we take into account the tariff deficit. It seems a like a decent long term buy;
Enagas might make sense for an income portfolio, due to its stable nature. But it's more of a fit for a local, than for a foreign investor;
IAG might be interesting as a speculative bet on a global airline/economic recovery, since it presents low multiples on an already punished sector worldwide. It can also be an interesting bet if crude were to drop due to excess supply (not motivated by a further economic impact), since fuel is the largest cost for airlines;
Mapfre might make sense given its international exposure and dividend yield, though there's risk in the balance sheet due to the exposure to Spanish assets. It requires the belief that Spain won't default.
(to be continued)
Disclosure: I have no positions in any stocks mentioned, and no plans to initiate any positions within the next 72 hours.