Remember the old ad slogan "This is not your father's Oldsmobile"? Winthrop Realty Trust (NYSE:FUR) is not your father's REIT. Winthrop is not quite an equity REIT and it is not quite a mortgage REIT - it is a hybrid REIT that makes opportunistic real estate investments across sectors and across the capital structure.
Recently, Winthrop issued $25 par senior debt. As the debt looked attractive, I thought a review of this hybrid REIT might make sense.
Issuer Description:
Winthrop Realty Trust is an externally managed REIT whose principal business activities are acquiring and originating loans secured by real estate, joint venture investments with local real estate partners and investing in equity and debt securities where the underlying assets consist of real estate.
37 commercial assets totaling 8.7 million square feet in 14 states
30 multi-family properties containing 5,387 units
Loan investments with a carrying value of $211.3 million
Opportunistic ownership of 6.1 million shares of Cedar Realty Trust (NYSE:CDR) with cost basis of approximately $22.9 million or $3.78 per share
Winthrop's earning assets are distributed in the following manner: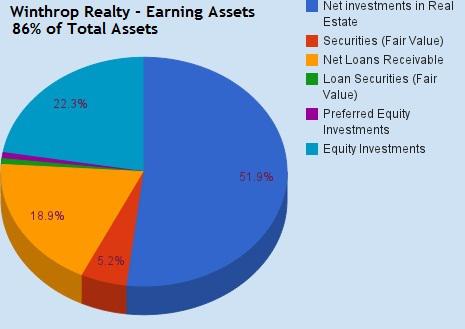 As the chart shows, a little over half of the REIT's earning assets is investments in real estate, with the remainder being securities, loans and equity ownership of joint venture partnerships.
The property portfolio has the following characteristics:
12 single tenant consolidated properties comprising 2.2 million square feet
12 multi-tenant office consolidated assets totaling 2.0 million square feet
13 unconsolidated office and flex properties comprising 4.5 million square feet
30 consolidated and unconsolidated multi-family properties containing 5,387 units
As of June 30, 2012, consolidated properties, excluding Churchill, were approximately 90.4% leased compared to approximately 89.7% leased as at June 30, 2011.
The loan portfolio continues to be the focus of the REIT as they see the most value in this segment. The portfolio consists of the following:
Click to enlarge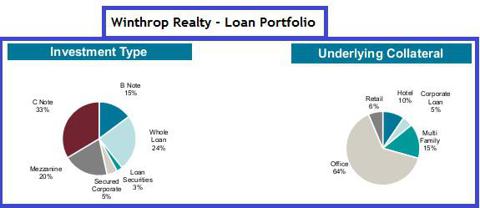 By way of explanation, a B Note is the secondary tranche in a commercial mortgage-backed security and the C Note is subordinate to the B Note. B and C notes get paid after the higher A tranches of a CMBS. Mezzanine financing is typically subordinated debt or preferred equity instrument, which is senior only to common shares.
One concern on the loan portfolio is its exposure to the office sector, which has continued to underperform. Importantly, as of June 30, 2012, and December 31, 2011, there were no non-performing loans and no past due payments.
The company's equity investments consist of:
nlarge)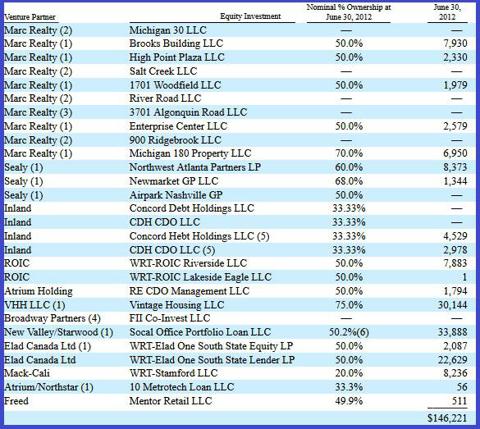 While I admit that the table above is a lot of information, my point in including it is to show the entities with whom they are investing. Many readers will recognize Retail Opportunities Investments Corp (NASDAQ:ROIC), Inland Real Estate Corp (NYSE:IRC) and Mack-Cali (NYSE:CLI).
The biggest concern in the company's equity investments is the equity investments with Marc Realty and Sealy.
As of June 30, 2012, Winthrop held equity interests in five properties with Marc Realty which consist of an aggregate of approximately 895,000 rentable square feet of office and retail space which was 77.5% occupied at June 30, 2012 as compared to 79.3% occupied at December 31, 2011. On January 1, 2012, the REIT restructured one of their investments (180 North Michigan) and reclassified their investment from loans receivable ($2,938,000) and preferred equity ($3,923,000) to equity investments ($6,861,000).

As of June 30, 2012 Winthrop continued to hold equity interests in three real estate ventures with Sealy & Co. which have an aggregate of approximately 2,097,000 rentable square feet consisting of 18 office flex buildings and 13 light distribution and service center properties. Two of the investment properties are located in Atlanta, Georgia, (Northwest Business Park and Newmarket), which had occupancies of 70% and 52% respectively, at June 30, 2012 as compared to occupancy of 77% and 52%, respectively at December 31, 2011. The third Sealy investment is located in Nashville, Tennessee and was 86% and 83% occupied at June 30, 2012 and December 31, 2011, respectively.
In assessing the condition of these ventures, Winthrop has determined that the fair value of certain of its investments in the Marc Realty and Sealy ventures each marginally exceed their carrying values. While these ventures continue to aggressively market available space for lease and work with existing tenants for lease renewal, declines in occupancy could cause impairment of certain of these ventures that could be material.
The Cedar Difference:
Another feature of Winthrop that differentiates it from other, more traditional REITs, is its ownership of shares of Cedar Realty Trust. During the second quarter of 2012 Winthrop acquired 181,393 additional shares of Cedar, and as a result, they own 6,250,716 shares of common stock in Cedar representing 9.02% of the total outstanding common stock of Cedar as of the quarter ended June 30, 2012.
Cedar's performance has been poor and has gone sideways since Winthrop bought more shares in the second quarter. Winthrop shows a cost basis on REIT common of $26.8MM and a fair value of $34.1MM, or a gain of over $7 million. In other words, Winthrop has bought in well.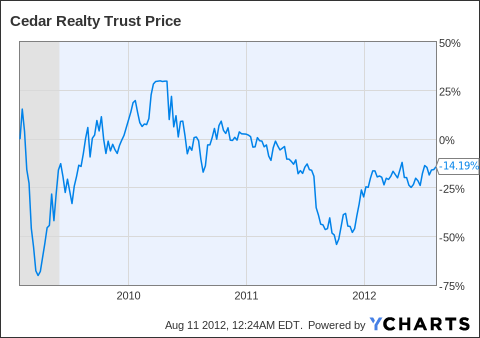 Investment Strategy:
Rather than focus on a particular type of real estate asset or a specific geographic sector, the investments of Winthrop Realty Trust are based on their assessment that a potential investment is significantly undervalued or presents an opportunity to outperform the marketplace. Winthrop makes investments in assets which have under performed and which, through an infusion of capital and improved management, an appropriate return on investment can be realized. Additionally, the company will create joint venture platforms with local real estate partners to combine their specific expertise with Winthrop's approach to the investment of capital in order to mutually benefit through the growth of their platform. In this respect, Winthrop seeks to invest in, restructure or acquire most types of real estate assets or securities.
Management:
Winthrop's operations are managed by FUR Advisors LLC. FUR Advisors is entitled to receive a base management fee of 1.5% and an incentive fee in accordance with the terms of the Advisory Agreement. In addition, FUR Advisors or its affiliate is also entitled to receive property and construction management fees subject to the approval of the independent Trustees of the Trust.
Management has put their money where their mouth is with this REIT, which is always a good sign: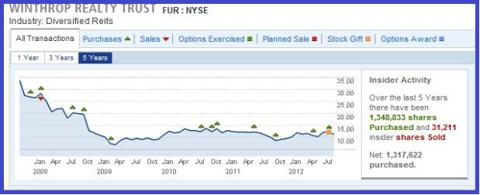 Source: CNBC
Recent Transactions:
On June 11, 2012, Winthrop entered into an agreement to acquire a 284 unit multi-family property for an aggregate purchase price of $17,500,000. The property, which is located in Greensboro, North Carolina, is presently 94% occupied.
On May 1, 2012, the Trust acquired from Lexington Realty Trust its 33.33% interest in both Concord Debt Holdings LLC and CDH CDO LLC and its 50% interest in the collateral manager of Concord Real Estate CDO 2006-1, Ltd. for an aggregate purchase price of $7,000,000. As a result, the Trust now holds a 66.67% interest in both Concord and CDH CDO and 100% of the economics of the collateral manager.
On June 1, 2012, the Trust contributed an additional $5,500,000 to its Vintage Housing Holdings LLC equity investment platform consisting of $1,500,000 in common equity and $4,000,000 in preferred equity with a 12% return.
Capital Structure:
As of June 30, 2012, Winthrop Realty's capital structure had the following attributes:

Debt:
The only tradable debt of the company is the recent new issue. The following are the details of the offering:
| | |
| --- | --- |
| Issuer | Winthrop Realty Trust |
| Maturity | August 15, 2022 |
| Ratings | NR |
| Size | $75,000,000 - $25 par |
| Coupon | 7.75% |
| Interest | February 15, May 15, August 15 and November 15 |
| Ticker | Issuer has applied for the ticker WRT |
| Security | Notes will have a first priority security interest in a promissory note issued to the issuer by WRT Realty L.P., which is the100% owned (directly and indirectly) operating partnership. |
| Optional Redemption | August 15, 2015, redeemable at par plus accrued |
| Change of Control | 101% |
Covenants (from the prospectus):
The Indenture will provide that it is an Event of Default if our Consolidated Leverage Ratio is equal to or greater than 60% on any Calculation Date, but will otherwise not limit our or our subsidiaries' ability to incur indebtedness.

"Consolidated Leverage Ratio" means the quotient resulting from dividing (i) the sum of our and our operating partnership's Pro Rata share of the aggregate amount of all Debt respecting us, our operating partnership and its Subsidiaries, by (ii) the sum of our and our operating partnership's Pro Rata share of the aggregate amount of all total assets respecting us, our operating partnership and its Subsidiaries, each as determined in accordance with GAAP.

"Change of Control" means the occurrence of the following:
the acquisition of ownership, directly or indirectly by any Person or group of Equity Interests representing more than 50% of the aggregate Ordinary Voting Power of our or our operating partnership's issued and outstanding Equity Interests;
the direct or indirect sale, lease, transfer, conveyance or other disposition (other than by way of merger or consolidation), in one or a series of related transactions, of all or substantially all of the properties or assets of us and our subsidiaries taken as a whole to any "person" (as that term is used in Section 13(d) of the Exchange Act);
occupation of a majority of the seats (other than vacant seats) on our board of trustees by Persons who were neither (i) nominated by our board of trustees nor (ii) appointed by directors so nominated; or
the acquisition of direct or indirect Control of us or our operating partnership by any Person or group (within the meaning of the Exchange Act and the rules of the SEC thereunder as in effect on the date of the closing of the offering of the Notes) not in Control of us on the date of the closing of the offering of the Notes;
The debt does not have traditional REIT covenants which would limit the amount of secured debt, set minimum coverage ratios and the minimum amount of unencumbered properties. I understand that this is not a traditional REIT, but believe it is important to highlight that a comparison to REITs with REIT covenants is difficult (it has never stopped investors from doing it with Kimco (NYSE:KIM) 5.70 2017, but Winthrop is not Kimco).
Preferred Stock:
Winthrop has one outstanding series of preferred stock, the Series D preferred.
| | | | | | |
| --- | --- | --- | --- | --- | --- |
| Series | Coupon | Call Date | Price | Yield | YTC |
| Series D | 9.25% | 11/28/16 | $26.50 | 8.73% | 7.93% |
Winthrop's revolving credit facility, whether drawn or undrawn, prohibits them from paying dividends to shareholders, including the Series D Preferred Shares, in an aggregate amount in excess of 100% of Adjusted Earnings (as defined in the revolving credit facility), calculated on a trailing twelve-month basis, except as necessary to enable us to maintain our qualification as a REIT.
Proceeds from the issuance of the preferred shares were transferred to their operating partnership, and their operating partnership issued to them 9.25% Series D Cumulative Redeemable Preferred Units. The operating partnership will be required to make all required distributions on the Series D Preferred Units after any distribution of cash or assets to the holders of preferred units ranking senior to the Series D Preferred Units.
The following table shows where fellow mREITs including Annaly Capital Management (NYSE:NLY), American Capital Agency (NASDAQ:AGNC), NorthStar Realty (NRF) and Colony Financial (CLNY).
| | | | | |
| --- | --- | --- | --- | --- |
| Issuer | Series | Price | Yield | Call date |
| Northstar | Series B | $23.30 | 8.86% | 9/15/12 |
| Colony | Series A | $25.64 | 8.30% | 3/20/17 |
| Annaly | Series C | $25.85 | 7.37% | 5/16/17 |
| AGNC | Series A | $26.68 | 8.37% | 4/05/17 |
The only hybrid mREIT that yields higher is NorthStar.
As the chart below shows, the price of the preferred has been running up since May of this year.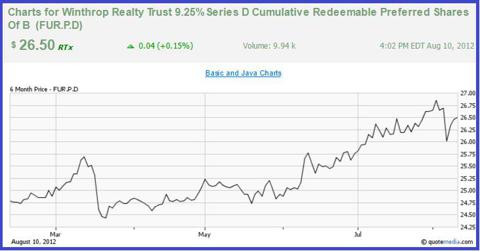 Equity: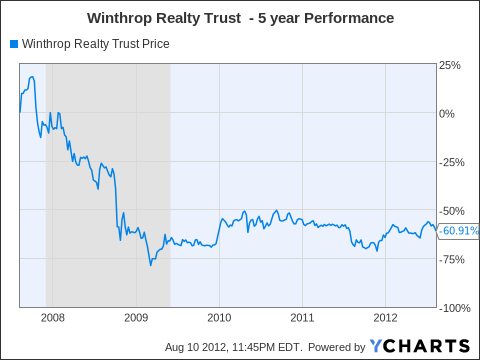 As the above chart shows, the credit contraction decimated Winthrop as they are 60% below their 2008 high. Since the 2009 low, however, the REIT has returned 60%. This is not an attempt to mine data, just to show performance during two periods.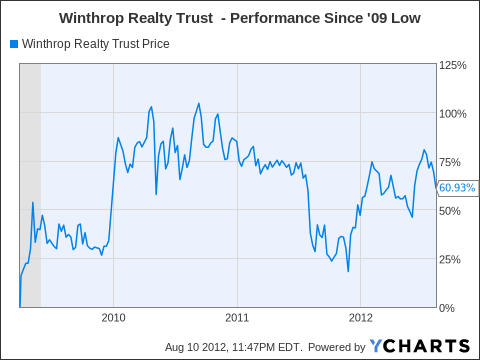 Bottom Line: Winthrop Realty Trust is not your typical REIT. They are, essentially, a CRE mREIT which has taken properties into their portfolio opportunistically. The REIT does not focus on steady, consistent and growing dividends, it focuses on total return - which must be considered. For yield/income focused investors, I would focus on the preferred stock as it has a longer period until it can be redeemed (4 years vs. 3 years for the debt) and although it trades at a premium, the yield to call is also higher than the yield on the debt.
The preferred payment is also made by a matched investment from the operating partnership. I consider the equity to be higher risk and have concerns regarding some of their equity positions (Marc Realty and Sealy) and the ongoing focus on loans although they have managed their loan portfolio well.
Disclosure: I am long NRF.
Additional disclosure: This article is for informational purposes only, it is not a recommendation to buy or sell any security and is strictly the opinion of Rubicon Associates LLC. Every investor is strongly encouraged to do their own research prior to investing.