If you're looking for more volatility, you've been disappointed. The Short-Term VIX ETN (NYSEARCA:VXX) cruised down to yet another all-time low last week - and the VIX is sitting near year-to-date lows: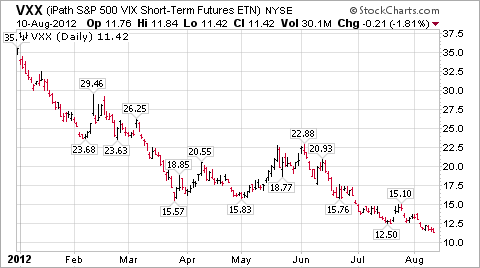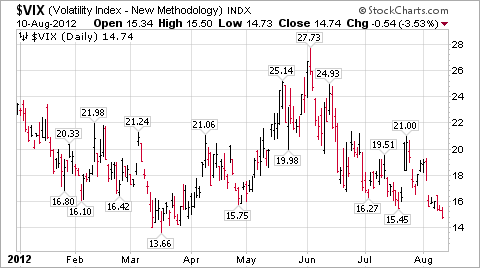 But open interest in the CBOE's VIX futures contracts? That's nearing all-time highs.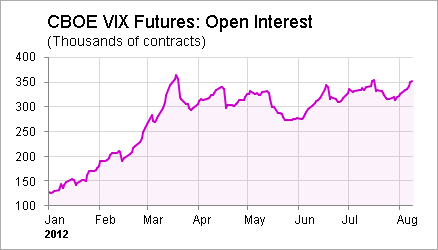 With so many volatility traders in this market right now, what are they expecting? Less of it? I kind of doubt it. I think they want more - but there's none to be had lately.
Yet for an ETN like VXX, it takes more than rising volatility for this fund to move up off its all-time lows. It will take a contango in the futures market that gets a lot less steep.
Here's a look at VIX futures term structure as of August 10.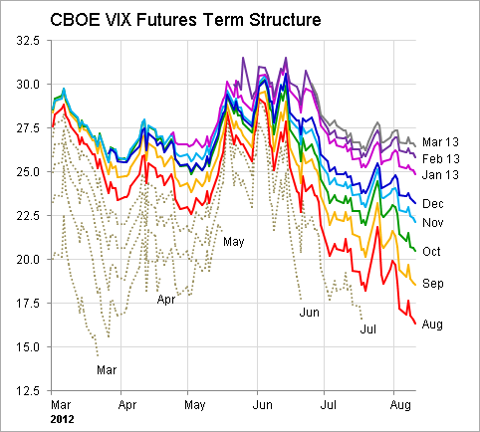 It's a complicated chart, but I've showed each contract that's currently trading, plus older expired contracts (as dotted lines). Look at the difference between the soon-to-expire August contract and the one that expires next March. There's more than a 10 point difference between the two.
You won't see VXX make much headway to the upside until that contango comes out of the market. For example between May 1 and June 1, VXX rose 40%. But between June 1 and August 10 it fell by 49%.
My prediction is that trading volumes in the overall stock market will pick up in September, we'll see higher market volatility and the contango will ease off. Then VXX should present a decent opportunity for a short-term trade to the upside.
It could be sooner, of course. Panic can strike anytime. So keep an eye on those 350,000 VIX futures now in open interest. That's a lot of people expecting something in the volatility market, and I don't think they're expecting it to go much lower.
Disclosure: I have no positions in any stocks mentioned, and no plans to initiate any positions within the next 72 hours.