Two Harbors Investment Corp. (NYSE:TWO) is a high dividend payer (14.43%) in the RMBS market. It has $11.1B in Agency and non-Agency MBS. It is benefiting from the bottoming process in the housing market. Year over year US housing prices were up +0.2% in June 2012. This was the first year-over-year increase in US home values since 2007. They have fallen approximately 35% from their highs of several years ago. Home prices are benefiting from the Federal Reserve support via Operation Twist, which is keeping mortgage rates low, which is making home ownership cheaper. Further QE from the Fed may be coming in the near future. Many think this will be certain to include MBS buying by the Fed.
This might increase the CPR (constant prepayment rate), but it will also likely buoy home prices. With all of this in mind, TWO has started to buy actual homes as investments. It purchased $72 million in properties as of June 30, 2012. Through the end of July it had purchased over $120 million in properties. TWO believes this represents an attractive asset class. It has long duration, current yield, and potential home price appreciation. If you believe the housing market is bottoming, you have to agree that the company is likely correct. It is taking advantage of a window in time where it can buy at a huge discount to book value. It expects to find these endeavors hugely profitable for the company going forward. This new real estate investment had no effect on Q2 earnings. It is just getting started.
Some people may view the above as a huge new risk, but I view it as the acknowledgement of the probability that with the Fed's help, the housing market is bottoming. The homebuilder stocks have gone up this year. However, due to Operation Twist, etc. the spreads between costs of funds (plus hedging costs) and the recently lower loan rates are smaller. This is translating into lower profits. The chart below shows the recent quarters' annualized yields by portfolio.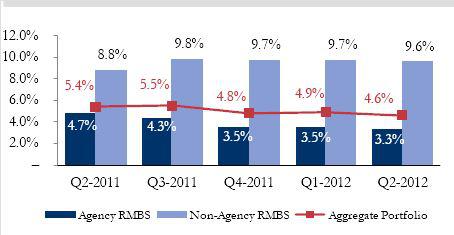 The decline in average portfolio yield from 5.4% in Q2 2011 to 4.6% in Q2 2012 does not seem to be bad management. It is rather just a narrowing of spreads recently. The move to investing directly in real estate makes sense. Unless you think the company will have huge equity losses, it should make sense to you too. I have mixed feelings, but I am mostly positive about this move. Most are evaluating TWO based solely on its portfolio performance. This has been deteriorating slightly. I see rather a sharp management team that is moving appropriately with the times. I note there is nothing dramatically wrong with a falling average yield. It merely means that the dividend may be lower eventually. TWO management is actively taking action to find good profits in another area. It has also lowered its expense ratio year over year from 1.1% to 0.8%. It has raised its book value in Q2 2012 from $9.67 at the end of Q1 2012 to $9.94 at the end of Q2 2012. I applaud all these achievements.
Even with the lower annualized average portfolio yield, TWO achieved a total return on book value of 6.9% for Q2 2012. This translates into a 27.6% annualized return on book value. This is down significantly from the 44.5% annualized return for Q1 2012. However, the risk of a further narrowing of the spread between the cost of funds and the rate of the loans is non-negligible. Plus with the interest rates so low, there is also the risk of a rapid rise in interest rates. The hedging should blunt much of the loss of book value, but the risk is still appreciable. Many believe the Fed will prevent this for the next two years at least. However, it does make some sense to diversify into another probably very profitable area in order to protect the long-term health of the company. The following table shows the Q1 to Q2 sequential comparisons in portfolio metrics.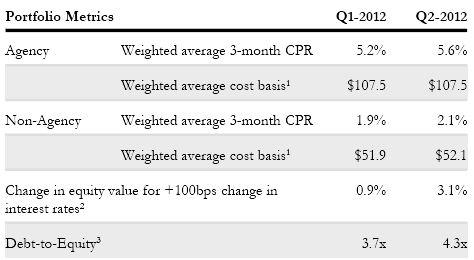 The weighted average 3-month CPR is worrisome. Annually it was 20.8% for Agency MBS for Q1 2012. For Q2 2012 it was 22.4%. This indicates that the selection of agency loans has not been as adept as at a number of other companies at managing this metric through the variety of MBS selection. Further the "change in equity value for +100bps change in interest rates" statistic increased from Q1's value of 0.9% to Q2's value of 3.1%. I note this is only a change in a possible threat. It is by no means a current reality. However, it indicates that hedging costs likely have to go up. This will likely mean a further decrease in profit near term. It might mean a decrease in the dividend. The GAAP net income was about half of Q1's GAAP net income at $24 million versus $51.8 million. It is unclear whether there will be an immediate or even a slow resurgence. The company may have learned how to better protect itself from HARP and/or HARP 2.0 (higher prepayment costs). For now the dividend on this stock is still great. The annual return on book value is still great. There is substantial reason to believe this will continue. I am not sure you go out of your way to buy TWO over a number of other companies, which are managing their CPR issues better. However, TWO has done enough good things to make you want to hold onto the stock. You may even want to buy it for its great dividend (14.43%). However, you should be aware that the overall risk involved with this stock has increased.
The two-year chart of TWO provides some technical direction for this trade.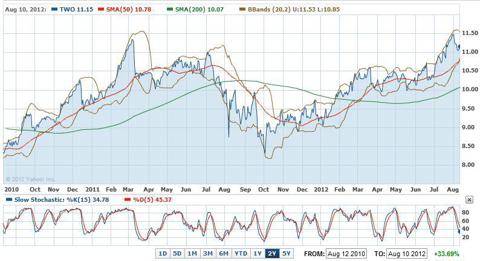 The slow stochastic sub chart shows that TWO is near oversold levels. The main chart shows that TWO is in a strong uptrend. The company recently completed a 57.5 million share offering. This closed successfully July 18, 2012 with net proceeds of $592.4 million. The company intends to deploy these to make additional acquisitions of RMBS securities, residential mortgage loans, and residential real properties. It intends to use some for general corporate purposes. The success of this offering shows the strength of the market sentiment for TWO. To me that means you can buy it with bit of trepidation. If you own it you can hold it for some time to see if it manages to stop or reverse some of the recent negative statistics moves. The 14.43% dividend is very attractive in these troubled times. Housing does seem to be one of the strongest industries this year. The net institutional purchases of TWO from the prior quarter to this quarter were 43.8 million shares or 20.33% of total institutional shares owned. Even insiders have been buying a small amount of stock.
If you are interested in other stocks of this ilk, you might look at American Capital Mortgage Investments (NASDAQ:MTGE), American Capital Agency Corp. (NASDAQ:AGNC), New York Mortgage Trust Inc. (NASDAQ:NYMT), and Dynex Capital Inc. (NYSE:DX).
Note: Some of the above fundamental fiscal data came from Yahoo Finance.
Good Luck Trading.
Disclosure: I have no positions in any stocks mentioned, but may initiate a long position in TWO over the next 72 hours.