In my recent article published on 6/11/2012, which was the Miscellaneous Industrials installment of my "Yield, Value, Safety" series (which also included a couple of insurance stocks), I had identified Mercury General (NYSE:MCY) as a stock I would be interested in, if it could be bought under $40. Mercury's less than inspiring quarterly results released on July 30th provided that opportunity, as the stock reacted to the report by dropping over three dollars in three days, not finding support until it had declined to just above $36. Following the approach of my recent articles on individual stocks, whereby I have reviewed in more detail stocks which had been mentioned earlier in my summary articles, I selected Mercury as my next subject, since it had now declined to my stated buy price. What I have learned is that there are numerous concerns that a dividend investor considering Mercury needs to be aware of, which I will point out in this article. I will conclude by sharing with readers what I recommend, and also what action I have taken. These should be identical, but occasionally they are not.
Note that for the remainder of this article, the terms Mercury, Mercury General, and MCY will be used interchangeably to refer to the subject firm.
Highlights from the Recent Quarterly Earnings Report and Recent Price Movement
As noted, Mercury reported results on 7/30/2012 for the quarter ending 6/30/2012. A loss of $5.2 million, or $.10 per share, was reported. As explained in the earnings review conference call, the loss was primarily due to a $23 million charge to loss reserves, necessitated by unfavorable reserve development on prior accident years, concerning California auto liability claims. Another $8 million was due to losses from severe Midwestern storms. As explained in the 10K, the firm re-estimates potential loss reserve requirements each quarter, per a somewhat involved process, factoring in recent data, and adjusts reserves if appropriate. Since policy liabilities represents the most significant liability on the balance sheet, over 80% of total liabilities, trends here receive a great deal of attention. Another item of concern was the reported Combined Ratio, which increased from 98% in the prior comparable quarter of 2011, to 104.5% for the recent quarter. The Combined Ratio for a property and casualty insurance firm is a key profitability measure, and is the sum of losses plus expenses divided by earned premiums. If it exceeds 100%, a company is paying out more for claims and expenses than it is collecting in premiums.
The stock reacted predictably, as noted above. Later, under Valuation and Technicals, a brief synopsis of the price history since early 2011 will be noted.
General Information
Mercury General Corporation was established in 1961, and is headquartered in Los Angeles. The GICS classification is Financial, Property and Casualty Insurance. The company markets auto, home, fire, and umbrella coverage in California and twelve other states exclusively through independent agents, with 75% of business occurring in California. Market capitalization is $2.0 billion, which translates, just barely, into a mid-cap size ranking. The firm has approximately 4,500 employees. The founder, George Joseph, is still at the helm as Chairman of the Board, and had previously been the CEO for an astounding 45 years, from 1961 until 2006. The CEO, Gabriel Tirador, has been in that position since 2007. Per the most recent proxy, available from the company website, compensation for senior executives is fairly straight-forward, consisting of salary, performance bonuses, and long-term incentive plans. There are no severance agreements or executive loan provisions. While there are 54.9 million shares outstanding, the number of floating shares is only 26.8 million. A review of the proxy reveals how this can be, as the founder owns 34.3% of the shares outstanding. Other major owners are Gloria Joseph, with 16.7%, and BlackRock, Inc., with 8%. Per Morningstar, institutions own 38% of the firm, and funds own 25%. There must be some overlap, since these percentages add up to more than 100%. At any rate, the firm is widely owned by funds and institutions.
Revenue and Profitability
Note that all fundamental values and ratios as presented were obtained from the MSN Money website, or from SEC 10K and 10Q filings available from the company's website, here.
Since the key question in the case of MCY is the sustainability of the earnings and the dividend, I looked at ten years of annual results, and also three years of quarterly results, to try to determine whether the recent report was an outlier, or indicative of a negative trend. First, consider the annual results for revenue, net income, and EPS for the past ten years, from 2011 to 2002, as shown in the following table: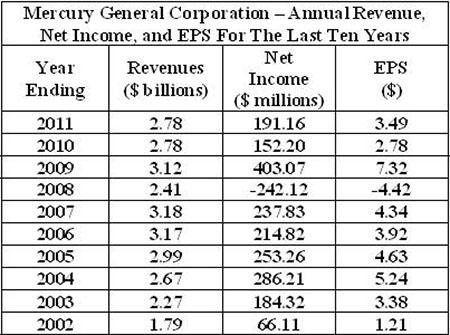 While only one year, 2008, showed a loss, the numbers indicate that revenues were generally increasing from 2002 through 2007, and have since plateaued. Net income and EPS, by contrast, have fluctuated somewhat more than revenues, especially since 2008. To try to see more clearly what was going on, I next looked at three years of quarterly results, as shown in the second table. I wanted to know if the type of quarter just reported had happened before, how often are quarterly losses occurring, and where is the volatility coming from.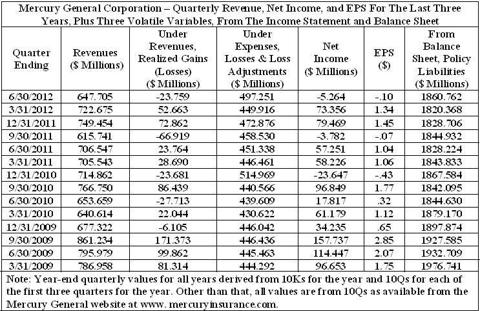 The quarterly history reveals that there were two other quarterly losses reported over the last three years, and also there were other quarters where the Net Income and EPS fluctuated substantially. Upon inspection, the culprit is the line item under Revenues labeled Net Realized Investment Gains (Losses). When this item goes negative, the quarter frequently ends up with anemic results, and sometimes posts a loss. Investment Income, reported on a separate line, is fairly steady, but the Investment Gains (Losses) item fluctuates wildly from quarter to quarter. A detailed review of the 10Q notes reveals that, while actual investment gains and losses are included in this figure, it also apparently includes unrealized gains and losses as well. This is per the "Fair Value Option" approach that Mercury follows when reporting results. My interpretation is based upon this snippet from the section explaining the Fair Value Option methodology, from the most recent 10Q, which states that: "unrealized gains or losses are recognized in net investment gains in the consolidated statements of operations." If this interpretation is correct, it explains why the quarterly results fluctuate so much, since MCY, like any insurance company, carries a significant investment portfolio.
The other major variable observed from quarter to quarter is the line item under Expenses labeled Losses and Loss Adjustment Expenses, which also can fluctuate, impacting a given period. This presumably includes loss payouts, and will accordingly surge if weather disasters affect insured properties. While I am not sure about this next item, I believe it also reflects changes in estimated reserves for losses, as trends are noted that call for such action. The most recent quarterly reporting press release and conference call noted that a $23 million increase in loss reserves was necessitated by trends showing higher than expected liability payouts for prior year accidents, and a loss of $8 million more was due to Midwestern storm losses. Per the balance sheets as shown on MSN Money, "policy liabilities" accounts for over 80% of total liabilities, and this value increased significantly on the latest quarter's balance sheet from the prior quarter. The Losses and Loss Adjustment Expenses on the respective income statements for the current and prior quarters showed a similar magnitude increase, from the earlier quarter to the current.
If nothing else, this exercise has given me a new perspective on the casualty and property insurance business model. The Fair Value Option reporting method followed by MCY, whereby the investment portfolio is marked to market, and a gain or loss is posted to the income statement, means to me that this component of MCY's earnings will fluctuate significantly from one period to the next, which is confirmed from the review. Further, occasional surges in loss payouts due to weather can occur, and claims trends can require substantial increases in loss reserves. The values of these two income statement items identified basically dictate the quarterly results.
The most positive view I can take away from all this is that earnings for MCY will fluctuate, but a reversion to the mean will ideally keep poor quarters from piling up one after another. As for loss reserves, the seasoned management team and staff are apparently monitoring loss experiences closely, and action will be taken if necessary to react to trends identified. This seems borne out by the fact that earnings have recovered after every quarterly loss or shortfall seen over the last three years, and dividends have never wavered. Mercury's approach to accounting is rated as conservative, as per Government Metrics International (GMI), a corporate governance and accounting risk ratings firm. GMI awards MCY their highest rating. Certainly the fluctuations indicate that the management team is not "managing earnings," but rather is letting things land where they will, and reporting the results accordingly.
Dividend Information and History
The current quarterly dividend is $.61 per share, which generates a yield of 6.62%, at a price of $36.84, the closing price from 8/9/2012. The most recent increase was on 12/13/2011. Just looking at the most recent five years, the dividend has increased by 17% over this period. More impressive, the increase over the most recent ten years is 103%. Mercury is on David Fish's list of Dividend Champions, and is also on Mergent's Dividend Achievers list. Dividends have thus been increased steadily over 25 years, with no suspensions or cuts. Less encouraging, the payout ratio shown on MSN Money is 94%. Hoping to find that it was not really that high, I conducted my own analysis to determine the payout ratio, considering net income for the last four quarters, and came up with 93%. Undaunted, I decided to calculate the payout based on cash flow, considering the sum of cash from operating activities and cash from investing activities, again considering the most recent four quarters. This effort yielded a payout ratio of 123%. Suffice to say, the payout ratio is a concern. While the September dividend, already announced, will be at the current lofty rate, I have to wonder how much longer it can be continued at that level, much less be increased.
Financial Position and Debt
The MSN Money website data for MCY shows Leverage Ratio as 2.2, Debt to Equity Ratio as .08, and Interest Coverage as 288.3, all very satisfactory numbers. Looking at the balance sheet from the most recent quarterly filing, I calculate the ratio of Long-Term Debt to Total Capitalization as 3.4%, the ratio of Stockholder's Equity to Total Capitalization as 45.2%, and the ratio of Total Liabilities to Total Capitalization as 54.8%. It should be noted that MCY retired $125 million of long-term debt in the third quarter of 2011, and the current total long-term debt of $140 million, which only costs the firm LIBOR plus 40 basis points, does not mature until 2015. As noted earlier, the only really significant liability MCY carries is the reserve for claims, accounting for over 80% of total liabilities.
Valuation and Technicals
MCY's price ratios are typical of a value stock. The current valuation metrics, and for reference, the levels for a value stock, are:
MCY: P/E = 14.1, Price/Book = 1.09, Price/Sales = .74, and Price/Cash Flow = 11.1.
Value Stock: P/E < 15, Price/Book < 1.5, or at least not > 3.0, Price/Sales < 1.50, and Price/Cash Flow < 10.00
The stock price has been quite volatile, as would be expected for a stock with fluctuating earnings. Going back to March 2011, the stock price had declined to less than $35, and later went below $33 briefly, during the August 2011 market swoon. By year-end 2011, however, the stock had recovered to $45, and it stayed in that range until May 2012, after which it declined, by July 2012, to $40. As noted, the recent earnings report then sent the stock down further, to the $36 to $37 range currently. Mercury at $45 is definitely a stock to avoid, and at $40 is still not all that enticing. But, approaching $36, it starts to become interesting.
Ratings and Sentiment
As is typical for a smaller stock, analyst coverage is limited. S&P does not rate the firm per their star rating system, but they do show a quality ranking of B for the firm, which translates to Below Average. Morningstar rates it a Four-Star stock, although it is not on the list of dividend stocks to consider provided by the Morningstar Dividend Investor, my favorite advisory newsletter. Another newsletter I recommend and subscribe to, Investment Quality Trends, lists the stock as a "Faded Blue," which is a stock that has fallen off of their list of recommended stocks. Thomson-Reuters indicates that there are six analysts following the firm, with three recommending Hold, two recommending Reduce, and one coming in with a Sell recommendation. Various other ratings of interest are: The Street - Buy, but with the lowest sub-rating in the Buy grouping, Ford Equity - Hold, Columbine Capital - Sell, EVA Dimensions - Hold, Zack's - Under Perform, and Ativo - Sell. The ratings are none too positive, evidence that the stock is definitely not "over-loved" by Wall Street.
I always do a search on Seeking Alpha as part of my stock research on a firm, to see if any articles are available which might offer further insights. There are a couple of recent articles available on MCY, listed below with links.
Note that the first article above was published before the recent sub-par earnings results were announced. The second article does not go into much depth on MCY, which is not the focus of the article, but is written in an entertaining style which I enjoyed. The first article comes to the conclusion that MCY is a Hold, at best, while the second recommends that investors pass on MCY.
Conclusion
Before I conclude, in the interest of full disclosure, I want to note that I am not a financial professional, nor am I certified in any way as a financial advisor. I am an independent, individual investor, focusing on dividend-paying stocks exclusively.
Based on the opinions of just about all resources available to me, and my own admittedly limited analysis capabilities, I cannot recommend Mercury to fellow dividend investors. There are just too many red flags. Based on my findings from preparing this article, I am removing MCY from my "Tier2" list of recommended stocks, which I deem not as safe as my "Tier1" list, but not too far out of line to consider. I am instead placing MCY on my "Tier3" list of high-yield, and high-risk stocks, which per my system, are strictly speculative in nature. I recommend that no more than 15% of a portfolio be allocated to these types of stocks, and only then if an investor has a speculative side to his investing personality that must be placated from time to time. See my website for details on my approach and stock listings, if interested.
As I noted in my earlier "Yield, Value, etc…" article referenced initially, I bought and sold MCY in 2011, with positive results. Specifically, I bought on 3/7/2011 at $39.25, and again on 8/8/2011, at $34.65, then sold out of my position at $39.95 on 10/7/2011. I was happy at the time to get out with a small gain, after collecting several dividends. I then watched the stock climb to $45 and change, after having sold. I decided at the time I would consider going back in on MCY if it should drop below $40. The opportunity arrived recently as noted, and I purchased a small number of shares at $37.90, and then a few more at $36.25. I plan to treat this as a position trade, holding until MCY rises into the low $40s, or taking the loss if a collapse below $35 or so threatens. I plan to hold for at least one dividend, and I may exit at any time after that, based on what happens. As speculations go, I'm not risking much, and while a dividend cut could tank the shares, I do not believe the company is going out of business any time soon. The earnings fluctuations do not seem to be due to ongoing business activities, but are rather caused mostly by non-cash adjustments. Obviously, I am guilty of anchoring to my early experience with MCY, and the speculation is based upon the pattern repeating. No matter what happens, I have learned a lot about property and casualty insurance companies, such that I suspect that there are few firms in this arena that qualify as long-term dividend growth candidates appealing to conservative investors.
.
Disclosure: I am long MCY.