So, it appears that the market likes disappointment after all.
Additional QE from Bernanke? Fail.
Additional QE from Draghi? Fail.
Improving economy to counteract no QE? Fail.
Even with all of these supposedly large disappointments, we are back to making new near term highs and within spitting distance of making another 52 week high. All on the back of Bernanke and Draghi doing…. what exactly?
No formal plan, no rate cuts, just more jawboning and promises of future action. With some (small) improvement in European PMIs and a better than expected (but still low) ISM and NFP we are back to the lows in spot VIX and highs in the markets.
The Cake is a Lie
Before I get too far up on my soapbox, let's take a look at the VIX term structure.
Spot VIX: 14.74
Aug Futures: 16.35
Sep Futures: 18.43
(For those that want to be able to check this information on your own, I use this site to get a quick snapshot.)
VIX at 14.74 is very attractive but with 10.9% separating spot/Aug and 12.7% separating Aug/Sep, the near term VIX structure is quite steep, much steeper than just a week ago.
While spot VIX below 15 has historically been a massive buying opportunity, I feel that one shouldn't get too large in a long volatility position just right yet. With rumors of secret QE being implemented by the Central Banker brigade we could be taken to new highs (and lows in spot VIX) without too much effort. So many were expecting and planning for a repeat of Summer 2011, there may be a rush of money into the markets from a belief that the water is safe and new wall of worry will be climbed.
Trading Plan
That will work for a while, as it always does, so we can definitely start a position at these levels, I don't want to be too bullish on volatility in the immediate future. Since spot VIX is below 15, we are near to a real buying opportunity for volatility.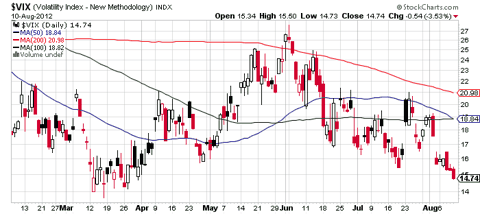 As you can see in the daily chart, there is still a gap that exists up to 17.57 on spot VIX. We could head even lower from here but there is easy money to be made on a gap fill from these levels. Just looking at the past history of spot VIX, these gaps tend to fill within a couple weeks and then move on afterwards.
I would suggest that anyone planning to play the long volatility ETPs (VXX, TVIX, UVXY) to nibble here for a gap fill but be aware that the steep term structure will cause intense contango if we remain at these levels. If we do remain here for a little longer, the term structure should flatten a bit and be more conducive to a longer term hold for the inevitable pop up.
We are a central banker run market and it appears that the market actually liked what Draghi and Bernanke said, it just had to pout about it for a day. I'm not a believer and think reality will rear its ugly head again soon, but not for a few weeks at least. The market is in a self-induced sugar high, just be ready for when the crash comes.
As always, good luck to all volatility players.
Disclosure: I have no positions in any stocks mentioned, and no plans to initiate any positions within the next 72 hours.