Fertilizer manufacturing master limited partnership Terra Nitrogen Company L.P. (NYSE:TNH) recently reported 2012 second quarter results and declared a $4.21 per unit distribution for the quarter. Terra Nitrogen has now paid a quarterly dividend in the $4.00 neighborhood for 6 consecutive quarters. The recent distribution rate is a big jump from the $2.00 plus or minus 50 cents the company was paying as recently as the 2009 through early 2011 time frame. The question is whether or not the current distribution rate is sustainable.
The Terra Nitrogen assets consist of a single nitrogen fertilizer production plant located in Verdigris, Oklahoma. From the company website, here are the possible production numbers:
TNCLP has the capacity to produce annually 1.9 million tons (32% nitrogen basis) of urea ammonium nitrate solutions (UAN) and 1.1 million tons of ammonia, the basic ingredient for most nitrogen fertilizer and many industrial products.
The Terra Nitrogen profit margin is the difference between the prices the company gets for its fertilizer products minus the cost of natural gas - the raw material for nitrogen based fertilizers. Admin and operational costs run at about 5% of revenue at current fertilizer prices. There are no production growth prospects for Terra Nitrogen - only the potential for a widening or narrowing of the spread between UAN/Ammonia and natural gas prices. The general partner interest and incentive distribution rights - IDR - of Terra Nitrogen are owned by CF Industries (NYSE:CF).
The current relatively high prices for fertilizer and near record low prices for natural gas put Terra Nitrogen in a very profitable position. Of the $392 million of sales reported in the first half of 2012, the company reported net earnings of $279 million - a 71% net profit margin! As the general partner, CF Industries collected $120 million in the 2012 first half and $156 million was paid out to common unit holders. Note that CF Industries also holds three-quarters of the common units - pulling in another $117 million of the first half profits.
Profit Potential Maxed Out?
Net earnings for the first half of 2012 were $30 million higher than the 2011 first half as revenue dropped by $2 million. The higher profit margin was entirely due to lower natural gas costs. Looking at the historical revenue for Terra Nitrogen, the $800 million per year level seems like a potential maximum. The last time the company sold more than $800 million worth of product was the commodity blow off year of 2008 when sales hit $903 million. The company record for distributions was also paid in 2008 at $15.08 per unit.
There are arguments that fertilizer prices can only go higher. For now, the drought in the major U.S. agricultural reasons will put that argument on hold for the next year or so. With insurance and higher grain prices, most farmers will get through the season OK, but enough will be hurt to prevent any demand spikes for fertilizer. For the next few years at least, I believe that $800 million in revenue is the high-end for Terra Nitrogen's annual revenue.
Natural gas prices are low and will stay low, but how much will a modest increase in the cost of natural gas affect the Terra Nitrogen profits? For the first half of 2012, the company paid an average of $3.21 per million Btu. A year earlier, the cost was $4.24 mm/Btu. That $1.03 difference in cost results in a $33 million difference in expenses or a 12% whack on the profit margin for the half-year. All other financial items being equal, a $1.00 increase in the cost of gas could produce a 50 cent reduction in the quarterly distribution.
Terra Nitrogen Fair Share Value
A few months ago, I wrote an article expressing my opinion that Terra Nitrogen was too richly valued. To validate my forecasting abilities, the TNH share value has increased by 15% since that time. Investors in this stock have done very well and if I owned units with a much lower cost basis I would hold on to them. However, I believe over the next 18 to 24 months there will be a much better entry prices available to investors who want a position in this cash cow of an MLP.
If the distribution drops to $3.50 for a couple of quarters - a $14.00 annual rate - and the market starts to think a 9% yield is more appropriate for this company - it has often been yielding in double digits - the share price would decline to $155 - a 33% drop from the current valuation. In my last article, I was a little more pessimistic, citing a $120 entry price. This time around I increase the value price on TNH to a range of $150 to $170. In this price range, the current dividend rate produces a 10% yield - not out of line for cyclical profits at the high end of the cycle.
Terra Nitrogen is a company dependent cyclical commodities for both its sales and raw materials. The current 6 quarter trend of high dividends is either a "its different this time situation" or a set-up for a return to the historical cycle. If Terra Nitrogen hits a couple of bad quarters in a row, the effect on the share price will be dramatic.
Finally, if you like this business model of turning a low-priced commodity into a high-priced commodity, check out my article: PetroLogistics Provides Potential For High Yield From The Chemical Industry. Same business model, just different commodities and a different point in the sales costs cycle.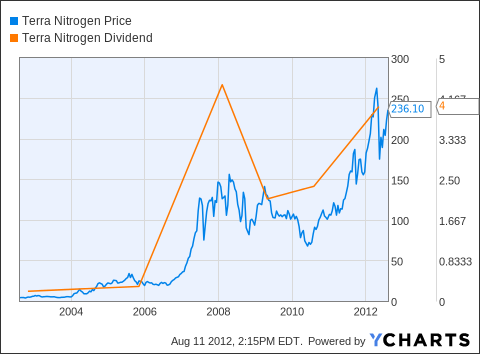 Disclosure: I have no positions in any stocks mentioned, and no plans to initiate any positions within the next 72 hours.