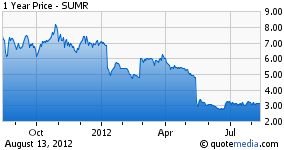 Summer Infant, Inc. (NASDAQ:SUMR) is a small cap ($56M) maker of juvenile (0-3 yrs.) health, safety and wellness products. It markets its products via mass merchants, specialty retailers, online and directly to the consumer. Over 90% of the company's sales are in North America with remaining sales primarily made to customers in the United Kingdom. Some items sold by Summer Infant include audio/video monitors, high chairs, swings, car seats, safety gates, bed rails and booster seats.Strengths - Earnings expectations for 2012 are .44 per share, .1 lower than last year's earnings. With new products such as Peek Plus hitting the market this year SUMR has the potential to beat out earnings expectations. Analysts and traders have beaten the company up plenty with shares trading around 7x earnings. Over the past 5 years shares have traded at an average of 17.5x earnings over the past 5 years.
Weaknesses
With almost $70M in outstanding debt, SUMR is trading on thin ice as the current debt load leaves the company with little room for mistakes. TTM operating cash flows are $9M so the money is there to service the debt; there is just little left for shareholders once all creditors are paid back. Total cash on the balance sheet is less than $2M.
Opportunities
With 90% of sales in North America there is ample room for growth in international markets. The company has targeted Japan and Australia as drivers of growth in the coming years.
Threats
Bad press caused by a lawsuit that claimed the company's analog video baby monitors were broadcasting their baby's room to neighbors. There was a settlement and the company's new Peek Plus system does have encryption.
End of 2012 Target Price $4.40 - almost 40% higher than the current market price. This is primarily based on the idea that earnings multiples overall will re-inflate in the second half of the year. Buying at current levels provides an opportunity to enter into a position with limited downside and decent upside.
With earnings out today value investors who wish to enter a position should wait patiently for an opportunity to buy below $2.50 per share if earnings proves to be as bad as I predict.
Disclosure: I have no positions in any stocks mentioned, and no plans to initiate any positions within the next 72 hours.