For investors seeking exposure to banking and financial stocks, Latin America offers some of the best opportunities, with many of the region's economies still growing rapidly despite the current global headwinds. One opportunity that I believe stands out is Peru's Credicorp (NYSE:BAP). Not only does the bank operate in one of the region's fastest-growing economies, but also it has a track record of strong management and conservative credit and risk management. This has placed it in a firm position to capitalize on the growth the opportunities that exist in one of Latin America's most under-banked but fastest-growing economies.
Strong financial performance
Credicorp is growing from a position of strength; already the bank has around a third of Peru's loan market, a fifth of the credit card market and more than one-third of the country's deposit market. This strong market share has been a key factor in the bank's success.
Credicorp's second quarter 2012 financial results were on initial appearances somewhat disappointing in comparison to the previous quarter. Despite revenue being up by 6% to $394 million, net income fell by 9% to $172 million. The bank's balance sheet also weakened, with cash and cash equivalents falling by 12% to $5.5 billion and deposits and other obligations rising by 2.5% to $21.7 billion.
However, the fall in net income can be attributed to Credicorp setting aside further funds for provisions in accordance with their conservative risk management policy and Peruvian government requests. This saw provisions for non-performing loans increase by 59% to $111 million, yet the value of non-performing loans only increased by 12.5% to $449.4 million. A significant portion of the substantial increase in provisions can be attributed to Credicorp adopting a more conservative provisioning methodology rather than due to a material deterioration in loan quality.
Conservative risk management
One of the reasons I like Credicorp is that it consistently delivers strong financial performance while utilizing a relatively conservative risk management framework, particularly with regard to its core business of lending money. This has seen Credicorp build a growing high-quality loan portfolio that is not experiencing the same issues as many of its peers with regard to credit quality.
An important metric for measuring the quality of a bank's loan portfolio is its non-performing loan ('NPL') ratio. This represents the portion of total loans under management ('LUM'), which are overdue by 90 days or more. Typically, an acceptable NPL ratio is seen as being anything under 5%.
As the chart below shows, Credicorp despite seeing its NPL ratio rise by 13 basis points from the previous quarter, has a very low NPL ratio of 2.34%. For the same period, Credicorp's past due loan ratio (PDL), which measures those loans where payments are overdue by up to 60 days, remained steady at 1.7%.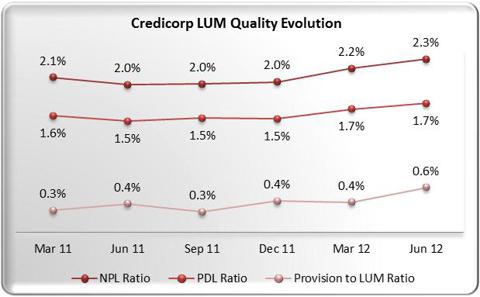 Source data: Credicorp financial filings Q1 2011 to Q2 2012
Furthermore, despite the bank's loan loss provisions increasing, all of these indicators are within acceptable parameters and emphasize the quality of its loan portfolio.
The product lines that make-up the highest proportion of Credicorp's non-performing loans are those which are typically high risk being cash flow lending to small to medium enterprise ('SME') and credit cards. These loans are for smaller amounts than mortgages and pose less risk to the bank's solvency. But regardless, past due loans ratio ('PDL'), which represents the portion of loans in arrears, is still within acceptable levels, as the chart illustrates.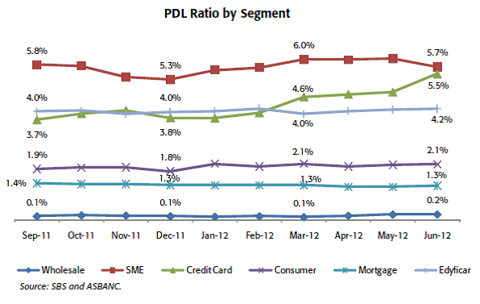 Source data: Credicorp 2Q 2012 Earnings Release
For all of these reasons, it is clear that Credicorp has a high-quality lending portfolio, with all risk indicators well within acceptable parameters. In fact, Credicorp's non-performing loan ratio is substantially superior to many of its regional peers, including Banco Santander Brasil (NYSE:BSBR), Banco Bradesco (NYSE:BBD) and Banco Bilbao Vizcaya Argentaria (NYSE:BBVA) as illustrated by the chart below.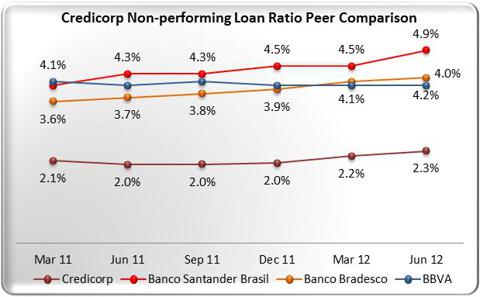 Source data: Credicorp, Banco Santander Brasil, Banco Bradesco, BBVA financial filings Q1 2011 to Q2 2012
Credicorp's potential losses from non-performing loans are well covered with the bank having a solid coverage ratio of 139%. Although as the chart shows, this has fallen slightly over the previous five quarters.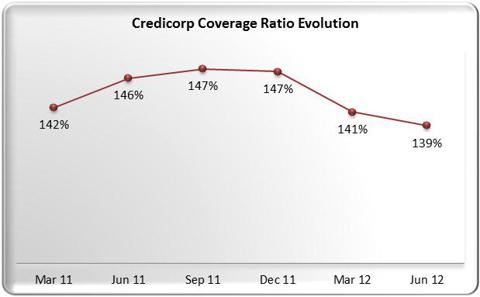 Source data: Credicorp financial filings Q1 2011 to Q2 2012
I expect Credicorp's credit risk indicators to remain well within acceptable parameters primarily as a result of the bank's conservative credit policy and high levels of liquidity.
Attractive levels of liquidity
After Credicorp's high-quality credit portfolio, the next aspect that is particularly attractive is the bank's relatively low degree of leverage and high levels of liquidity. Currently, Credicorp has a debt to equity ratio of 188%, which is low for a bank and well below the industry average of 216%.
The bank also has solid liquidity indicators. It has a tier 1 capital ratio of 11%, which over the last year has declined as the bank has increased its provisions.
Source data: Credicorp financial filings Q1 2011 to Q2 2012
However, Credicorp's tier 1 capital ratio is not as high as many of its competitors' as the chart shows, and while adequate, particularly in light of the banks solid risk indicators, it would be a bonus to see the bank increase its tier 1 capital.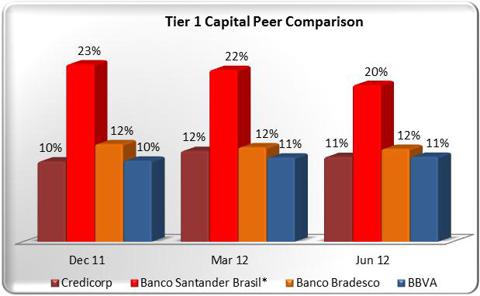 Source data: Credicorp, Banco Santander Brasil, Banco Bradesco, BBVA financial filings Q1 2011 to Q2 2012
* Banco Santander Brasil includes 'goodwill' in its Tier 1 calculation
Credicorp has a healthy loan-to-deposit ratio of 91%, which is well within the recommended range of 85% to 105%. This is seen as the optimal band that allows a bank to retain sufficient liquidity, while maximizing the revenues derived from deposits through lending. Credicorp has consistently maintained an efficient loan-to-deposit ratio for some time as the chart shows, This is an example of the conservative approach taken by management and the sustainability of the bank's operations.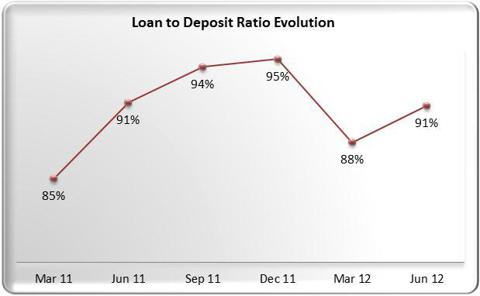 Source data: Credicorp financial filings Q1 2011 to Q2 2012
However, as the chart shows, Credicorp's loan-to-deposit ratio has increased in the last quarter. This can be attributed to ongoing robust growth in the bank's loan portfolio, which expanded by 6.3% for the second quarter in comparison to deposits, which only grew 2.3%. But this has still left Credicorp with an optimal loan-to-deposit ratio, which is superior to its peers as the chart shows.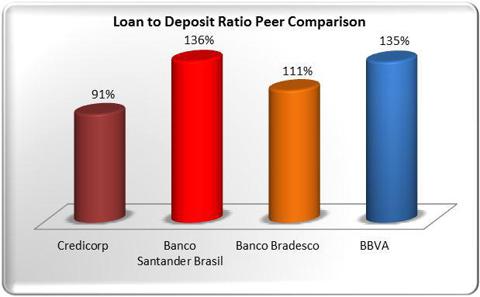 Source data: Credicorp, Banco Santander Brasil, Banco Bradesco, BBVA financial filings Q1 2011 to Q2 2012
As a whole, Credicorp has a high-quality loan portfolio, a strong deposit base and conservative credit management practices, which have left it with enviable risk indicators that are well within acceptable parameters and superior to many of its peers.
Performance metrics
Credicorp is one of the strongest performing and well managed banks in Latin America. Despite the current global economic headwinds, management has been able to continue expanding the business and maintain a solid return on equity of 21% with moderate leverage and a solid efficiency ratio of 49.8%. These compare favorably to its peers as the chart illustrates.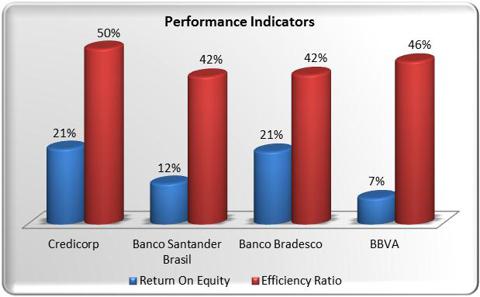 Source data: Credicorp, Banco Santander Brasil, Banco Bradesco, BBVA financial filings Q1 2011 to Q2 2012
For these reasons along with the bank's conservative risk and liquidity levels, Credicorp is well placed to take advantage of the opportunities present in Peru, which is one of the fastest expanding economies in Latin America.
Macro environment and market outlook
In 2011, Peru saw its economy expand by 6.9%, well ahead of Brazil's anemic 2.75%, and this strong growth has continued into 2012 despite growing global headwinds. For the first quarter of 2012, Peru's economy expanded by 6% and is expected to grow by 5.8% for the full year. Much of this is on the back of growing foreign investment in the mining sector and growing domestic consumption, which has seen increased demand for traditional banking products and credit.
Peru is also one of Latin America's most under-banked economies with a penetration rate of around 30%, which means the majority of the Peruvian population doesn't use the formal banking system. This can be attributed to a conservative approach to money management with an inherent distrust of financial institutions combined with over 30% of the population living in extreme poverty. But these attitudes, along with the country's growing wealth and emerging middle-class, are changing.
Furthermore, according to the World Bank, total private sector loans in Peru's financial system represent only 26% of the country's GDP, which is well under the Latin American regional average of around 50%. It is also substantially lower than the more economically developed countries like Brazil and Chile with ratios of 61% and 90%, respectively. This indicates that there is significant potential for growth in Peru's credit market, and with many Peruvians losing their traditional distrust of financial institutions, the demand for credit can only rise.
All of this indicates that there are tremendous growth opportunities for Credicorp in its core business of traditional retail banking. As a result, I expect to see Credicorp maintain the growth trajectory of its loan book, which for the last six quarters, has continued to grow by an average of 5% per quarter. The bank has also been able to grow its deposits over the last year by 17% and has been averaging quarterly growth of 3% per quarter.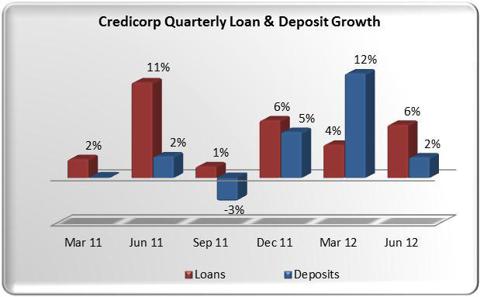 Source data: Credicorp financial filings Q1 2011 to Q2 2012
I also expect to see Credicorp grow revenues from higher margin wealth management, capital markets and insurance products over the long term as the Peruvian economy continues to expand and mature.
Risks
Obviously investing in a Peruvian bank is not risk-free and the level of risk associated with investing in Latin America is higher than that associated with U.S.-based companies. The key risks are:
Growing political risk, with evidence of increased government intervention in the region. In addition, Peru has been experiencing increased domestic unrest concerning the operations of foreign mining companies in the country.
Increased regulatory risk as governments and central banks seek to increase regulation of the banking sector globally, as part of broad based policy responses to recent banking crises. This has brought banking regulation in Latin America to the forefront as regional governments reform their regulatory frameworks to meet global requirements.
Investors should recognize that historically Latin American governments have had a habit of using regulatory frameworks as political levers.
Worsening global headwinds originating in Europe, which with Latin America's close trade ties to Europe, may see economic growth slow.
While any investment in Latin America brings greater country risk for investors, Peru has recently demonstrated a more hands off and less interventionist approach to the economy. Furthermore, the majority of political risk in the country is related to issues of resource nationalism and control of national assets and not the financial or consumer sectors of the economy.
A history of steadily growing dividends
Credicorp commenced paying a dividend in 1996, and since 2001, these payments have increased year on year except in 2008 and 2009, as the chart illustrates. Dividends are paid annually and the last payment was $2.30 per share. The ex-dividend date was April 16, 2012, and it gives Credicorp a dividend yield of 2%, with a low payout ratio of 21%. This dividend, while not representing a monster yield, provides investors with a consistently growing source of income with a sustainable payout ratio.
Credicorp's dividend has grown along with the business since it went public on the NYSE and Lima Stock Exchange in October 1995. This dividend will continue to grow as the bank takes advantage of the opportunities present in Peru, expanding its operations and diversifying its markets.
Future outlook and valuation
Credicorp is currently trading with a price-to-earnings ratio of 12, which would indicate that at its current price, it is fairly valued. But this is in the same range of many of its peers such as BBVA with a P/E of 12 and Banco Bradesco with a P/E of 11. But in comparison to these peers, Credicorp has a far higher quality loan portfolio.
Furthermore, Credicorp has a strong history of growth as the table below illustrates. Both net interest income and earnings per share have grown in value at an average annual growth rate of 12% over the past five years. The bank's dividend has also increased in value at an average annual rate of almost 13%.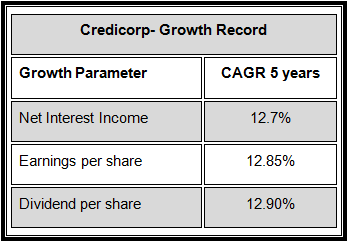 I believe that Credicorp will be able to maintain this growth trajectory over the long term because there is still considerable room to grow in Peru's banking and finance market. In addition, across Latin America there is growing demand for banking and financial services, and Credicorp is well positioned to enter other regional markets and exploit this growing demand. This has recently seen Credicorp conclude the acquisition of a controlling interest in the Chilean investment bank Inversiones IM Trust.
Bottom line
Credicorp has a solid business model combined with a culture of conservative and disciplined management. This has allowed the bank to build a high quality loan book, which has seen it avoid or significantly mitigate many of the credit quality issues and related financial impacts being experienced by its peers. As a result, Credicorp is well positioned to expand in Peru and more importantly throughout Latin America to take advantage of high economic growth rates and low banking and financial product penetration. All of which should see Credicorp continue to experience significant long-term growth and continue to deliver value for investors through both a growing dividend and share price.
Disclosure: I have no positions in any stocks mentioned, but may initiate a long position in BAP over the next 72 hours.