With the Beijing Apple store on schedule to open for the Olympic Games, Apple (NASDAQ:AAPL) appears ready to unleash their own sleeping giant. According to recent Chinese trends, instant messaging has replaced the conventional communication methods of text messaging, email, and social networking. "Young Chinese people don't ask one another for email addresses. They ask for QQ numbers" says Kaiser Kuo, group director for digital strategy for Ogilvy & Mather in Beijing.
The winner in this space so far has been Tencent Holdings (TCEHF.PK), they report that online QQ (Instant Messaging) accounts have reached 315 million or close to 80% of the market. IM provides users with real-time communication, something that the Chinese people demand from their online experience. As reported by the Wall Street Journal's Juliet Ye, "Those habits have helped turn IM into a social-networking medium in China, despite the availability of proper social-networking sites such as Xiaonei.com." Apple's somewhat unheralded video messaging application, iChat, could propel this phenomenon to a new level.
Chinese web surfers don't own their own computers. Only 12 out of every 100 households in Beijing reports computer ownership (paulnoll.com). Instead, they access the web through Internet cafe's where they download video and music to their cellphones. Cellphone ownership on the other hand, has skyrocketed. China Mobile (NYSE:CHL), the largest cellphone provider has grown to 583.5 million subscribers. What would happen if IM was available on a cellphone? That's exactly what Apple CEO Steve Jobs is ready to deliver to the Chinese people; welcome to the era of mobile iChatting.
iChat comes standard on Mac computers and in a patent filing published at the end of last month, Apple paved the way for the video IM service to be included in the iPhone (appleinsider.com) as well. More specifically, Digg founder Kevin Rose submits,
The 3G iPhone will employ two digital camera's situated back-to-back; one on the front side of the unit behind the transparent touch-screen, and a second one on the back of the handset as it exists today. Combined with the mobile iChat application, the front-mounted cam will pave the way for live video conferencing over a high speed 3G wireless network with computer based iChat users, as well as other second-generation iPhone owners.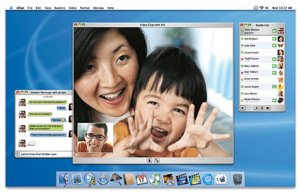 CNBC's Jim Cramer suggests that this product will revolutionize instant messaging the way Apple revolutionized the portable music industry with the iPod. He said,
The iChat is really, even more than iPod, a story of critical mass. I want to relate the iChat to text messaging, a business that no one thought would ever amount to anything and is now the lifeblood of Verizon's and AT&T's businesses. This up-from-nothing business needed others to have phones that you could text with before you could text more and more. Now, imagine that there is only one network, the Apple network, that allows video chat. You are a kid and you are trying to instant-message other people. You realize that "everyone" is iChatting, not texting. You have to get onto the Apple network. That's where we are now. Can you imagine what would happen if the iPhone got eye-text? You would not only throw away your H-P's and Dells, you would throw away your Samsungs, Motorolas and Nokias.
iChat in China makes perfect sense. Now it's just a matter of adding more iPhone distribution partners to the already announced deal with Hutchison Telecommunications in Hong Kong. After last month's overhaul of the Chinese telecommunications industry further deals are expected. A Chinese statement issued last Monday said that the mergers would set in motion the awarding of licenses for 3G service that supports wireless video, Web surfing and other services, according to an AP report. Apple has also backed off their insistence on revenue sharing which was a sticking point in early negotiations with the Chinese.
Don't be surprised if Steve Jobs announces a major deal with China during the 3G iPhone release on June 9th. It has been reported that China Mobile already provides service to over 400,000 unlocked iPhones that have been smuggled into the country for those subscribers unwilling to wait for official availability. With this type of pent up demand, one can only wonder what will happen if Apple releases their chat for the Chinese. Let's see what happens when two sleeping giants wake up at the same time.
Disclosure: Long AAPL