In a recent article, I identified 2 stocks that were assessed as principal plays for investors seeking long-term exposure to the consumer food revolution that has occurred in the United States. That article, which identified two companies that offer long-term value, is available by following this link for access. Each of the investments in the previous article are "downstream" plays, or consumer retail environments. However, there are firms more "upstream," or in the production and distribution elements of the gourmet food industry, that also provide a way for investors to invest in this long run consumer evolution toward fresh ingredients and epicurean tastes.
The Hain Celestial Group (NASDAQ:HAIN): Hain, which was founded in 1993, has a long tradition of offering niche food products, with a particular focus on organic offerings. The Melville, New York, (Long Island) based company manufactures and distributes its natural and organic products to distributors, supermarkets, and gourmet grocers in the United States and internationally. The company's key brands include its namesake brand Hain, Health Valley, Celestial Seasonings, Rice Dream, West Soy, Terra Chips, Ethnic Gourmet, Linda McCartney, and Gluten-Free brands. From a competitive standpoint HAIN operates at a "meso" level between large competitors such as General Mills (NYSE:GIS), Kraft (KFT), and Nestle and smaller competitors such as Annie's (NYSE:BNNY).
Hain Celestial, which benefits from a unique production, distribution, and equity relationship with Heinz (HNZ) (Heinz ended its relationship with HAIN and sold its stake in 2005) has historically relied upon shelf stable products and sales in the United States for the bulk of its revenue. However, in recent years the company has turned toward developing higher margin branded chilled and frozen items as it seeks to expand margins and expand international sales. In October of 2011 Hain acquired UK-based natural chilled soup and juice producer Daniels group for $230 million in cash, followed by the May 2012 acquisition of Irish-based chilled soup producer Cullly & Scully. The acquisition also bolstered the company's international growth strategy, which is largely focused on Europe and Asia, where the company has seen revenue double on an annual basis. The Daniels Group transaction had an immediate effect of internationalizing sales, as the United States share of HAIN sales fell from 80% in Q1 2011 to 68% in Q2 2012.
From a fundamental perspective, HAIN appears expensive compared with traditional metrics in the industry. However, the company has exhibited impressive revenue growth and has a wealth of valuable brands that are just beginning to be marketed on an international basis. Those attributes, coupled with the long-run consumer trend toward natural and gourmet products are likely to keep HAIN at relatively high fundamental levels. HAIN, which has a market capitalization of $2.4 billion, trades at a price-to-sales ratio of 1.8, which is high in the consumer packaged food products business. In fact, HAIN purchased Daniels Group for a price-to-sales ratio of below 1 in its October 2011 acquisition noted above.
HAIN is also expensive in terms of the price-to-earnings ratio, which is 35 on a trailing basis and 25 on a forward basis. Those ratios are extremely high for the industry, and are slightly exaggerated considering the company's anticipated growth rate of 10 to 20 percent. HAIN's balance sheet is somewhat levered, with just $41 million of cash on the books and $430 million of long-term debt. Due to its string of acquisitions, goodwill is a prominent feature of the asset side, at $682 million. The company has relatively high levels of both receivables and payables, which also may cause some concern for investors considering whether to purchase shares given the relatively high valuation. The stock has been a tremendous performer over the past three years, gaining from a low of $12 in 2009 to a peak of $57 in July 2012. The company reports annual results on August 22nd.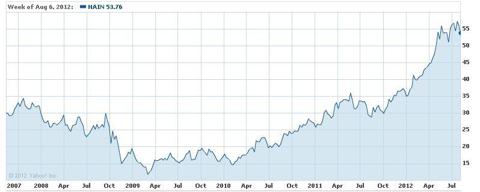 For investors, this company illustrates a classic dilemma: the story, or intangibles of HAIN are tremendous, with its unique and powerful position in an industry that is just beginning to reap the rewards of one of the most significant long run consumer trends in the United States and worldwide. However, shares are tremendously expensive on a fundamental basis and investors would do well to seek out share price declines that may present opportunities to purchase at more reasonable levels. Declines to the mid-40s, or a combination of sales increases and share prices that would produce a price-sales level of 1.5 would provide far more value for investors and lessen downside risk in shares. However, the story and consumer trend is so good for HAIN that I would most certainly not fault ambitious investors willing to pay up for equity shares at current levels.
Annie's, Inc: Annie's, which like HAIN produces and distributes natural and organic consumer packaged foods, is another company that is benefiting from the natural and gourmet consumer food revolution in the United States. Annie's, which trades under the symbol BNNY in homage to its omnipresent mascot, had a very well subscribed Initial Public Offering (NYSEARCA:IPO) in March 2012, and has seen its shares range-bound between $35 and $45, well above the IPO price of $19. The company, which has wide distribution of its products in both natural grocers and supermarkets, has tremendous long-term potential as a producer and distributor of relatively high margin products.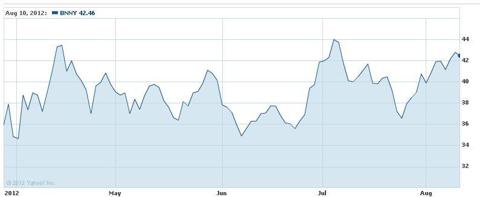 However, the valuation of BNNY, which has a market capitalization of $725 million despite sales of just $141 million, is tremendously high. In fact, the valuation speaks to the tremendous premium investors are willing to place on the long-term consumer trend toward natural, organic and gourmet foods.
The company, which earned just $.45 over the past four quarters, trades at a trailing price-earnings ratio of 94. Despite analysts expectations that the company will grow just 18 percent over the next fiscal year, BNNY trades at a price-sales ratio of nearly 5, more than double that of HAIN, which has similar growth expectations. Therefore, although BNNY fits the consumer demand characteristics well, investors would do well to hold off on equity purchases until the fundamentals are more reasonable. Due to the company positioning a premium valuation is deserved, but that valuation would be more appealing at a price-sales ratio of between 2x and 2.5x sales, and a price-earnings ratio of 25. Given analyst estimates, the company will reach those metrics in two years by meeting estimates, or if the share price is reduced by 50% in the near term.
Disclosure: I have no positions in any stocks mentioned, and no plans to initiate any positions within the next 72 hours.