One of the best places to find dividend paying stocks these days is within the REIT sector. Because of their requirement to pay out 90% of their taxable income, their payouts are usually higher than a traditional equity security.
But in certain economic environments, some REITs will perform better than others. For an active investor, it would be wise to allocate to those REITs that are expected to perform well in the current economic environment and to rebalance or shift your allocation to other REITs as the environment evolves and becomes beneficial for a different type of REIT.
For a passive investor, however, perhaps the best option is to build a diversified portfolio of REITs, each driven by a specific phase of the economic cycle. This way, your income stream is better protected and price fluctuations of the portfolio are muted through the mingling of a variety of REITs with less than perfect correlation to each other. This is not to say they are not correlated. Our analysis showed that all of the following REITs had a correlation to each other of .65 or higher. The only exception was AGNC, whose correlation with any of the other REITs maxed out at .24. But as I try to explain in the following article, different REITs are driven by different factors, and having a combination of them in your portfolio at all times can be very beneficial over the long-term.
The following is a list of REITs that operate in different sectors and can perform differently than their peers depending on the economic environment.

1. Boston Properties (NYSE:BXP)
Office - office REITs own office buildings. They benefit when employment rises as companies expand into larger spaces, and they suffer when companies are downsizing or move operations. And since office leases tend to be for periods of several years, the impact of changes in demand are observed with a lag. The current environment is very favorable for these types of REITs as office space becomes scarce and lease rates rise.
Our favorite in this sector is Boston Properties. It acquires, develops, and manages a diverse portfolio of Class A office properties. Earlier this year, management raised its FFO guidance, and Boston Properties is on an acquisition spree. While fundamentals continue to improve, its niche market of premier buildings has given it pricing power, particularly in a weak construction environment with very little new supply coming online. its current yield is around 2%, and it has a potential upside price appreciation of 20%. If the stock holds above $110, I would consider buying at those levels. However, read Tim Plaehn for a different perspective.
(click images to enlarge)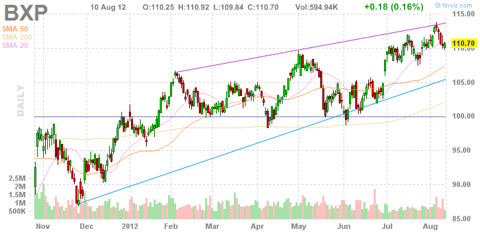 2. Equity Residential (NYSE:EQR)
Residential -Similar to office REITs, residential REITs benefit during periods of rising employment and population growth. When consumers have steady employment income, they are more likely to pay rent and/or mortgages, driving new housing development. Apartment REITs suffer when interest rates fall, however, as more consumers are able to purchase homes. Occupancy rates can benefit when potential home buyers are nervous about further declines in house values. And since leases are typically only one year long, earnings for residential REITs will more closely follow swings in demand. The residential sector performs well during periods of declining homeownership, whether driven by higher interest rates or drops in property values. We have seen such a period in recent years as homeowners have walked away from the homes valued at less than what they owe. They also benefit from a lack of new supply.
Equity Residential engages in the acquisition, development, and management of multi-family properties. its revenues grew by a robust 13% in 2Q2012, while net income rose 7.5%. The stock has held up well in the last quarter, even as markets have declined. And on a one year basis, it has gained 9%. Net operating income for same-store properties rose 7.5%, which is on the higher end of the REIT universe. There may be some support at $60, at which point I would look for confirmation of an uptick.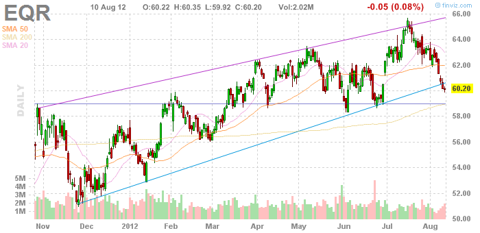 3. Simon Property Group (SPG)
Retail - Retail REITs own shopping malls, strip centers, and other retail outlets that are driven by consumer demand. This drives retailers to open new stores, and drives the occupancy rate of retail centers higher, often spurring further building.
Our favorite in this category is Simon Property Group. Simon develops, owns, and manages regional malls, and premium outlet, lifestyle, and shopping centers. Not only did it beat the 2Q consensus, it raised full year guidance after reporting a 15% increase in minimum rental revenue. On top of that, management seemed to be fairly optimistic on the quarter's results, stating that tenants are showing resilience. FFO guidance was raised to a 10-11% growth rate. The stock has been upward trending, and while $153 might be a support level, it looks like there could be some upside past $165 as fundamentals improve. For more information, take a look at Retail REIT Sector Boasts 23.57 Percent Year-To-Date Total Returns.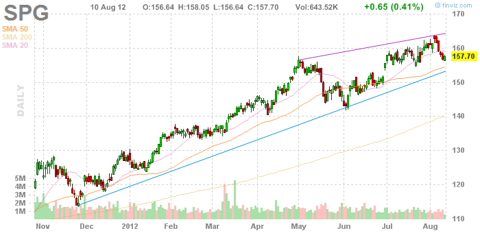 4. HCP Inc. (NYSE:HCP)
Healthcare - These REITs are driven by the demand for medical facilities, nursing homes, and assisted living facilities, to name a few. These types of REITs should benefit from an ageing population as increasing numbers of baby boomers reach the advanced stages of their lives and require more medical assis Healthcare REITs also operate under triple net leases that protect them from fluctuations in insurance rates or medical benefits, etc.
HCP is a REIT that invests directly or indirectly in medical facilities. Senior portfolio housing facilities generated 31% of income, nursing consisted of 35%, and life sciences was 16%. Medical office buildings and hospitals generated the remaining 18% of income. Wait for momentum past $46 to get in if you don't own it already.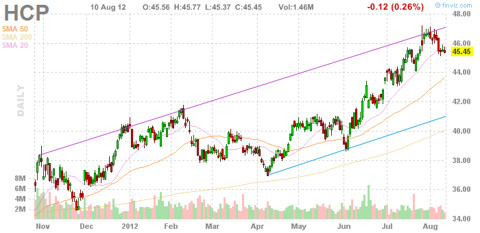 5. Host Hotels and Resorts Inc. (NYSE:HST)
Lodging - Demand for lodging comes from both businesses and leisure travel, so naturally, the lodging industry suffers when economic growth slows. But it's not so simple. For example, families that may have traveled to distant cities and stayed in premier hotels during times of prosperity may now opt for a more affordable motel chain closer to home. There are lodging REITs that specialize on either of these segments. On the business side, as companies struggle, they may reduce travel budgets, discourage workers from traveling for business and promote more teleconferencing.
Host Hotels was formerly known as Host Marriott Corp., so I'm sure most readers are familiar with the brand. It is one of the largest hotel real estate investment trusts, which owns 121 full service luxury hotels and is also part of an international joint venture that owns 13 hotels in Europe. The brands include: Marriott, Ritz-Carlton, Hyatt, Fairmont, Sheraton, Hilton, Westin, W, St Regis, the Luxury Collection, Swissotel, and Four Seasons. It had a solid 2Q and also raised guidance for FFO. The stock seems to have found some support at $14 on several occasions, and has bounced back up. I would eye this one for entry points as it breaks its 50,100, and 200 day moving averages, which seem to have converged between $15 and $15.25.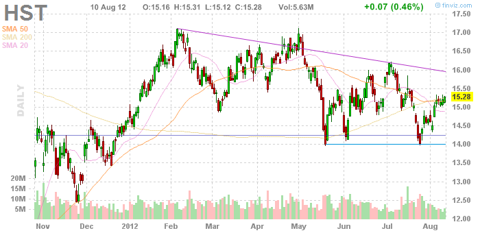 6. Public Storage (NYSE:PSA)
Self Storage Space - These REITs benefit from moving activity, including new home purchases, downsizing, relocations, etc. My favorite in this space is Public Storage. It has one of the strongest balance sheets in the industry, if not THE strongest, and will benefit from continued industry consolidation. I think they are in the early stages of a recovery. I was a little uncomfortable that the stock broke past its 20 day moving average, but it looks like there is another level of support at $144.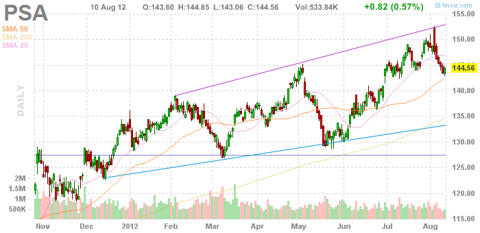 7. Weyerhauser (NYSE:WY)
Timber - These REITs benefit from demand for forest products, which is also driven by the housing industry. Weyerhauser should benefit from gains in home construction and with its recent conversion to REIT status, should continue to raise its dividend to a level comparable to some of its main competitors. WY is showing higher lows and higher highs in the $23 to $24 range. If it breaks through $24, it could have some upside in the short term.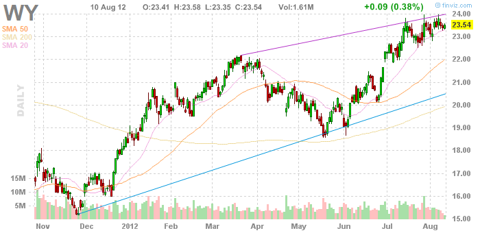 8. American Capital Agency Corp. (NASDAQ:AGNC)
Mortgage - Probably the highest paying dividends of the bunch, mortgage REITs can be deceptively risky. They employ the highest level of leverage, and if things go wrong, they can go very wrong. But there are a few good ones out there, and while we like Annaly Capital, my pick of the day is American Capital Agency Corp. I wrote a more in-depth article about AGNC titled American Capital Agency's Dividend Should Be Safe For A While, and another article specifically about Annaly (NYSE:NLY).
American Capital Agency Corp. invests only in government guaranteed securities, so credit risk is all but eliminated. While boasting one of the highest dividends of all REITs at 14%+, I also think the stock may have some more upside potential. They have shifted their portfolio to one in which the securities are less likely to be prepaid, and have hedged out any effects of a rise in interest rates. It held at $32 after a flash crash down to $30, but it recovered and has been upward trending for some time.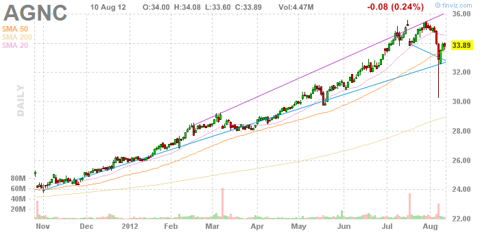 Conclusion
As I mentioned earlier, the performance of each of these REITs is very dependent on the state of the economy. Some REITs in each sector may perform better than their comparable peers at any given time, but economic conditions are really the foundation for them to prosper. Choosing to hold all of them in a diversified portfolio is a good idea, even if you are an active investor. You can always shift assets from one to the other as economic conditions vary. For other ideas on building a portfolio of REITs, check out Building An Intelligent REIT Portfolio With "Wide Moat" Revenue Streams.
In the next few weeks, I will be focusing on each of these REITs and providing more details specific to each one, for those readers who would like to know more. Check back with me periodically for these updates.
Disclosure: I am long AGNC.