Market Recap: The market moved lower today on the combination of Japanese GDP weakness, low volume, and lack of upward catalyst. The market got a rough start on the back of some "risk-off" trading that occurred after Japanese GDP came in at 1.4% vs. the expectations for 2%+. Japan's weakness was the main headline this morning, and with low volume in the markets right now, movement was to the downside. Technology was strong today on the back of strength in Apple (NASDAQ:AAPL) and Google (NASDAQ:GOOG). Overall, it was a quiet day and the market will get a lot more movement tomorrow.
Tomorrow, we should see some volume come back into the market with a busy day. We have big earnings reports from Home Depot (NYSE:HD) and TJX Companies (NYSE:TJX) as well as European GDP information. On top of that, we get Retail Sales information, which has been quite weak as of late.
Two Trades
Two trades we like right now are Google long and Transocean (NYSE:RIG) short. GOOG looked very strong today, and it broke a recent range it was stuck in with 640 as resistance. The company moved well on the back of an acquisition of Frommer's, which should help the company compete more strongly with the likes of TripAdvisor (NASDAQ:TRIP) and growing tourism information websites. Morgan Stanley (NYSE:MS) upgraded the company today as well, and we see limited downside from here. RIG is looking like it has strong resistance at $50 without ECB and Fed intervention. Oil prices are going to drift here, and RIG looks to be turning lower. We believe oil companies have made a significant move, and it's profit taking time.
Trade #1: GOOG, Sep22, 625/620 Bull Put Spread
Trade #2: RIG, Short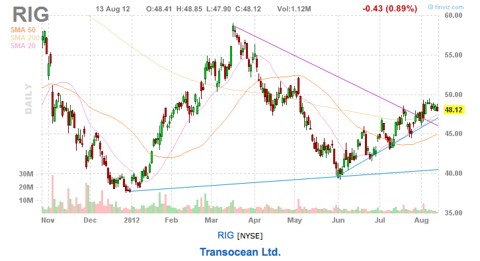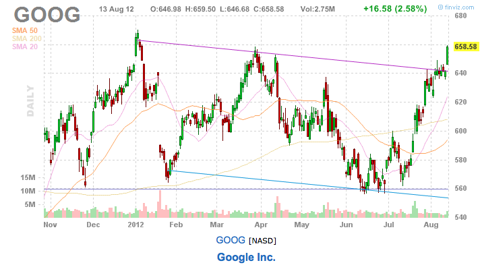 Tomorrow's Outlook
The market is going to get a lot of data and headlines to make moves on tomorrow, and it will be interesting to see how the market reacts to that information. As noted earlier, we have important earnings tomorrow morning from Home Depot and TJX . Both companies are bellwethers, and both have large American operations, so they will give us a good look at the outlook for companies at home. Further, we get data on Retail Sales, which has been weak as of late. Perhaps the most important data points are GDP from France, Germany, and the eurozone. Those reports will make a big move on the euro, which will impact American equities. It will be interesting to see how the market reacts to weak data though as it may be more fuel for intervention and could produce a reversal off any weakness.
Oxen Group Moves
We had a nice day in the market as we were able to exit our Home Depot Aug18 bull put spread for a 27% gain. We also exited our short in Yanzhou (NYSE:YZC) for a 4%+ gain from our Goldman Portfolio. We also exited ½ of our long in PPG Industries (NYSE:PPG) for a small loss of 1.5%. We added a long in American Tower (NYSE:AMT) that we discussed in our weekend article. We also added a long in Coca-Cola (NYSE:KO) to our Goldman portfolio.
We have the following positions:
In our Short-Term Equity Portfolio we are long PPG , Target (NYSE:TGT), Carnival (NYSE:CCL), American Tower . We are short O' Reilly (NASDAQ:ORLY), Omnicare (NYSE:OCR), and Liberty Property (LRY).
In our Options Portfolio, we are long Yum! Brands (NYSE:YUM), Starbucks (NASDAQ:SBUX), United States Oil (NYSEARCA:USO), Monsanto (NYSE:MON), Dollar General (NYSE:DG). We are short Eli Lilly (NYSE:LLY) and Adobe (NASDAQ:ADBE).
In our Earnings Alpha Portfolio, we are long Francesca's (NASDAQ:FRAN), Discover (NYSE:DFS), Apple and American Eagle Outfitters (NYSE:AEO). We are short Dell (DELL). We have a reverse iron butterfly in F5 (NASDAQ:FFIV). We have reverse iron condors in Coinstar (NASDAQ:CSTR) and Facebook (NASDAQ:FB).
In our Goldman Sachs Up/Down Paper Portfolio, we are long Cubist (CBST) and Coca-Cola .
Chart courtesy of finviz.com
Disclosure:
I have no positions in any stocks mentioned, and no plans to initiate any positions within the next 72 hours.