The negative pricing action in just one short month is noticeably acute for biopharmaceutical companies obtaining FDA approvals but without a product to market. Arena Pharmaceuticals (NASDAQ:ARNA) came up while researching Theravance (THRX) and Valeant Pharmaceuticals (NYSE:VRX). Since July 16, Arena dropped from $11.11 to $7.27, a 34.6% drop. VIVUS Pharmaceuticals (NASDAQ:VVUS), whose Qsymia product was approved and is used to treat obesity, reported growing losses in its second quarter. VIVUS saw losses grow to $42.8 million (negative $0.45 per share), compared to $26.1 million (negative $0.32 per share) in 2011. Both VVUS and Arena should be expected to report losses as the companies launch their products: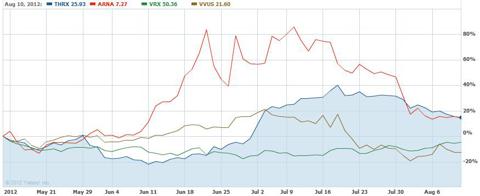 (Chart Source: Yahoo Finance)
Valeant Pharmaceuticals has an established product pipeline and will grow from acquisitions, giving investors a reason to buy its shares. Conversely, should investors be considering Theravance, especially after shares sold off by nearly 19%?
Background:
Theravance reported positive results for its UMEC/VI medicine which, combined with its other studies, involved 6000 patients. This is used to treat chronic obstructive pulmonary disease or COPD. GlaxoSmithKline (NYSE:GSK) is a major partner. Last month, Theravance and GSK announced that they submitted an application for fluticasone furoate and vilanterol (or FF/VI) in the U.S. and European Union. The drug, also known as Relovair.
Some of the other studies for Theravance include:
| | |
| --- | --- |
| Program | Study Phase |
| TD-4208 | Phase 2 |
| MABA | Phase 2b |
| TD-1211 | Phase 2b |
| LAMA/LABA | Phase 3 |
Quarterly Results:
In Q2, Theravance reported:
Net loss of $37.1 million, or negative $0.42 per share
Revenue $1.4 million, down from $6.4 million
R&D expense of $29.5 million, up from $22.8 million
Cash, cash equivalent and marketable securities of $378.7 million, up $178.5 million
Revenue declined because Theravance terminated its VIBATIV collaboration agreement with Astellas in January. R&D expenses rose due to higher clinical costs for TD-1211 and higher employee expenses. $3 million in the R&D costs were associated with stock-based compensation. Cash rose because GSK purchased $212.5 million in Theravance shares.
Analysis
Investors sold off Theravance after the company filed for regulatory approval for FF/VI, or Relvar (previously referred to as Relovair). GSK wants to replace Advair, whose drug generated sales of $8 billion. Sales growth for the drug slowed after the FDA issued warnings for the long-acting beta-agonist (or LABA). Thomson Reuters (NYSE:TRI) forecast Relvar would have sales of $1.88 billion by 2016.
FF/VI is a once a day inhaled fluticsone furoate (a corticosteroid) and vilanterol (a LABA). The filing represented a major milestone for GSK and Theravance: the companies are seeking approval for 125 dose of FF/VI. A filing for asthma treatment was made for both the 100/25 microgram and the 200/25 microgram doses. The product would be called Ellipta and would be administered in by a dry power inhaler.
Opportunity
Investors over-bid Theravance to prices above $30. With shares back in the mid-20's investors who missed the rally have an opportunity to establish a position. Theravance will be presenting exacerbation studies in September from the Phase 3a FF/VI program.
Conclusion
Wait for negativity in biopharmaceuticals to abate, especially when selling momentum in the stock market accelerates in September and in October. Ongoing weakness in shares will provide ample opportunity for investors looking for exposure in this sector.
Disclosure: I have no positions in any stocks mentioned, but may initiate a long position in THRX over the next 72 hours.