Whole Foods Market (WFM) has been one of the most impressive stocks to watch over the past few years. After trading down to almost $7 per share during 2008, the stock has pushed upward and now flirts with $100 per share. The company struggled in '08 and '09 but initiated some major store-wide changes and has since been able to grow earnings at a pace that competitors like Kroger (NYSE:KR), Supervalu (NYSE:SVU), and Safeway (NYSE:SWY) could only dream of. Margin growth has been very strong following the global recession of 2008:
| | | | | | | |
| --- | --- | --- | --- | --- | --- | --- |
| | 2007 | 2008 | 2009 | 2010 | 2011 | TTM |
| Gross Profit Margin | 34.85% | 34.04% | 34.30% | 34.83% | 34.99% | 35.37% |
| Operating Margin | 4.51% | 2.97% | 3.54% | 4.86% | 5.42% | 6.15% |
| Net Profit Margin | 2.77% | 1.44% | 1.48% | 2.67% | 3.39% | 3.84% |
Source: (Whole Foods 10-K and 10-Q filings)
With management projecting diluted earnings per share growth of 30% in FY2012, why wouldn't you pile into shares of Whole Foods today? A closer look at the financial statements shows a stock that appears overvalued based upon numerous historic multiples.
Price-to-Earnings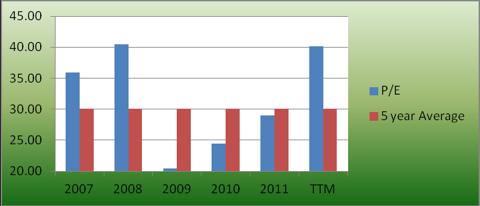 The company has grown earnings at a very rapid pace which should warrant a high price-to-earnings multiple. As the graph above shows, entering into Whole Foods at current price levels you are paying nearly 40x earnings! Most analysts feel the stock should trade at a multiple of 30x given the growth opportunity this company exhibits. Although 30x earnings still appears high, it is right in line with the five year average.
Price-to-Sales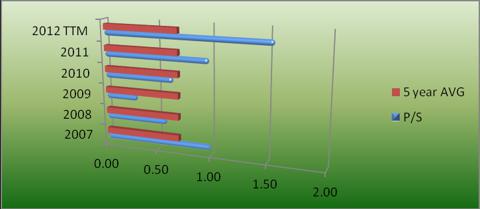 With the five year average price-to-sales ratio at 0.70, you can see that Whole Foods is currently trading at more than double its average. Part of the problem here is the diluted share count increasing each year. Although the company is repurchasing shares to offset employee stock options, the diluted share count has risen over 30% during the past four years. More shares outstanding means less revenue per shareholder. Based upon Whole Foods current stock price, you are paying top dollar for your share of corporate revenue.
Price-to-Operating Cash Flow

Whole Foods continues to provide strong cash flow from operations. Growing from just under $335 million in 2008 and approaching over $900 million as they close out their fiscal year in a few months. You can see from the chart above that company trades at 19.38X operating cash flow versus the five year average of 11.58x.
Price-to-Book Value

The Price-to-Book Value ratio provides a quick way to find undervalued or overvalued companies. Bargain hunters should be excited about the growth story Whole Foods brings to the table, but looking at the valuation using this metric, current price levels would not warrant investing in the stock.
Your investment goals and objectives should dictate whether or not Whole Foods is a good value at present levels. The company has tremendous opportunities for growth and management has done a very good job in gaining market share. However based upon historic multiples it appears investors may be rewarded for patience and watching for a pullback before initiating new positions.
Assuming management is correct in their FY2013 estimates and the company earns $2.85 a share, the diluted share count stays the same, and the stock trades at P/E multiple of 30x, Whole Foods should trade in the mid $80 range. Technical traders may watch the 200 day moving average as an entry point if shares sell off.
*Note: All data reported and graphed is pulled directly from Whole Foods SEC filings (10K's and 10Q's) then ran through proprietary valuation models. The stock price used was from 8/10/12.
Disclosure: I have no positions in any stocks mentioned, and no plans to initiate any positions within the next 72 hours.