Apple (NASDAQ:AAPL) innovated circles around most other companies, transforming the handset with the iPhone, the computer business with the iPad, and the music industry with the iPod. With so many knock-out products, you'd think Apple spent a fortune on R&D. That's not the case. Witness how much less Apple spent on R&D budgets than Cisco (NASDAQ:CSCO), Intel (NASDAQ:INTC) and Microsoft (NASDAQ:MSFT).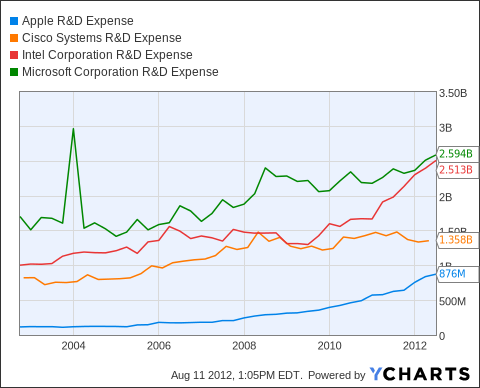 Apple's money has been well-spent: Earnings growth exceeds that of Microsoft, Cisco, and Intel.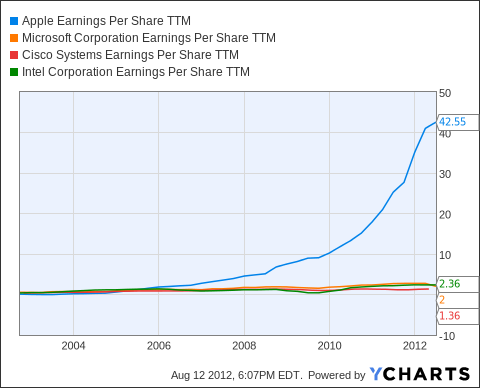 Apple is ramping up its R&D. Anyone doubting Apple's intentions should look at the graph below. The iProduct company is making a much bigger bet on product development. Apple has increased its research funding over 655% over the last decade, far more quickly than Cisco, Intel or Microsoft.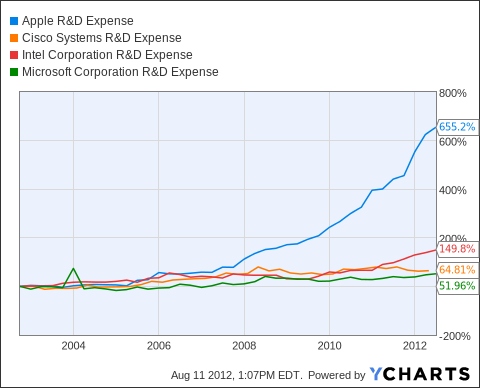 Despite the dramatic increase, Apple spends only 2% of its revenue on R&D under Microsoft (13%), Cisco (12%), and Intel (17%).
Apple is increasing its R&D faster than most companies.
Even young companies don't accelerate their R&D that fast. Intuitive Surgical (NASDAQ:ISRG), Mako Surgical (NASDAQ:MAKO), ARM Holdings (NASDAQ:ARMH) and Riverbed Technology (NASDAQ:RVBD) have increased their R&D budgets much faster than most other companies - yet they don't come close to Apple's R&D push.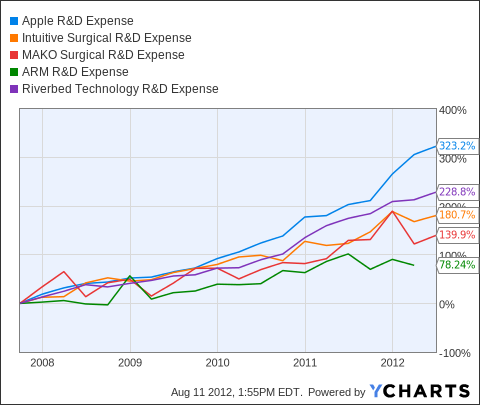 Apple's earnings outpaced those of Intuitive Surgical, Mako, ARM Holdings, and Riverbed.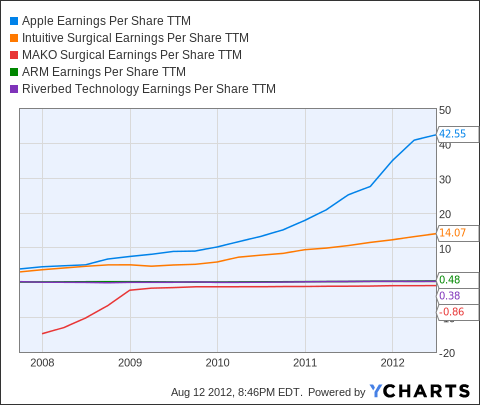 Apple has a very efficient R&D program. The strong R&D commitment suggests more blockbuster products are in the wings. Apple's roll-out of great products is nowhere near done.
Disclosure: I am long AAPL, INTC.
Additional disclosure: Disclaimer: The opinions in this document are for informational and educational purposes only and should not be construed as a recommendation to buy or sell the stocks mentioned. Past performance of the companies discussed may not continue and the companies may not achieve the earnings growth as predicted. The information in this document is believed to be accurate, but under no circumstances should a person act upon the information contained within. We do not recommend that anyone act upon any investment information without first consulting an investment advisor as to the suitability of such investments for his specific situation.